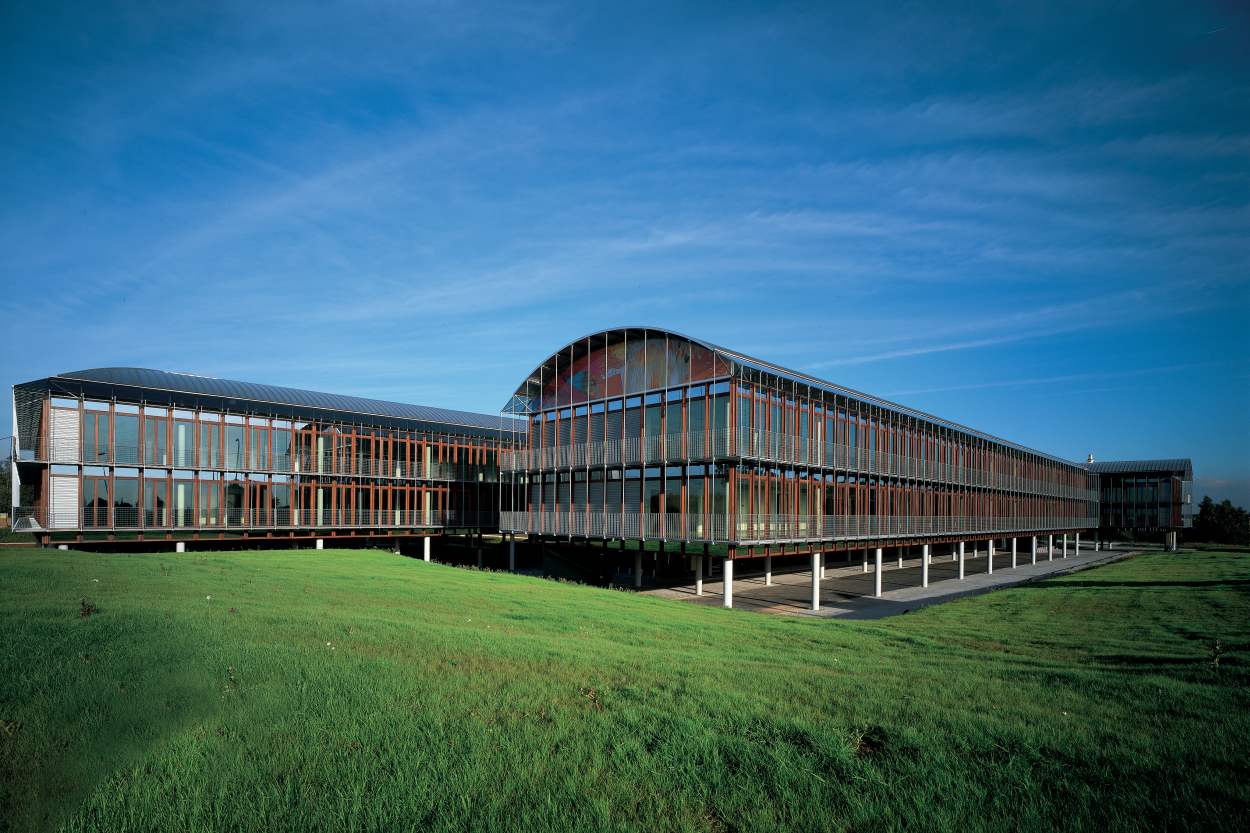 379-Office Building for Compagnie Immobiliere de Wallonie
Espace Christian Dotremont
Nivelles
BELGIUM
8.377 sqm. offices; 6.066 sqm. parking; 2494 sqm mechanical and archives (1998-2001); (01-379).
– Architecture
– Landscaping
– Mechanical, electrical, plumbing engineering
– Quantity surveying
– Structural engineering
The client requests an economical office building, adaptable to any specific demand of the possible users, which is to be located on the area of the former racing circuit of the city of Nivelles, at the very heart of a general landscape master plan designed by J.N. Capart International.
Modulation, being a powerful tool used all along the evolution of the project, has always permitted to keep a clear building concept.
A square building with an open patio and three rectangular buildings are set on the gentle hill of the Wallon countryside. The four buildings, connected by three glazed cores housing the vertical circulations, enclose a large rectangular courtyard. Depending on their occupancy, they can function as one large entity, or as a group in the style of a hamlet.
The office volumes are raised on steel columns. Their roofs and balconies provide a buffer zone which filters physical and perceptional relations between the inside and the outside.
The parking zone under the buildings is naturally lit and ventilated and is located a few metres below the courtyard, the main entrance « hall » of the complex.
Much as in a granary, the curved aluminium roofs cover naturally ventilated spaces. Suspended galvanized steel balconies with optional external sun louvres filters the hot summer daylight. They also serve as evacuation routes as well as for the appreciation of the natural environment in the open air. The shallow volumes allow efficient daylighting of all offices.
The building are also a cultural act which reflects the social and intellectual life of the region. Four tympans are receiving murals by the painter Yves Zurstrassen, while music composed by Henri Pousseur in symbiosis with the architecture scans the hours and the seasons of the place.
The complex is named after the poet Christian Dotremont, founder of the Cobra mouvement.
Document E41_01/379 -En Issue of 2005-11-15
Architecture and Engineering: Philippe SAMYN and PARTNERS All projects are designed by Philippe Samyn who also supervises every drawing
 Structural Engineering: Philippe SAMYN and PARTNERS with SETESCO (sister company 1986-2006) or INGENIEURSBUREAU MEIJER (sister company since 2007) if not mentioned
Services engineering: Philippe SAMYN and PARTNERS with FTI (sister company since 1989) if not mentioned
01-379
OFFICE BUILDING, NIVELLES.
Client:
COMPAGNIE IMMOBILIERE DE WALLONIE.
Architecture:
Partner in charge : Gh. André.
Associates : B. Calcagno, B. Darras, A. Habils, A. Shoumann.
Structure:
IMHOTEP.
Services:
IMHOTEP.
Pictural integration outside : Yves Zurstrassen.
Pictural integration inside : François Huon.
ESPACE-VIE. Aménagement du territoire, Urbanisme et environnement, n° 109, juin 2000 pp. 3-5; Anne NORMAN : "L'ancien circuit automobile de Nivelles se mue en parc d'affaires d'un type nouveau. L'espace Dotremont se construit… quand le business s'ouvre à la culture"; (Belgium).
BULLETIN DE LA CLASSE DES BEAUX-ARTS, Academie Royale des Sciences, des Lettres et des Arts de Belgique, 6th series, Tome XI, 2000, 7-12, pp 251-263, Ph. SAMYN : "La terre étroite". Lecture at the public assembly of the Classe des Beaux-Arts, Brussels, November 18th 2000; manuscript 2000.11.16; 7 pages + illustrations; (Belgium).
A PLUS n°174, 1/2002, February-March 2002, pp 80-85; Marc DUBOIS : "L'art au parc d'activités – Kunst in het business park – Art in the business park : Espace Christian Dotremont/Nivelles"; p 96; COMPACT DISC, Yves KNOCKAERT : "Composition pour – compositie voor – l'Espace Christian Dotremont à Nivelles – in Nijvel. Henri Pousseur / Le village Planétaire vu de Nivelles : (extraits: Carillon Brabançon et Alaskamazonie); (Belgium).
Buildings : Ch. Bastin & J. Evrard
Inside Buildings : Maria Salomone
Model : Andrés Fernandez
Yves ZURSTRASSEN for the pictural integration outside
François HUON for the pictural integration inside
8.377 sqm. offices; 6.066 sqm. parking; 2494 sqm mechanical and archives, 1998 – 2001 ; (01/379).
---
For plans sections and elevations, please refer to the archives section of the site available from the "references" menu.