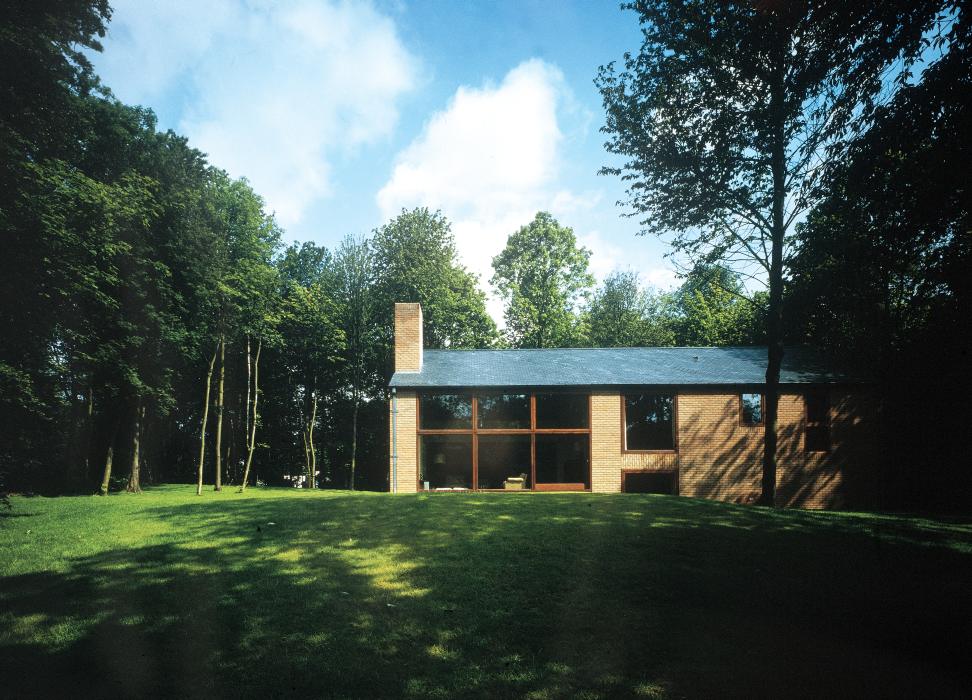 008-Nyssens residence
Drève du Bois des Moines,17
Bierghes-les-Hal
BELGIUM
250 sqm;   (1973-1974); (01-008).
– Acoustics
– Architecture
– Construction management
– Interior design
– Landscaping
– Mechanical, electrical, plumbing engineering
– Project management
– Quantity surveying
– Structural engineering
This is the second new house commission of Philippe Samyn, build for young friends in a wood.
The dream of the clients for large spaces is difficult to achieve within the limited budget.
The sloping woody site inspires the restrained composition based on split levels.
The living area acts as main junction space between the half lower level (with the main entrance, the garage, the cellars and the guest room) and the half upper level (with the parents and the children sleeping and bath rooms).
Regularily spaced brick bearing walls support thin concrete floors and wooden roof beams.
The window frames are flush with the facade brick veneer to accentuate the simplicity of the build volume.
TERRE CUITE et CONSTRUCTION – BOUWEN met BAKSTEEN, n°3, 1977, pp 16-26, "Habitation unifamiliale – Eensgezins woning te – Bierghes-les-Hal"; (BE).
Architecture and Engineering: Philippe SAMYN and PARTNERS All projects are designed by Philippe Samyn who also supervises every drawing
 Structural Engineering: Philippe SAMYN and PARTNERS with SETESCO (sister company 1986-2006) or INGENIEURSBUREAU MEIJER (sister company since 2007) if not mentioned
Services engineering: Philippe SAMYN and PARTNERS with FTI (sister company since 1989) if not mentioned
---
For plans sections and elevations, please refer to the archives section of the site available from the "references" menu.