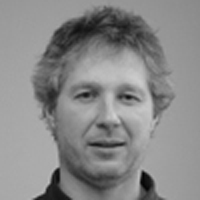 Johan Van Rompaey
Partner
Partner.
Architect Engineer.
In charge of project management and projects.
Started his career at Belgacom (Berchem, Belgium) and at the Atelier d'Architecture H. Collomb (Lausanne, Switzerland).
Joined the firm in 1986.
Project coordinator in charge of the Chemical Research Centre Shell.
Job captain in charge of contract administration and technical project management for Bank Brussel Lambert (BBL) headquarters (construction team: Bernheim-Outremer, Skidmore Owings & Merill, Jaros Baum & Bolles, Weidlinger Associates and Samyn and Partners).
Founded a sister practice which has been working closely with Samyn and Partners ever since where he is in charge of design and general management,
this practice focusing on healthcare facilities, hospitality facilities and retail banking agencies.
Partner since 1996.
Lecturer at the Antwerp Artesis Design College, University of Antwerp.
Civil Engineer in Architecture KUL – Leuven, 1982.
Applied Didactics in Physics, High School level, 1984.
Postgraduate information technology VUB, 1st year 1985.
Special Course in Hospital Design, professor Delrue, KUL, 1989.
Master in Real Estate KUL – Leuven, 1996.
Dutch, English, French, Italian, German, Spanish.
Major projects as team leader
Chemical Research Centre Shell
Client : Shell Onroerend Goed bv
Type of project : Research Centre
Location : Louvain-la-Neuve (Belgium)
Cost of the works : 29,750,000 €
Area : 29,032 sqm, completed
Leuven train station
Client : Nationale Maatschappij der Belgische Spoorwegen
Type of project : Train Station
Location : Leuven(Belgium)
Cost of the works : 19,920,000 €
Area : 14,622 sqm, completed
Refurbishment of the Lamot Brewery
Client : Seghers Engineering
Type of project : Offices
Location : Klein-Willebroek (Belgium)
Cost of the works : 1,611,000 €
Area : 2,226 sqm, completed
GSK Bio Research and Development Centre
Client : SmithKline Beecham Biologicals s.a.
(now GlaxoSmithKline Biologicals s.a.)
Type of project : Biological Research Centre
Location : Rixensart (Belgium)
Cost of the works : 49,480,000 €
Area : 22,054 sqm, completed
Castle "Groenhof"
Client : Hendrik Seghers
Type of project : Residence
Location : Malderen (Belgium)
Cost of the works : 1,487,000 €
Area : 960 sqm, completed
Pegasus Hotel Project
Client: nH Hoteles
Type of project: Hotel
Location: Brussels ( Belgium)
Cost of the works: approx. 15.290.000 €
Area: approx. 13.000 sqm, completed
Atlanta hotel project
Client: Golden Tulip Hotels
Location: Brussels ( Belgium)
Cost of the works: approx. 13.379.000 €
Area: approx. 11.000 sqm, completed
Krasnapolsky Hotel project
Client: Krasnapolsky Hotels and Restaurants
Location: Amsterdam (Netherlands)
Cost of the works: approx. 72.628.000 €
Area: approx. 50.000 sqm, project suspended
ING headquarters Belgium
Client: ING Belgium sa
Refurbishments, new floors etc.
Location: Brussels (Belgium)
Cost of the works: approx. 6.498.000 €
Area: approx. 6.000 sqm, completed