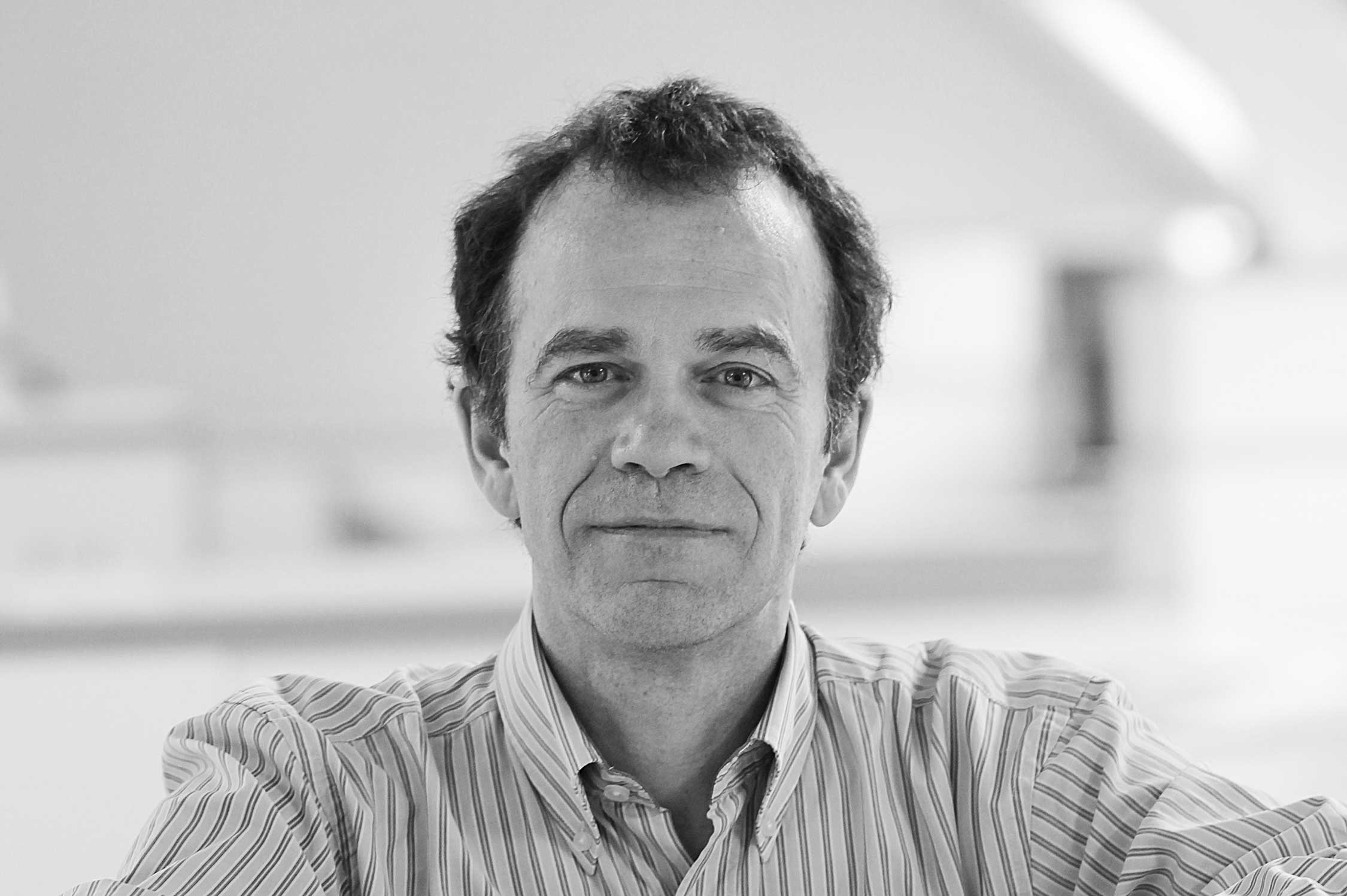 Denis Mélotte
Partner
Partner.
Technical Director.
Member of the Ordre des Architectes of:
Belgium (Brussels and Walloon Brabant).
Director of technical development, specifications and quantity surveying for every project.
Head of administrative computer management.
Responsible for "value engineering" processes
Involved in the development and construction of every project commissioned to the firm since 1985.
Responsible for projects such as the new research facilities of Petrofina in Feluy, ULB Auditorium, Walloon Branch of Reproduction Forestry Material, Nissan Research Centre, the Certech, Brussels Fair Grounds, the office extension of the Lamot Brewery for Seghers Engineering, the refurbishing of the (former INR) Flagey building, the extension and refurbishing of the ZNA hospital in Antwerp, the factory for Solvay – Sibur (RusVinyl) in Nizhny Novgorod (Russia), and the Lujiazhi cultural creativity garden in Zhoushan (China).
His experience in hospital projects includes the Restructuration of the Brugmann Hospital and of the Queen Fabiola Children's Hospital, in construction since 1994, the master plan for the extension and refurbishment of the ZNA general hospital on the Middelheim campus, and the psychiatrical hospital Sans Souci in Brussels.
Partner since 1991.
Teaching at Solvay Business School,
Executive Programme in Real Estate,
Module « Architectural design and technical notions ».
Civil Engineer in Architecture – UCL University of Louvain, 1982.
Postgraduate in Management (CEPAC) – ULB University of Brussels, 1988.
Internal Audit, Forem Formation Mons, 2007.
French, Dutch, English, (German).
Waimes (Belgium) – July, 22nd 1958.
Major projects as team leader:
Research Facilities of Petrofina in Feluy
Client: Fina Research (now Total Petrochemicals Research)
Type of project: Petrochemical Research Centre
Location: Feluy (Belgium)
Cost of the works: 24.000.000 € (33,500,000 USD)
Area: 30,000 sqm, completed
Walloon Branch of Reproduction Forestry Material
Client: Walloon Region
Type of project: Forestry Research Centre
Location: Marche-en-Famenne (Belgium)
Cost of the works: 1.363.000 € (1,908,000 USD)
Area: 1,144 sqm, completed
Nissan Research Centre
Client: Nissan European Technical Centre (Brussels)
Type of project: Automotive Research Centre
Location: Louvain-la-Neuve (Belgium)
Cost of the works: 12.151.000 € (17,011,000 USD)
Area: 13,000 sqm, completed
Brugmann Hospital *
Client: CHU Brugmann
Type of project: General Hospital
Location: Brussels (Belgium)
Cost of the works: 116.524.000 € (164,118,000 USD)
Area: 93,985 sqm, under construction
Chemical Technological Resources Centre – CERTECH
Client: Université Catholique de Louvain
Type of project: Chemical Research Centre
Location: Seneffe (Belgium)
Cost of the works: 1.480.000 € (2,072,000 USD)
Area: 2,335 sqm, completed
Brussels Fair Grounds
Client: Brussels Expo
Type of project: Welcoming and Logistics Infrastructure
Location: Brussels (Belgium)
Cost of the works: 23.650.000 € (33,108,000 USD)
Area: 52,383 sqm, completed
Refurbishing of the Flagey building
Client: Flagey s.a.
Type of project: Performance halls
Location: Brussels (Belgium)
Cost of the works: 28.136.000 € (39,390,000 USD)
Area: 23,930 sqm, completed
PVC factory for RusVinyl
Client: RusVinyl LLC (JV of Solvay-Sibur)
Type of project: Office and Maintenance Buildings for a Chemical Factory
Location: Nizhniy Novgorod (Russia)
Cost of the works: 24.000.000 € (37,800,000 USD)
Area: 24,000 sqm, under construction
Middelheim Hospital
Client: Ziekenhuis Netwerk Antwerpen
Type of project: New Medical-Technical Block
Location: Antwerp(Belgium)
Cost of the works: 33.494.000 € (33,951,484 USD)
Area: 15,950 sqm
Restructuration of the psychiatrical hospital SANS SOUCI, Phase 3
Client: Clinique Sans Souci asbl
Type of project: psychiatrical hospital
Location: Brussels (Belgium)
Cost of the works: 13,900,000 €
Area: 5,524 sqm, under construction
  *  In collaboration
Document n° E21-05-11_GB
Issue of 2016-12-08