© photo@vincenteverarts.eu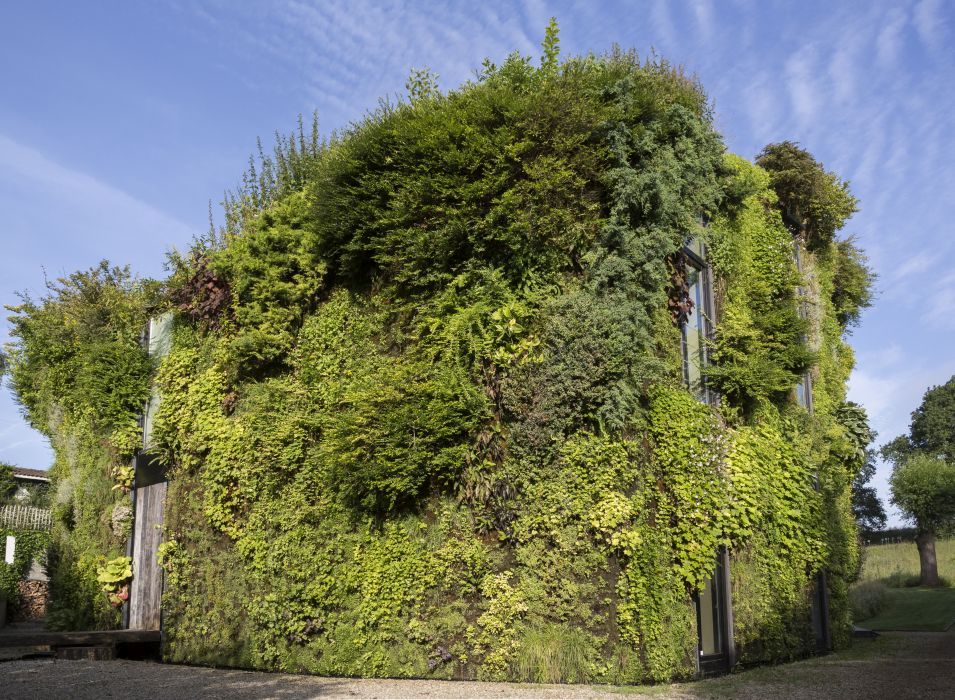 390 – House in the Outskirts of Brussels
BELGIUM
600 sqm; (1999-2007); (01-390).
This house for an artist includes the street level of an existing small house. It now houses the entry hall, a family room and a kitchen; the living-room and the stairway are in the extension to the building.
The second floor includes the master bedroom with its bathroom, as well as five children's rooms and sanitary installations. They are equipped with a mezzanine protected by textile netting that will lead to the glassed-wall facade.
The house presents curved and vegetalised facades that are very private and closed to the neighbours to the north, the east and the south. In contrast, the west facade is entirely glass-walled as if it were one huge partitioned window.
It is planned that Immense translucid white polyester curtains in widths of 1.6 m suspended from the top of the structure to the ground floor would run along this great « window »  to ensure shade in the summer months.
Initially conceived as a wall of ivy with a patinated copper roof, the vegetalised facade is finally composed of a selection of exotic plants chosen by the botanical artist Patrick Blanc, and extends to cover the roof.
The structure, the insulation, and the water-tightness of the envelope resolve the building physics issues and receive the necessary support, irrigation and fertilisation systems for the plants that are set into a felt support stapled to rigid PVC panels.
A 60 cm wide moat runs along the foot of the vegetalised facade and collects the irrigation water for its recycling in the system.
Document E41_01/390 -En Issue of 2012-05-25
Architecture and Engineering: Philippe SAMYN and PARTNERS All projects are designed by Philippe Samyn who also supervises every drawing
 Structural Engineering: Philippe SAMYN and PARTNERS with SETESCO (sister company 1986-2006) or INGENIEURSBUREAU MEIJER (sister company since 2007) if not mentioned
Services engineering: Philippe SAMYN and PARTNERS with FTI (sister company since 1989) if not mentioned
01-390
HOUSE IN THE OUTSKIRTS OF BRUSSELS.
Client:
BOOLY
Architecture:
Partner in charge : B. Vleurick.
Associates : Gh. André, S. Bessalah, B. Darras, Ph. Gaube, I. Hankart, P. Hendrix, Th. Henrard, A.S. Petit.
Structure:
SAGEC for execution.
Services:
Samyn and Partners.
Consultant: Wall planting: P. Blanc (Paris)
Photograph model : Andres Fernandez.
Photograph realisation : Marie-Françoise Plissart & Vincent Everarts
---
For plans sections and elevations, please refer to the archives section of the site available from the "references" menu.