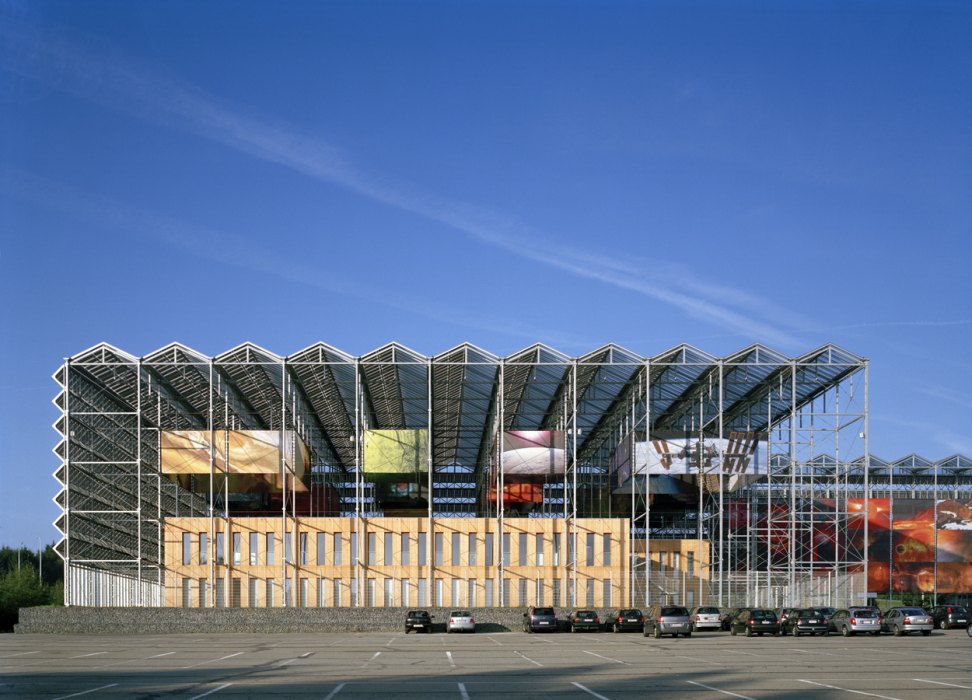 518-Euro space center at Libin-Transinne
Libin-Transinne, Province of Luxemburg, Belgium
2.857 sqm covered, 1.800 sqm above-ground construction, 500 sqm underground ; 2007 – 2009 ; (01/518).
Landscaping
Architecture
Structural engineering (with Arcadis Fally).
Mechanical, Electrical, Plumbing engineering (with BTC Arcadis).
Project management.
Quantity surveying.
Situated at Libin-Transinne along the highway that connects Brussels to Luxemburg, the Euro Space Center is responsible for the diffusion of knowledge concerning space exploration activities and telecommunications in Europe.
In addition to exhibition and interactivity facilities, it offers students and the general public seminars to familiarize them with space sciences. Even though the existing building, realized with limited resources, does not facilitate their perception from the outside, the activities carried out there are of a particularly high intellectual level.
This is precisely why diverse enterprises active in the sector of space telecommunications desire to establish facilities on the site.
The project anticipates housing them in a kind of modular "hamlet " on site consisting of 2- to 4-floor wooden constructions arranged in an evolutive geometrical configuration.
A large parallelepiped (52.80 m long, 43.20 m wide and 16.20 m high), conceived like a raised horticultural greenhouse, will house the ensemble under a common roof.
The glassed facade along the highway is prolonged by a 120-m-long gallery that clads the existing building.
The reception hall and the gallery are rhythmed in  4.80-m-sided elements of slender steel tubes. Four horizontal layers of cables, distant from one another by 3.24 m, connect the vertical tubes in both orthogonal directions to impede buckling. 
The stresses inducted by the cables, as well as the stresses induced by wind, are diffused on the periphery by vertical trellised girders constituted of pairs of posts connected to one another by horizontal cross-bars and cables in a cross formation.
This three-dimensional ensemble of bars and cables is the ideal support for large banners, both on a two-dimensional plane as well as three-dimensional, signaling to users of the highway the nature of the activities of this center and the presence of partner enterprises.
The southern slopes of the roof and façade elements are fitted with 3,348 translucent solar panels over a total area of 4,387 m²,  producing 439.26 kWp (peak power). Their annual production of 369,305 MWh covers 91 % of the centre's electrical needs, equating to the annual needs of 106 households.
Art is integrated through satellite photos printed on tarpaulins and visible from the outside. They come from ESA and NASA, particularly from the Hubble Space Telescope. This natural combination thereby showcases through images the contribution of space activity.
Architecture and Engineering: Philippe SAMYN and PARTNERS All projects are designed by Philippe Samyn who also supervises every drawing
 Structural Engineering: Philippe SAMYN and PARTNERS with SETESCO (sister company 1986-2006) or INGENIEURSBUREAU MEIJER (sister company since 2007) if not mentioned
Services engineering: Philippe SAMYN and PARTNERS with FTI (sister company since 1989) if not mentioned
| | |
| --- | --- |
| 01-518 | EURO SPACE CENTER, LIBIN-TRANSINNE. |
| Client: | IDELUX (Intercommunale pour le développement économique durable du Luxembourg belge). |
| Architecture: | Design and Management: Ph. Samyn Partner in charge: Gh. André Project manager: C. Stuerebaut Architects: Th. Henrard, G Santarossa Cestari , A. Voye. |
| Structure: | Philippe SAMYN and PARTNERS sprl, architects & engineers + ARCADIS Engineering & Consulting sa Avenue de Philippeville 119 B – 6001 Charleroi Design : Philippe Samyn |
| Services: | Building services: Philippe SAMYN and PARTNERS sprl, architects & engineers + ARCADIS Engineering & Consulting sa Avenue de Philippeville 119 B – 6001 Charleroi Monitoring office: SCRL SECO Rue d'Arlon, 53 B – 1040 Bruxelles Safety coordinator: Michaël PARIS Province de Luxembourg Direction des Services Techniques Voie de la Libération 4 B-6960 Manhay ENTREPRISES General contractor: DUCHENE s.a. Route de Strée B-4577 Strée Subcontractors: Wooden structural work: PREFALUX s.a. Rue de la Gare, 6 L–6117 Junglinster Glazed roofing: Deforche Construct n.v. Gentseheerweg 108 B-8870 Izegem Solar panels: ISSOL s.a. Quai de la Vesdre 7 B-4800 Verviers Solar panels connections: Ets. A. Heinen s.a. Rue d'Aix-la-Chapelle, 189 B-4700 Eupen-Kettenis Electrical installation: IMTECH PROJECTS Rue Pieds d'Alouettes, 39 B-5100 Nannine Heating and ventilation: IMTECH PROJECTS Rue Pieds d'Alouettes, 39 B-5100 Nannine Decorative canvas covers: URBAN MEDIA Rue des Palais Outre Ponts, 405 B-1020 Bruxelles |
Models pictures: ©A. FERNANDEZ MARCOS.
Construction site pictures: © Philippe SAMYN and PARTNERS (D. Mélotte, J. Ceyssens, C. Stuerebaut).
Building pictures: © M.-F. PLISSART.
The Euro Space Center at Libin-Transinne was awarded:
Trophée Benelux de la Galvanisation 2009
Benelux Trophy for Galvanizing 2009
Third Prize
Staalbouwwedstrijd – Concours Construction Acier 2010
Steel Construction Award 2010
Category Construction Durable (Sustainable Construction)
International Prize Dedalo Minosse 2010/2011
Commendation
---
For plans sections and elevations, please refer to the archives section of the site available from the "references" menu.