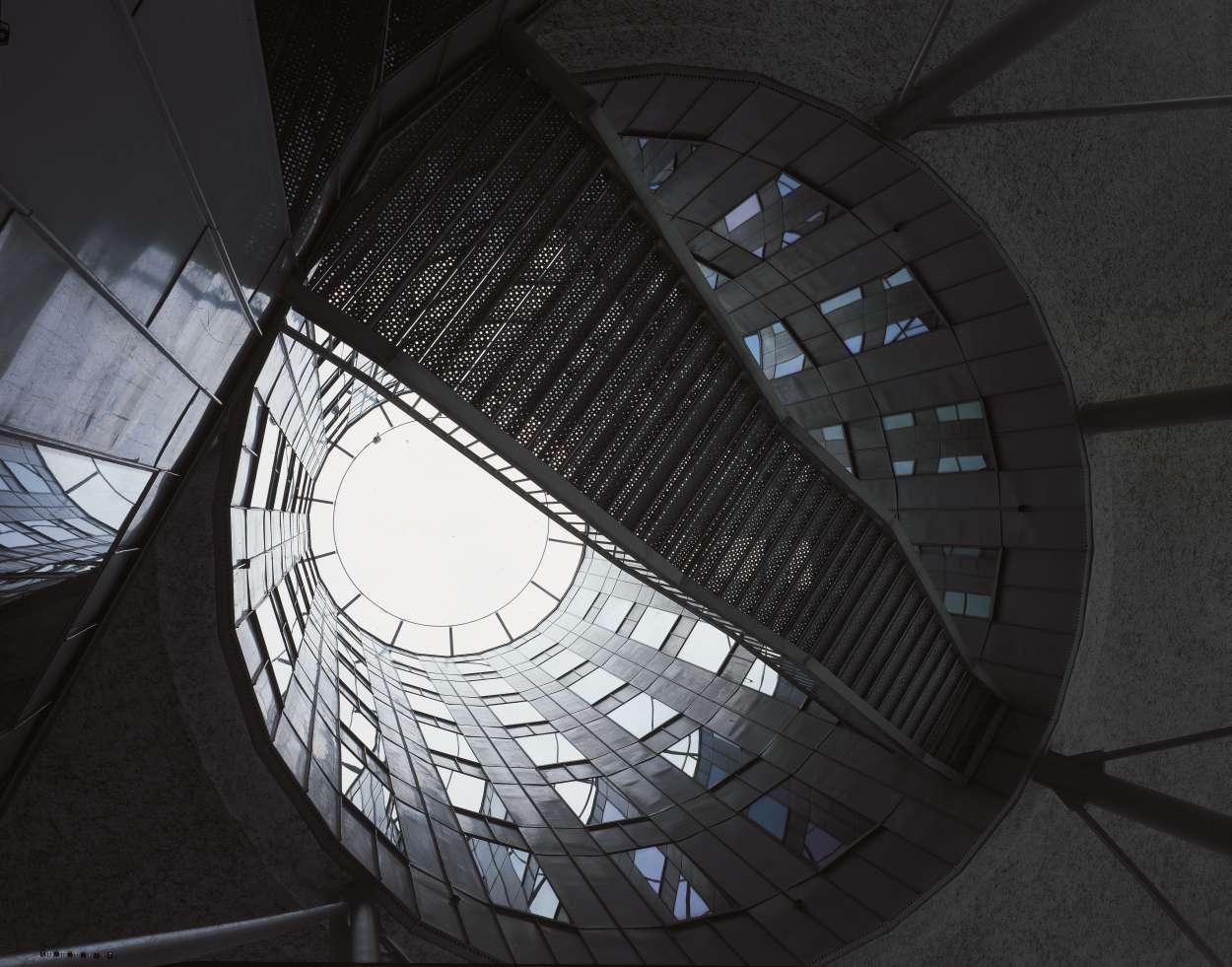 368-Offices building for Canal Properties n.v.
Brussels
BELGIUM
3.617 sqm. offices; 4.535 sqm. parking (1998-2001); (01-368).
– Architecture
– Interior design
– Landscaping
– Mechanical, electrical, plumbing engineering
– Project management
– Quantity surveying
– Structural engineering
The site is located near the highway Brussels-Liège, at the intersection of the " chaussée de Louvain – Leuvensesteenweg ", a genuine urban highway lined with disparate buildings of 2 or 3 levels, and the "Gemeenschapslaan – avenue des Communautés", which is a recent Brussels artery, wide, planted with trees and sparsely built for the moment. 
The project aims to create an articulation of the two trafic arteries, as well as to integrate itself with the other buildings and the existing plot, which houses building from the '50s, renovated and well kept by the client and his tenant. 

The new building is composed of the following parts: 

A setback, one-level horizontal base on top of stilts, which creates an entrance piazza. The latter is slightly sloped, and ensures an easy car access. 

A wall that closes the composition at the back of the entrance esplanade which highlights the vertical glass-enclosed circulations; the position of this wall allows for a maximum of natural light to reach below the base; 

A cylindrical office tower of 6 levels, vertical landmark within the built environment; the tower is separated from the base to lighten the architectural composition; the center of the tower is a void which serves as a thermal chimney and as lightshaft. 

A technical tower, separated and off-centred, which houses the glazed vertical circulations, the sanitary and service blocks. The technical rooms and the elevator installations are hidden by louvres at the top of the tower. The elevator cavity extends down to the last underground level, where it provides natural light. 

At the center of the block, a 3 level parkinglot, set under a rectangular courtyard. The parking, partly covered by a shallow water surface, is illuminated at the center by a glass strip, perpendiculary to the technical tower. 

Around this courtyard, a small horizontal building, 1 and 2 levels high, which restores the scale and the coherence of the existing heterogenous built environment. In order not to exceed the surface authorised for each entity this small volume of 600 sqm. is independent of the rest of the project; it is only linked to the existing building.
Document E41_01/368 -En Issue of 2001-04-17
Architecture and Engineering: Philippe SAMYN and PARTNERS All projects are designed by Philippe Samyn who also supervises every drawing
Structural Engineering: Philippe SAMYN and PARTNERS with SETESCO (sister company 1986-2006) or INGENIEURSBUREAU MEIJER (sister company since 2007) if not mentioned
Services engineering: Philippe SAMYN and PARTNERS with FTI (sister company since 1989) if not mentioned
Model : Andres Fernandez
Building : Kristien Daem.
3.600 sqm. offices; 4.595 sqm. parking; 1998 – 2001; (01/368)
---
For plans sections and elevations, please refer to the archives section of the site available from the "references" menu.