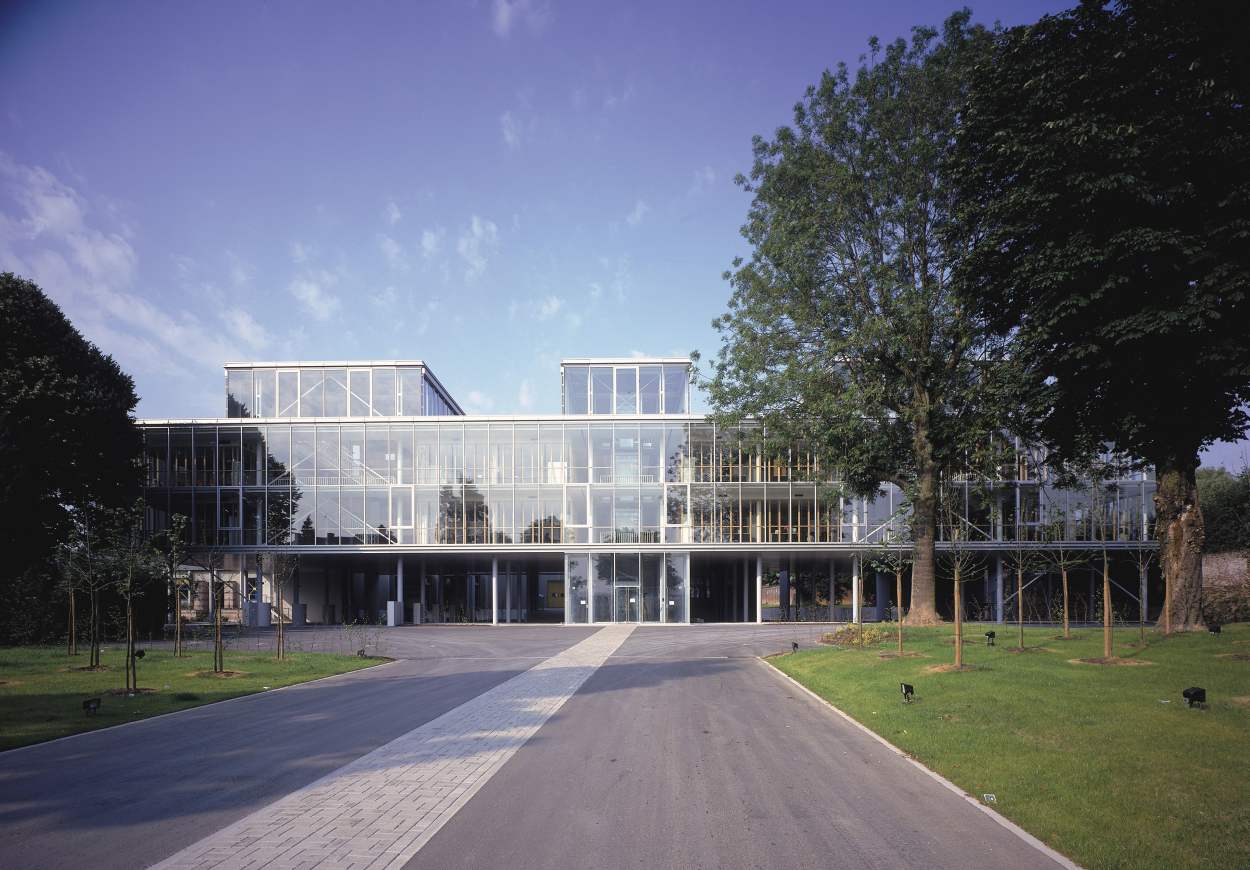 286-Dupuis publishing company headquarters
Headquarters
rue Destrée
Marcinelle
BELGIUM
3.060 sqm
 Architecture (with J.P. Dooms).
(1993-1995); (01-286).
Architecture
Construction management
Interior design
Landscaping 
Mechanical, electrical, plumbing engineering
Project management
Quantity surveying
Structural engineering
The new headquarters for Dupuis are located in front of their main distribution centre taking advantage of the existing landscaped site on its north-east facade.
The clients requested an economical building, adap-table to rapid changes both in demand and in use, creating a friendly and interactive work environment.
A raised concrete platform on top of the entrance hall, allows access to a loading bay and parking areas, and serves as a support for four office blocks that are separated from each other by three atria. The whole is encapsulated in a clear glass envelope.
This morphology of space organisation allows for direct day light to reach every employee, a maximum flexibility in the layout of the workstations and easy rearranging of groups of people in function of their space needs. Asymmetrical internal growth is possible not only on the same floor but simultaneously on neighbouring floors in the same block, or in adjacent blocks with the use of flying bridges.
All vertical and horizontal circulations, as well as utilities are separate from main office spaces. Thus employees may enter their office or work areas either through the internal façade or more typically through an internal corridor. This layout presents the same net usable area to gross area ratio as a classical, but much less flexible, office layout.
The study of the physical comfort aspects of this kind of building depends strongly on its orientation. The orientation of Dupuis is ideal as the main glazed facade faces North and the slightly glazed South facade faces the distribution centre. The plain transparent double glazing of the facade needs only sun protection on its smaller East and West side. A careful study of the daylight conditions in conjunction with the thermal load of the atria enables the limitation of vertical roof glazing.
The building is equipped with air distribution and small heating units in the offices and air exhausts through the atria. The structure of the building is, as a consequence, very simple. It is composed of concrete columns and flat hollow slabs, all services (air distribution ducts, electrical and data wiring) are located in the fixed suspended ceiling accessible through the concrete floor slab and, above, through its sides along the atria. This device allows for partitions of a constant height that can serve either as divisions between the atria and the offices or between the offices. Furthermore, this simple layout allows the free partition of modules which have been selected for this project at 30 cm, 60 cm, 90 cm and 1,20 m.
Special care is devoted to the use of simple materials: plaster for the suspended ceiling, linoleum as floor covering, wood and chipboard for the partitions and the furniture.
This concept reduces capital investment as well as maintenance and running costs, offering simulta-neously a flexible and performant work environment.
Document E41_01/286-En Issue of 2017-01-02
C.A. Revista oficial del Colegio de Arquitectos de Chile A.G., n° 76, April, May, June 1994; cover, pp 48 – 53, pp 61 – 64; (Chile).
L'ARCA, n° 98, November 1995, pp. 42-47; (Italy).
A PLUS, n° 139, 2/1996, April – May 1996, cover and pp. 32-45, 54, 77-79; (Belgium).
GLAS : Architektur und technik n° 4-96, August 1996, pp. 21-26 : (Germany).
C.A. Revista Oficial del Colegio de Architectos de Chile, A.G., n° 92 January, February, March 1998, cover and pp. 78-83. (Chile)
Trends: Industrial Building of the Year, June 1996; (Belgium).
STAALBOUWWEDSTRIJD – CONCOURS CONSTRUCTION ACIER 1998, nominated in category B for metal staircases (specific construction elements in steel); (Belgium).
City of Charleroi : " LES EQUERRES D'OR ", March 29th 2000.     
Architecture and Engineering: Philippe SAMYN and PARTNERS All projects are designed by Philippe Samyn who also supervises every drawing
Structural Engineering: Philippe SAMYN and PARTNERS with SETESCO (sister company 1986-2006) or INGENIEURSBUREAU MEIJER (sister company since 2007) if not mentioned
Services engineering: Philippe SAMYN and PARTNERS with FTI (sister company since 1989) if not mentioned
01-286
EDITIONS DUPUIS headquarters, MARCINELLE.
Client:
Editions DUPUIS.
Architecture:
Partner in charge : B. Vleurick.
Associates : Gh. André, L. Finet, N. Olin, Q. Steyaert, N. Vandendriessche, O. Verhaege.
in collaboration with J.P. Dooms,  architect.
©Ch. Bastin & J. Evrard.
©F. Loze & Archipres Paris.
The headquarters of Dupuis Publishing Company were awarded:
TRENDS-TENDANCE, Concours du bâtiment non-résidentiel de l'année (1996)
Non-residential Building of the Year Award (1996)
First Prize
Les Équerres d'Or 2000
The Golden Brackets
Awarded by the City of Charleroi
---
For plans sections and elevations, please refer to the archives section of the site available from the "references" menu.