© Photo: Quentin OLBRECHTS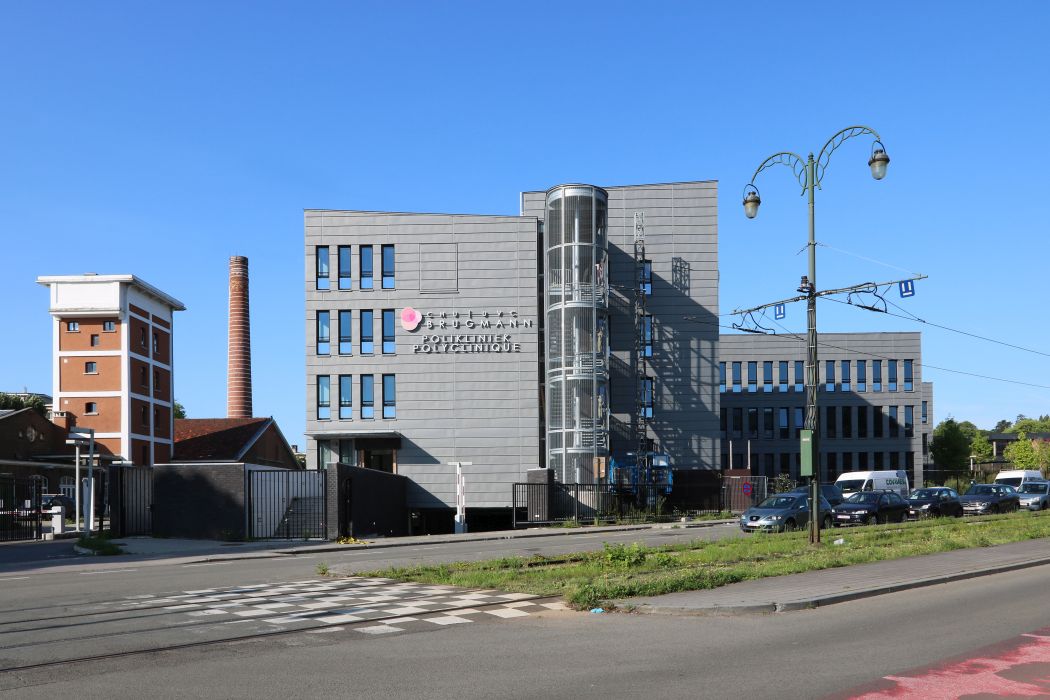 312-11 Outpatient's department building
14,477 sqm ; 2004 – 2017 ; (01/312-19).
– Landscaping
– Architecture
– Interior design
– Structural engineering
– Cost control
– Project management
On the eastern side of the Brugmann hospital's site, the outpatient's department building takes the shape of four articulated volumes, connected by an atrium and glazed galleries. As a result, all of the main passages benefit from natural lighting and a view on the gardens as replicated in the present Horta pavilions.
The rooms are dispatched on 4 levels on top of a semi-buried open air parking with a capacity of 129 places. Naturally ventilated and well-lit, the parking's structure prolongs the gardens.
The outpatient's department is connected to the rest of the hospital through the park and the existing tunnel. Situated in the very western end of outpatient's department, the bed-lifts and the freight elevator connect with the hospital's tunnel at level -1. The bedridden patients and the logistic traffic can easily access all of outpatient department's services by using the main circulation of the building.
The lifts for ambulatory patients are situated to the eastern end, near the entrance and the car park access.
The atrium is the main axis of circulation. It is a kind of main street giving access to all parts of the outpatient's building via the lifts and stairs that are distributed along its length, at its junction with each North/South wing.
The floors can easily be divided in line with the size of the various services. The entrances to these services can also be easily placed at any point on the main circulation routes (hallways in the atrium or in the North/South wings). The medical services can then easily fit into the floors, having for only constraint the 120 cm of façade modulation.
The lay-out and the materials used for the outpatient's department's façade follow on from those of the new medical wings of the Brugmann hospital. This allows for an architectural homogeneity of the reconstructed site: zinc-coated façades, high pieces of carpentry. Still, the off-centred location of the new building and its relatively large size allow for a more contemporary approach of the formal language, including low pitched green roofs and narrow windows disposed as vertical strips, as well as galvanised steel exit stairs. For instance, a long, aerial and light, exit stair hangs upon the large southern façade. It connects the floors to allow for an emergency exit in the central part of each of them. Since it is located outside, it gives more space for the floors, thereby improving the flexibility of arrangement.
---
For plans sections and elevations, please refer to the archives section of the site available from the "references" menu.