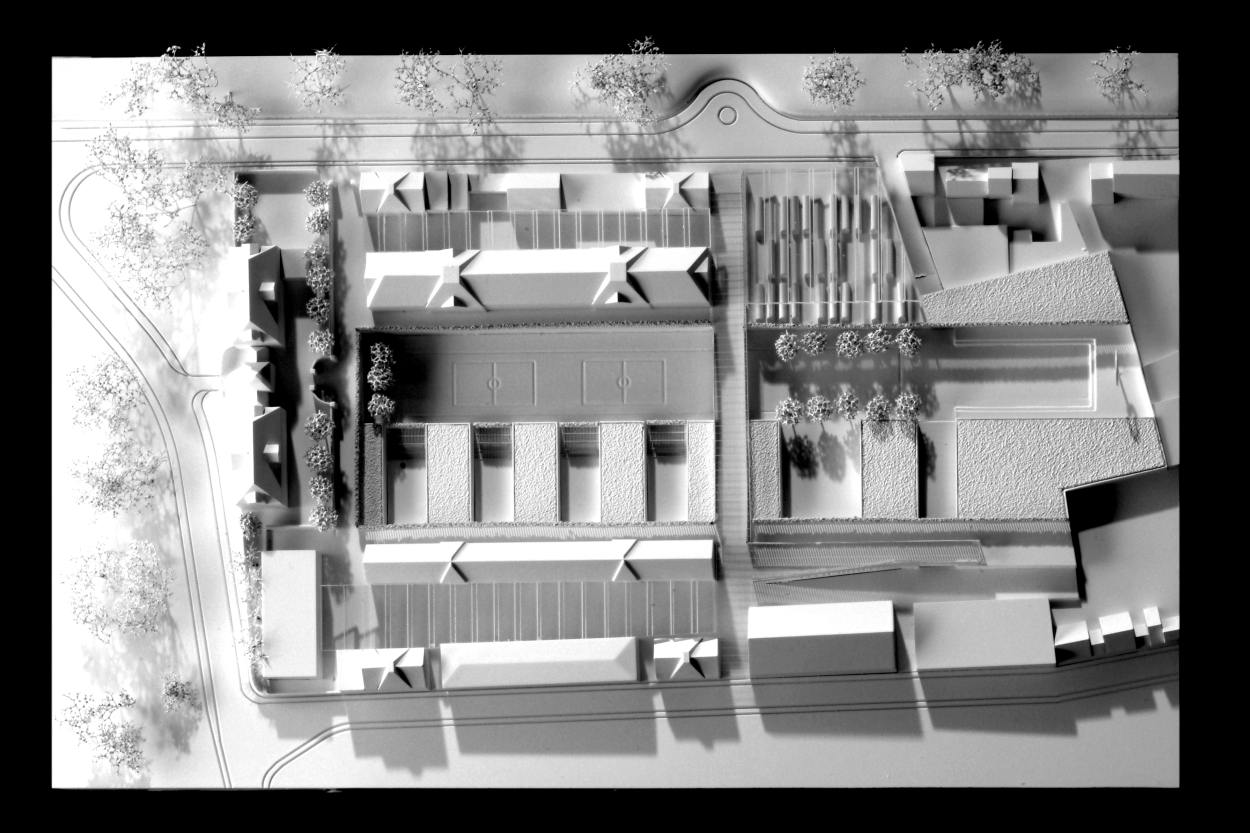 471-Fourth European School of Brussels
Laeken
BELGIUM
40.000 sqm  (2004); (01-471).
Invited competition entry 
The European identity, with its diversity of culture, its social attitudes and its growing concern for respect of the environment, is expressed in the project for the fourth European School of Brussels on the site of the former Military Cadet School.
The orthogonal implantation of the existing buildings defines a major perspective axis that is directed towards the centre of Brussels and oriented to the south; it is important not to neglect the significance of the dominating winds.
The new constructions prolong the principle existing buildings and thus are below the central esplanade excavated for this purpose.
The new constructions are as discrete as possible and are an expression of respect for the environment as well as effective pedagogic tools in themselves. The various European sensitivities are thus expressed throughout the different zones of construction.
The search for the greatest physiological comfort leads to:
a detailed analysis of the microclimates.
the implantation, coordinated with the landscaping, of numerous transparent windbreaks.
the maximisation of vegetation as a roof treatment.
a study to determine optimum natural and artificial lighting.
maximum use of natural materials such as stone and wood.
Particular attention is paid to pedestrian and bicycle access as well as to automobile and bus traffic.
Document E41_01/471 -En Issue of 2006-03-23
Architecture and Engineering: Philippe SAMYN and PARTNERS All projects are designed by Philippe Samyn who also supervises every drawing
 Structural Engineering: Philippe SAMYN and PARTNERS with SETESCO (sister company 1986-2006) or INGENIEURSBUREAU MEIJER (sister company 2007-2015) if not mentioned
Services engineering: Philippe SAMYN and PARTNERS with FTI (sister company since 1989) if not mentioned
01-471
FOURTH EUROPEAN SCHOOL, BRUSSELS.
Client:
BUILDINGS AGENCY.
Architecture:
Partner in charge : D. Mélotte.
Associates : J.-P. Buse, J. Ceyssens, V. Holvoet, C. Janssens, Q. Steyaert, Th. Wynen.
Services:
In association with BEAI.
40,000 m
2
; 2004 ; (01/471).
---
For plans sections and elevations, please refer to the archives section of the site available from the "references" menu.