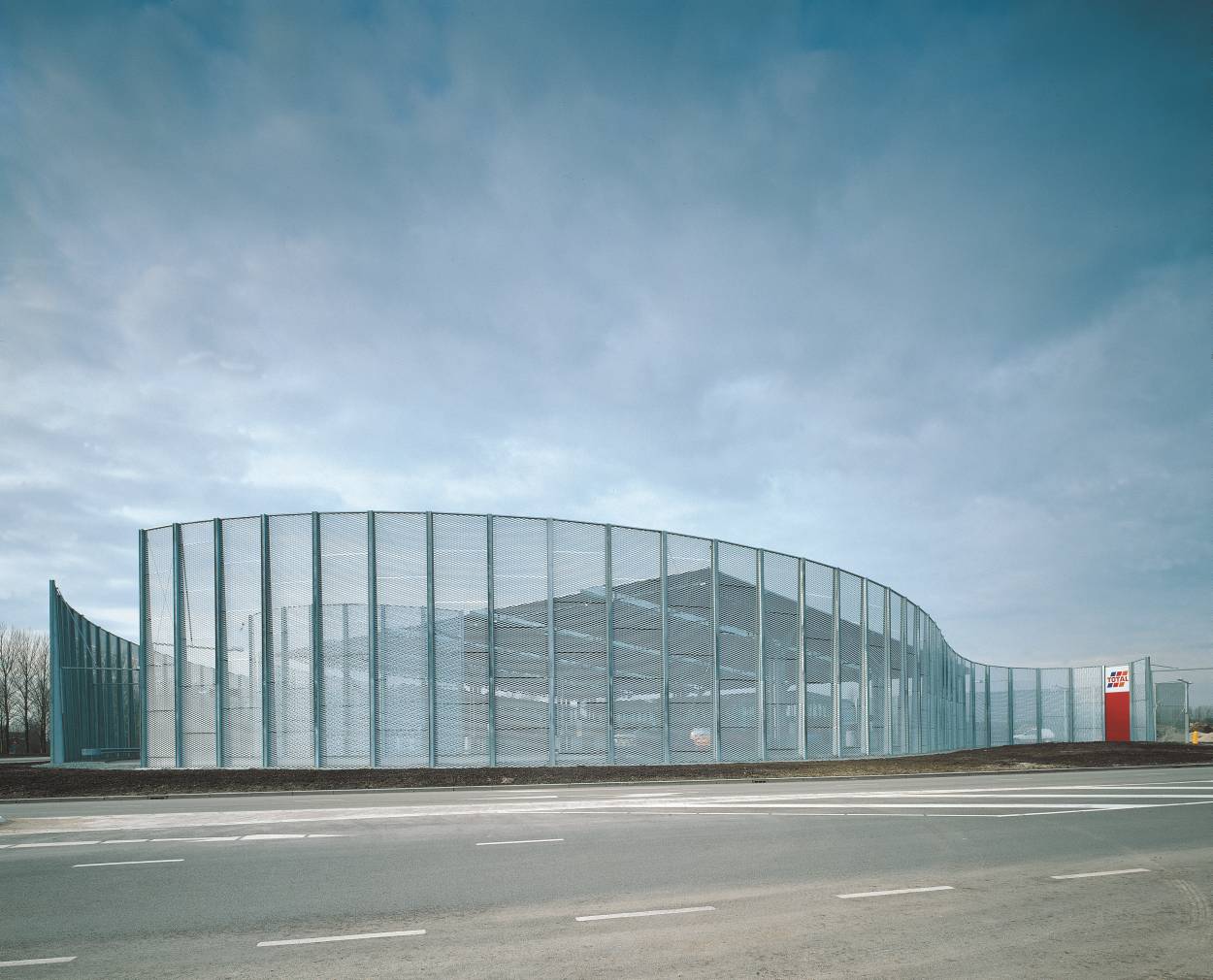 363-Fina Europe: Service Station – Houten
Houten
NETHERLANDS
1200 sqm. (1998-1999); (01-363).
– Architecture
– Interior design
– Landscaping
– Mechanical, electrical, plumbing engineering
– Project management
– Quantity surveying
– Structural engineering
The oil company Petrofina commisonned this service station in their search for a new type of station to fit the framework of their "Fina 2010" programme, whose architectural aspects were defined by Samyn and partners.
The starting point is the creation of a style of architecture that contributes towards an increase in customer comfort and that aims to offer better, more gentle integration into both urban and rural surroundings.
Following its Fina station at Wanlin (1995), the studio has continued its search for solutions in the construction of service stations – a genre that generally adheres to a dull traditional design. The aim is to produce prominent constructions that offer an increased level of inventiveness in terms of both concept and construction.
One important element of a service station remains the canopy above the petrol pumps.This is often no more than a flat disc with a series of simple columns beneath. In contrast, the new Fina station incorporates a slightly sloping roof that serves to make an inviting gesture.
The roof is supported by slender columns that are assembled out of four steel tubes. The form of these columns offers a direct visual link with trees, a feature that goes further than offering mere support to the roof. The solid character of the roof has been eliminated through the introduction of oblong light slits between the supports.
Service stations are very often unwelcoming places in windy conditions. The canopy in particular serves to usually intensifies the wind strength, creating an unpleasant micro-environment. This problem has been solved in Houten by incorporating curved, galvanized expanded steel plates with apertures comprising 50% of their surface area.Although the transparency remains, these windshields have been positioned according to result of technical calculations and so succeed in eliminating as much wind turbulence as possible. The positioning of these metal sheets also signals the direction in which to circulate round and approach the service station.
The volume and its interior infrastructure, such as the Fina shop, are directly connected to the sloping roof. The side of the shop facing the petrol pumps is entirely glazed. Its roof slope is identical to that of the large canopy.
A great deal of attention has been paid to the building appearence after sunset. Upon the curved screens, a continuous blue neon strip has been included. This is Fina's company colour. Having positioned the roof at an angle, the surface also works as a façade when seen from a distance. The indirect artificial light that is emitted into the darkness through the oblong apertures has a stimulating and unexpected impact.
Based on a text of Marc Dubois.
Document E41_01/6363 -En Issue of 2003-02-11
Architecture and Engineering: Philippe SAMYN and PARTNERS All projects are designed by Philippe Samyn who also supervises every drawing
 Structural Engineering: Philippe SAMYN and PARTNERS with SETESCO (sister company 1986-2006) or INGENIEURSBUREAU MEIJER (sister company since 2007) if not mentioned
Services engineering: Philippe SAMYN and PARTNERS with FTI (sister company since 1989) if not mentioned
| | |
| --- | --- |
| 01-363 | SERVICE STATION, HOUTEN (NL). |
| Client: | FINA NEDERLAND. |
| Architecture: | N. Neuckermans, J. Ceyssens, M. di Bartolomeo, J.F. Culot, R. Houben, T. Louwette. |
| Structure: | Samyn and Partners with P. De Lange  for execution. |
| Services: | FINA NEDERLAND. |
DE ARCHITECT, March 2000, pp. 70-74; (Netherlands)
l'ARCHITECTURE d'AUJOURD'HUI n°328, June 2000; pp. 18 et 20; (France).
L'ARCA n°151, September 2000, pp. 26-29 (Italy).
BOUW, October 2000, 55e jaargang, pp. 36-39; (Netherlands).
LOTUS n°106, Rivista trimestriale de architectura, September 2000, pp. 42-45; (Italy).
D'ARCHITECTURES, n°114, October 2001, pp 26-27 ; Francis RAMBERT : "L'architecture du "No Logo" ; (France).
ARCHITECTURE, STEEL-STAHL-ACIER n°11, Convention Européenne de la Construction Métallique (ECCS-CECH-EKS), (ISBN 92-9147000-69), 18 p; "Service Stations : Houten, Orival, Hietalahti"; (Europe).
AREA. Rivistadi architettura e arti del progetto luglio, agosto 2002, pp 76-87; Alessandro MASSARENTE : "Service Station-Houten, Utrecht"; (Italy).
NATIONALE STAALPRIJS 2000, Amersfoort, Netherlands October 12th 2000; Nomination in category A.
1200 sqm. (1998-1999); (01-363).
---
For plans sections and elevations, please refer to the archives section of the site available from the "references" menu.