© Photo: Quentin Olbrechts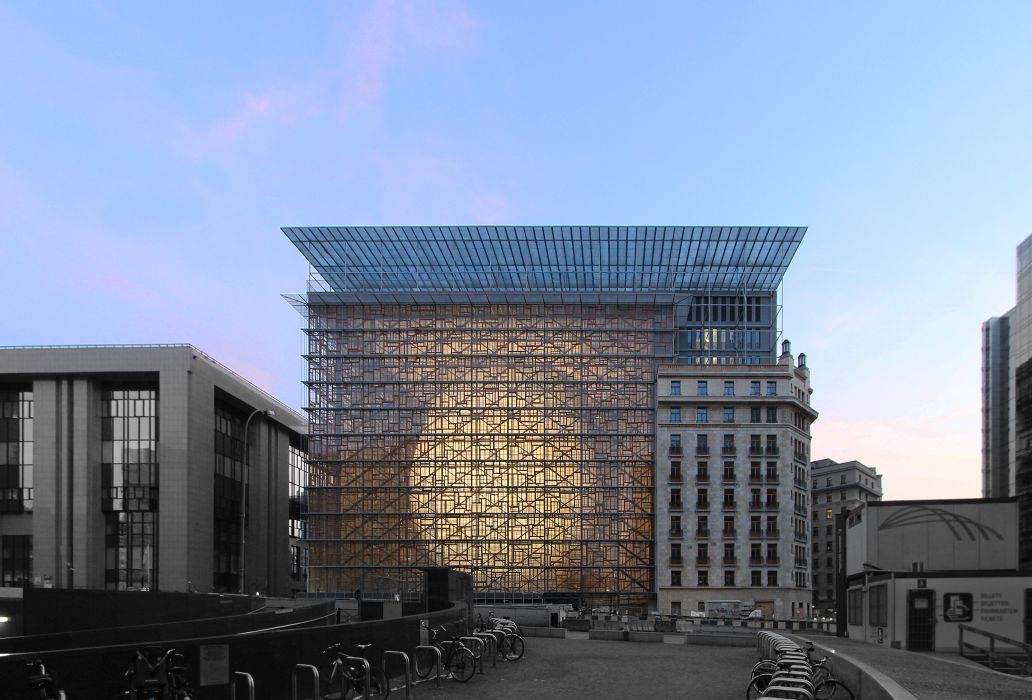 494 – EUROPA – New headquarters of the Council of the EU
Rue de la Loi 175 1000 Brussels BELGIUM Philippe SAMYN and PARTNERS architects & engineers, LEAD and DESIGN PARTNER. With Studio Valle Progettazioni architects, Buro Happold engineers. 53.815 sqm. superstructure (office and conference rooms); 17.184 sqm. infrastructure · Architecture (with Studio Valle Progettazioni). · Interior design (with Studio Valle Progettazioni). · Landscaping (with Studio Valle Progettazioni). · Structural Engineering (with Buro Happold). Lead Design Partner : Philippe Samyn. (2005-2016); (01-494).
Architecture
Structural engineering
Building services engineering
Surroundings and road design
Asbestos removal
Analysis of the existing situation
Historical study
Heritage
Building physics and internal climate
Daylighting
Acoustics
Conceptual energy and environment plan
Accessibility for disabled persons
Intrusion detection systems
Signing systems
Scenography
Furniture design
Project Management
Cost control
Quality insurance
Computer generated imagery and scale models
As a consequence of 2004 European enlargement, the Justus Lipsius building becomes too small for the EU Council1 (hereafter named the Council). According to the treaty of Nice, adopted in 2001, all European Council2 sessions are held in Brussels, which also generates new real estate needs. In order to respond to those, the Belgian State offered the Council to cede block A from the complex "Residence Palace" to  make it the future seat of both the European Council and the Council, once this building renovated and adapted to its future owners' needs.
In other words, the Residence Palace needs to be reorganized to accommodate European Council's quarterly sessions and EU Council's bi-weekly ones, as well as other important conferences. It must also include rooms for the Presidency and other high level leaders, rooms for Member States delegates and the General Secretary of the Council, as well as international press representatives.
In this perspective, the Council launches in August 2004 a European architecture and project competition and selects, in January 2005, 25 teams of designers in cooperation with the Belgian Buildings Agency. On September 2nd 2005, the team of architects and engineers composed of Philippe SAMYN and PARTNERS (Lead and Design Partner), with STUDIO VALLE PROGETTAZIONI and BURO HAPPOLD is designated laureate of a 6 competitors final that takes place from June to September 2005.
The Residence Palace was built between 1922 and 1927 at the initiative of the financier Lucien Kasin and designed by the Swiss architect Michel Polak. The complex is a collective housing experiment under the form of luxurious service flats located next to the city centre. The project will only have a short commercial success and after World War II, the art deco building is converted into ministerial offices by the Belgian State.
An extension with a new facade was built in the years '60, behind the original building in front of the rue de la Loi – Wetstraat. Later in the years '80, the Eastern wing is demolished in order to erect the Justus Lipsius building, current seat of the Council.
The original facades, as well as the entrance halls and the corridors on the ground floor are today listed as part of the Belgian cultural heritage.
According to urban planning regulations, the building is extended on the North-East side by two new facades to transform its current "L" shape into a "cube". This outer area is converted into a glass atrium protecting from the urban dust. It covers the principal entrance as well as a new lantern-shaped volume incorporating the conference rooms.
 
The shape of this volume follows the minimal required surface for each type of room, as for example the press room (level +1), the smallest 50-persons dining room (level +11), the largest meeting room enabling 250 persons meetings (level +5), other meeting rooms (level +3, +7) and finally the largest dining room for official diners (level +9). Each level of this volume has an elliptic plan with different dimensions but the same centre and the same principal axis. The structure of this object is rigorously symmetrical although it does not appear so.
The new double facade, made of a harmonised patchwork of re used oak windows with simple crystal like single glazing (from the different European countries) provides the necessary acoustic barrier from the traffic noise of the Rue de la Loi – Wetstraat and it also offers a first thermal insulation for the inner space.
Indeed, following to UE recommendations about energy savings, many old buildings across Europe will change their window frames for double glazing in the next few years. In the context of a sustainable development approach, it is decided to restore some of those millions of old though still efficient window frames, and re-use them in this project.
This new façade will be both a practical and philosophical statement about the re-use of these traditional constructions elements, expressing the European diversity of cultures.
Moreover, the council wishes this building to be from all points of view an example as far as sustainable development is concerned. This wish is displayed in many aspects of the architectural and technical design. As an example, an umbrella of photovoltaic panels for the electricity production covers both the modern and the historical parts, which symbolizes also the link between the present, the past and the future.
53.815 sqm superstructure (including 9.271 sqm conference rooms, 27.163 sqm offices, 3.370 sqm pressroom and 8.375 sqm ceremonial rooms and restaurants);
17 184 sqm infrastructure (including a 145 cars parking)
2005 – 2016 ; (01/494).
1) The Council, also called the Council of Ministers designates a meeting that gathers representatives of EU member states at the ministerial level.
2) The European Council is a political entity that is comprised of EU heads of state and/or government.
 Lead and Design Partner : Dr Ir Philippe Samyn, architect & civil engineer.
Asbestos removal started in January 2008.
Demolition and infrastructure works started in May 2008.
Project on schedule and at final design stade.
Final building permit granted in April 2008.
Final bidding document for fall 2008
End of the works: December 2016.
In: BULLETIN DE LA CLASSE DES BEAUX ARTS. Académie Royale des Sciences, des Lettres et des Arts de Belgique – 6ème serie, tome XVII 2006, 7/12, pp 323-353; Ph. Samyn : "Les vertus du patchwork et la façade du conseil de l'Union Européenne"; (BE),(862).
Document E41_01/494-En Issue of 2016-12-07
Architecture and Engineering: Philippe SAMYN and PARTNERS All projects are designed by Philippe Samyn who also supervises every drawing
 Structural Engineering: Philippe SAMYN and PARTNERS with SETESCO (sister company 1986-2006) or INGENIEURSBUREAU MEIJER (sister company 2007-2015) if not mentioned
Services engineering: Philippe SAMYN and PARTNERS with FTI (sister company since 1989) if not mentioned
| | |
| --- | --- |
| 01-494 | SEAT OF THE EUROPEAN COUNCIL AND THE EU COUNCIL |
| Client: | BELGIAN PUBLIC BUILDINGS AGENCY. |
| Architecture: | Lead and Design Partner: Ph. SAMYN Principal Partner in charge: B. CALCAGNO Partners in charge: T. HENRARD, Å. DECORTE Associates: L. BARBARITO, C. BASTIN, M. BELOVA, J. BOMTEMPS, A.-S. BRIES, B. CAPELLE, I. CARTON DE TOURNAI, J. CEYSSENS, Y. CHEN, A. CHICHIZOLA, M. CHTOUROU, A. L. COELHOZ, R. VAN COLENBERGHE, F. DE COSTANZO, F. DEFRENNE, A. DE GOTTAL, X. DELPIRE, G. DENADAI, N. DUVIVIER, A. ESCALIER, M. FARINELLA, D. FERIER, L. FERREIRA, R. FICHANT, A. GALATOPOULOU, A. GOURINE, D. GUNDES O. JOTTARD, B. LACASSAGNE, G. LARIZZA, O. LENGYEL, C. LEONARD, S. LO CASTRO, G.A. PATO MENDES, A. MACCIANTI, I. MASSA, D. MÉLOTTE, M. MILIC, TH. NAESSENS, M. NAUDIN, M. NYBERG, M. OPTIZ, H. ÖZTÜRK, N. PRAMAGGIORE, J.-C. PUECHBLANC, G. SANTAROSSA CESTARI, S. STICCHI, C. STUEREBAUT, G. TAN, S. VAN DER MEER, R. VAN LAMMEREN, F. VERRIER, B. VLEURICK |
| Services: | Pictural integration: Georges MEURANT |
All © : Philippe SAMYN and PARTNERS architects & engineers, LEAD and DESIGN PARTNER.
Philippe Samyn and Partners architects & engineers, Studio Valle Progettazioni architects, Buro Happold Limited engineers.
© Pictural integration: Georges MEURANT
© Photo Model : Andrès FERNANDEZ MARCOS
© Photo: Marie-Françoise PLISSART
© Photo: Thierry HENRARD
© Photo: Quentin OLBRECHTS
© Photo: Tim FISHER
© Photo: Marc DETIFFE
© Aerial photos: European Union
© Photo: Olmo PEETERS
The building EUROPA was awarded:
The Plan Award 2016
Category Administrative Building
Premio Internazionale Dedalo Minosse 2017
International Prize Dedalo Minosse 2017
Premio Speciale Confprofessioni / Special Prize Confprofessioni
Règles d'Or de l'Urbanisme / Gouden Regels voor Stedenbouw 2017
Golden Rules of Urbanism 2017
First Prize for a new building or complex
---
For plans sections and elevations, please refer to the archives section of the site available from the "references" menu.