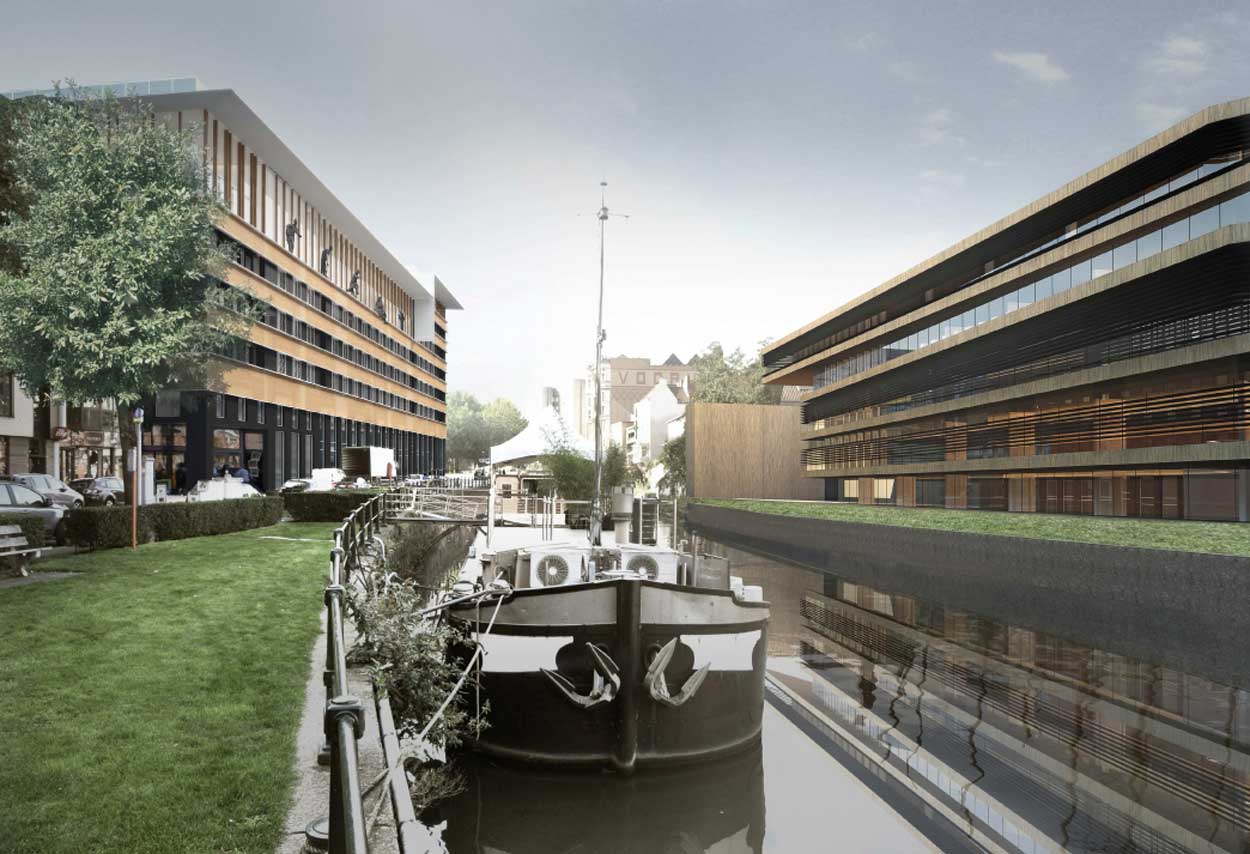 585-East flanders provincal house
Woodrow Wilsonplein 2
9000 Gent
BELGIUM
(2011-2012); (01-585).
Invited competition entry; preliminary design
– Acoustics
– Analysis the existing situation
– Architecture
– Building physics and internal climate
– Civil engineering
– Conceptual energy plan
– Cost control
– Daylighting
– Furniture design
– Historical study
– Interior design
– Masterplan
– Structural engineering
– Signalizing
– Traffic studies
– Urban design
– Urbanism
– Building services engineering
The project aims to improve the energy performance of the existing building, its environmental properties and, at the same time, change the building so that it is more in keeping with the times, the city of Ghent, the concept of the provincial institution, and its immediate surroundings.
The new layout of the building is intended to be simple, efficient and attractive, while keeping the existing commercial centre, car park and apartments.
The building is completely renovated and retains the vast majority of its volume and floor space. It is only enlarged through a multi-purpose room, a 'light box' on the roof of the canal-side wing of the building, and a two-level gallery on the roof of the Oudescheldestraat-side wing. Replacing the attic roofs with a glass attic level only slightly changes the volume of the building, but it radically transforms the façade and overall character of the building.
The new appearance of the building resembles those of the remarkable buildings in the surround area, such as:
the 'Vooruit', a yellow-toned building with modernist lines, refined through remarkable design,
the old and new library-to-be, both characterised by their uncluttered appearance and light yellow and brown tones. Another characteristic of the old library is the addition of art works into the façade.
The two upper levels include the Council offices, meeting rooms, cafeteria, restaurant, multi-purpose room and Regional Council room. These partly public facilities allow other departments and the general public to make use of these prestigious levels.
Document E41_01/585 -En Issue of 2013-04-15
Architecture and Engineering:
Philippe SAMYN and PARTNERS All projects are designed by Philippe Samyn who also supervises every drawing
Structural Engineering:
Philippe SAMYN and PARTNERS with SETESCO (sister company 1986-2006) or INGENIEURSBUREAU MEIJER (sister company 2007-2015) if not mentioned
Services engineering:
Philippe SAMYN and PARTNERS
with FTI (sister company since 1989)
if not mentioned
01-585

PROVINCIAL HOUSE EAST FLANDERS
Client:
PROVINCIE OOST-VLAANDEREN
Architecture:

Design Partner: Philippe Samyn

Partner in charge: Jacques CEYSSENS, Quentin STEYAERT

Associates: Y. Chen, F. Defrenne, A. Hanson, O. Jottard, G. Larizza, D. Mullane, R. Rodesch, A. Piaggio,  F.  Schiettecatte, G. Tan, E. Zudeeva.

Structure:
Structural engineering: Ingenieursbureau MEIJER sprl ( Ir Jan Meijer, Manager and Dr Ir Philippe Samyn, Administrator).
Services:

Building services: FTI sa (Flow Transfer International sa) (M. Andrew JANSSENS, Managing Director, and Dr Ir Philippe SAMYN, Administrator).

Building physics and acoustics: DAIDALOS PEUTZ bvba (Dr  Ir Filip DESCAMPS).
Urban design: OMGEVING cvba  (Luc WALLAYS).
Signage system: sdesign sprl (François-Joseph de Lantsheere).
Pictural integration: Georges  Meurant.
Existing floor space: 30,155 m²; demolition: 209 m²; extension: 1,825 m2; projected outcome 31,771 m²; 2011-10-05; (01/585).
2012; (01/583).
International invitation-based competition; grade 3/5 
© Georges MEURANT – artistic integration
---
For plans sections and elevations, please refer to the archives section of the site available from the "references" menu.