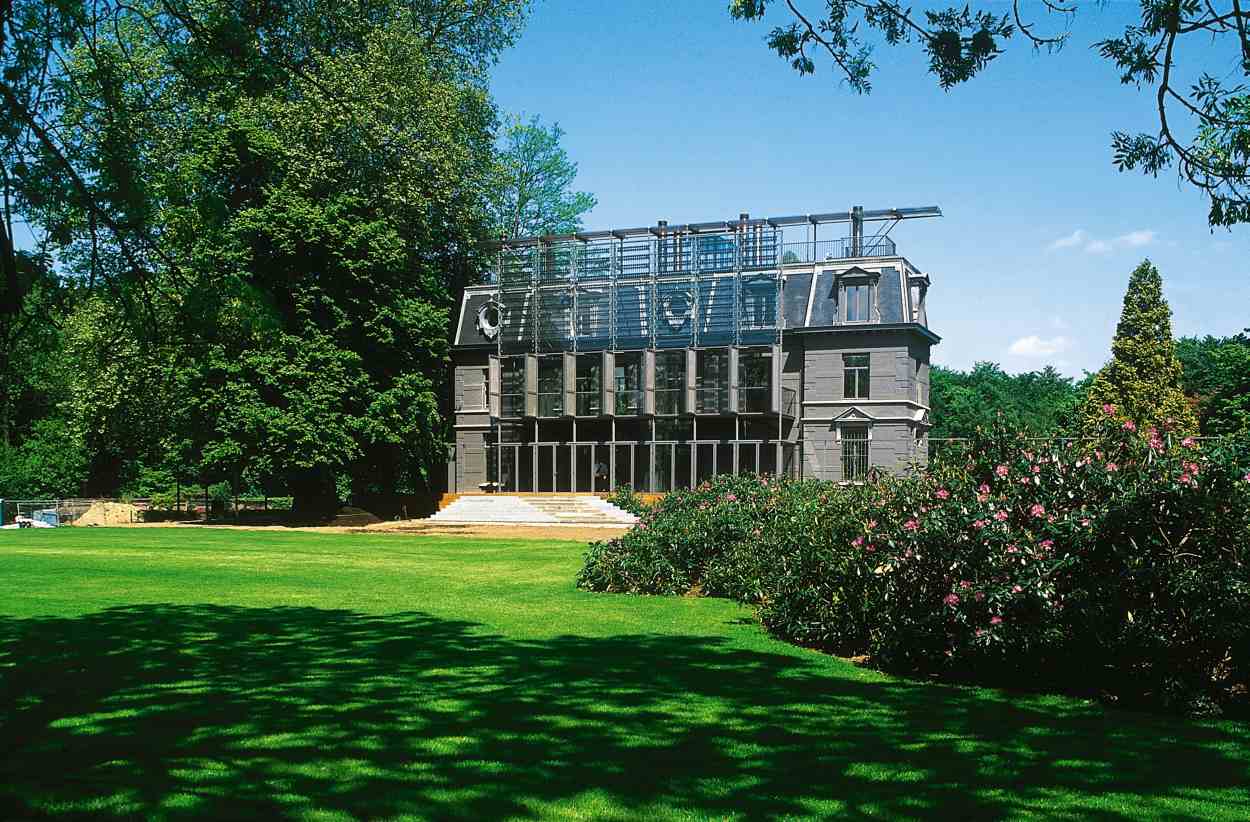 352-Castle Groenhof
Flanders
BELGIUM
960 sqm.; (1996-1999); (01-352).
– Analysis the existing situation
– Architecture
– Civil engineering
– Cost control
– Programing
– Project management
– Quantity surveying
– Special services
2003.02.05 The castle was built around 1830 in an asymmetrical French style. In accordance with principles of monument conservation, all the interventions are carried out in such a way that they are reversible. Inside, on the ground floor, the south corridor is reorganized into a long and simple gallery that extends with a reflecting water surface across the park. The stair in the extension of the gallery leads to a North-South cross gallery both on the first and second floor, from where a spiral stair leads to the terrace roof. The roof is equipped with a wooden terrace and a parapet of steel rods as well as a central glazed stairwell lantern, a canopy of glazed solar collectors for hot water and stainless steel chimneys for the natural ventilation of the sleeping rooms. The South façade is balanced by the addition of a sophisticated glass and steel construction, parallel to the façade at a distance of 2,7 m. The steel frame holds a glazed 'orangerie' at groundfloor, a permeable wooden terrace spanning to the existing façade and stainless steel solar screens at first floor, and finally voltaïc cells on clear glass sheets on the second floor.
Document E41_01/352 -En Issue of 2005-06-13
Architecture and Engineering: Philippe SAMYN and PARTNERS All projects are designed by Philippe Samyn who also supervises every drawing
 Structural Engineering: Philippe SAMYN and PARTNERS with SETESCO (sister company 1986-2006) or INGENIEURSBUREAU MEIJER (sister company since 2007) if not mentioned
Services engineering: Philippe SAMYN and PARTNERS with FTI (sister company since 1989) if not mentioned
01-352
RENOVATION OF 'GROENHOF' CASTLE, MALDEREN.
Client:
GROENHOVE.
Architecture:
Partner in charge : J. Van Rompaey.
Associates : Ph. Van Caenegem, T. Van Bogaert, N. Seys, S. Swiggers.
Services:
Consultants : Building physics : CSTC – WTCB.
Landscape designer : Erik Dhont.
Interior designer : Claire Bataille and Paul Ibens Design.
ECO ENEA, supplemento l'Arca 129, September 1998, pp. 24-28; " Edifici a bassa energia – Low energy Buildings "; (Italy).
RENOSCRIPTO n°14, September-October 1998, pp. 6-15, "Samyn and Partners : Men kan niet bouwen zonder te denken aan de toekomst – on ne construit pas sans penser à long terme"; (Belgium).
VILLAS n°60, 2000, cover & fasicule1, 20 pages; (Belgium)
DE ARCHITECT, September 2000; pp.78-81; (Netherlands).
L'ARCA n° 155, L'ARCA INTERNATIONAL, January 2001, pp 40-44; Benedetto QUAQUARO; "Strati tem porali. Strates temporelles. "Groenhof" castle, Belgium"; (Italy, France).
AD (Architectural Digest. Les plus belles maisons du monde), cover, pp 7, 62-71, 150. Serge GLIEZES "Rigueurs flamandes" ; (France).
DOMVOGUE, OCEHb – 3 HMA 2001/2002, pp 110-115 3AKOHbI PRRObI ; (Russia).
ABITARE n°422, November 2002 pp.112-121; "GROENHOF Congegno d'accacio"; (Italy). 
BELGIAN ARCHITECTURAL AWARDS 2000, March 1st 2000, First prize in the category: Reconversion of valuable old buildings.     
interior: Jan Verlinden.
exterior: Ch. Bastin & J. Evrard.
The Groenhof Castle won the awards:
Awards de l'Architecture Belge / Awards van de Belgische Architectuur 2000
Belgian Architecture Awards 2000
First Prize, category "Regeneration of an old and valuable building"
960 sqm.; (1996-1999); (01-352).
---
For plans sections and elevations, please refer to the archives section of the site available from the "references" menu.