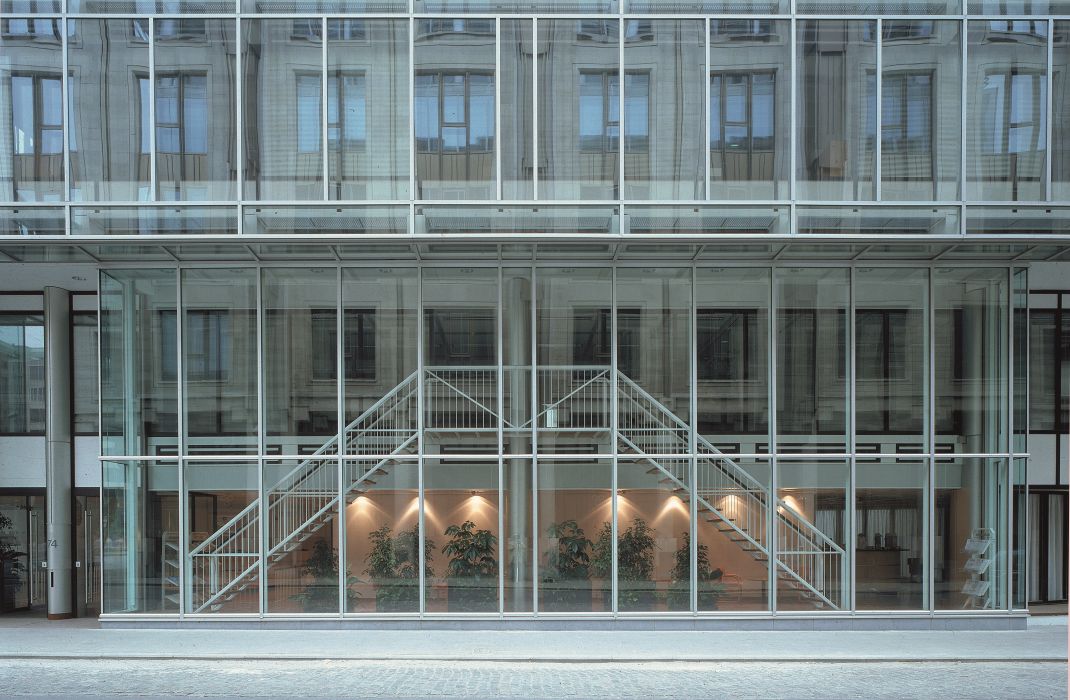 225 – BRUSSIMMO
Office Building for the European Free Trade Association (EFTA)
rue Belliard, rue de Trèves
Brussels
BELGIUM
6 450 sqm. above ground; 4 440 sqm. underground
Project and construction management with Sidmar (1989-1993); (01-225).
Architecture
Interior Design of main spaces
Structural Engineering
Mechanical, Electrical, Plumbing engineering
Project Management (with Sidmar)
Construction Management (with Sidmar)
Quantity Surveying
The site of the building is outstanding, in the heart of the Léopold district, the hub of Brussels business activities, and close to the main European institutions. Nevertheless is the site is exposed to noise, dust and other kinds of pollution.
The building has to accommodate every possible form of office organisation, from individual offices to a full open-plan arrangement, including such concepts as the Scandinavian "combi-office", which have proved so efficient and user-friendly.
Special attention is given to the architectural quality of the underground parking area, as this is often the visitor's first contact with the building.
The layout is designed in such a way as to allow:
– easy installation of technical equipment, independently from partitioning;
– simple alteration of the partitioning, without damaging the ceiling, and with sufficient sound insulation between enclosed spaces;
– the installation of equipment compatible with the present needs of large companies of international standing.
– a quiet and pleasant working environment, notwithstanding the noisy location;
– the financial feasibility of the project.
The building comprises a ground floor with a reception area, a first floor with meeting and office accommodations, five standard office floors, and a seventh floor under semi-cylindrical vaulting, with a conference room, a restaurant and technical services space.
The superstructure levels, with a 10.8 m clear span, are entirely free of columns or any other obstacles, and afford complete freedom of layout. The office levels are supported by two rows of five columns, on which rest two main girders that support transverse girders providing cantilevered support for the glazed outer facades. A reinforced-concrete floor slab on precast panels rests on these secondary girders. The spaces between the main and secondary girders allow the trouble-free installation of all of the building's internal equipment.
A unique feature is the equipment of the floors with regularly spaced sanitary outlets which allows for free localisation of the toilets.
The building is provided with a "double-skin facade" having the following advantages:
– good sound insulation;
– an entirely glazed, and easily maintained, outer facade;
– the use of virtually transparent glazing without impairing the comfort or affecting the temperature inside the building;
– a large influx of natural light through facades which are entirely glazed from floor to ceiling;
– easy distribution of mechanical and electrical equipment;
– use of the space provided by the double skin as ducting for the air-conditioning system;
– simplicity of design, in terms of the building physics, which eliminates the problems associated with thermal insulation.
The double glazing, in the corner windows of the wooden inner facade, is filled with aerogel – translucent silicate foam (already in 1993).
L'ARCA n° 54, November 1991, pp 34-41; (Italy).
WORLD ARCHITECTURE, Magazine of the International Academy of Architecture, n° 15; December 1991, pp 70-72; (United Kingdom).
A PLUS, n° 115/2 1992, cover, pp 27-50; (Belgium).
SPACE DESIGN, Tokyo, n° 346, July 1993, pp.69 – 96; (Japan).
Bauwelt n° 40/41, 29 October 1993, pp 2196 – 2197; (Germany).
L'ARCA, n° 79, February 1994, pp. 12-17; (Italy).
DE ARCHITECT, March 1994, pp. 80-87; (Netherlands).
C.A. Revista Official del Colegio de Arquitectos de Chile A.G., n° 76, April – May – June 1994, cover and pp 48-53, 61-64; (Chile).
JAARBOEK ARCHITECTUUR VLANDEREN 1990-1993, Ministerie van de Vlaamse Gemeenschap; pp. 16, 94- 97; (Belgium).
Otto RIEWOLDT, Jennifer HUDSON "NEW OFFICE
DESIGN", 1994, pp. 202-203, Laurence King Publishing, London; (Great-Britain).
BOUWEN MET STAAL, n° 123, March – April 1995, cover and pp. 36-39; (Netherlands).
BRUXELLES: VILLE NOUVELLE – HET NIEUWE BRUSSEL – BRUSSELS NEW CITY, Editions PRISME 1995, cover and pp. 42-48, 100-101, 132-133, 140-143, 241-242; (Belgium).
ARCHITECTURE, STEEL – STAHL – ACIER, n°1, Convention Européenne de la Construction Métallique (ECCS – CECM – EKS); 20 pp.; (EUR).
The architects 'journal, 13 March 1997, Steel Design, cover story + pp. 8-11; (Great-Britain).
L'ARCA PLUS, n° 17, 2/98, Monografie di architettura, Monographie on architecture: "Philippe Samyn",
112 p, Arca Edizioni, Milano; pp 62-67, (Italy).
Trends – 1994 : building of the year, finalist (1994)
FBU Brussels Urban Planning Federation : third Golden Rules of Urban planning 1994 : Award for the rational use of energy
VI Belgian Architectural Award (1994)
On the preservation list of the inventory of the contemporary architectural patrimony of Brussels region, 95.03.23.; (Belgium).     
Architecture and Engineering: Philippe SAMYN and PARTNERS All projects are designed by Philippe Samyn who also supervises every drawing
Structural Engineering: Philippe SAMYN and PARTNERS with SETESCO (sister company 1986-2006) or INGENIEURSBUREAU MEIJER (sister company since 2007) if not mentioned
Services engineering: Philippe SAMYN and PARTNERS with FTI (sister company since 1989) if not mentioned
| | |
| --- | --- |
| 01-225 | OFFICE BUILDING BRUSSIMMO, BRUSSELS. |
| Client: | BRUSSIMMO. |
| Architecture: | Y. Azizollahoff, W. Azou, A. Charon, J. Ceyssens, H. Dossin, P. De Neyer, L. Finet, S. Finet, D. Gelhausen, T. Hac, T. Khayati, M. Mayeur, A. Mestiri, N. Milo, B. Selfslagh, V. Van Dyck, L. van Rhijn, D. Verboven, B. Vleurick. |
---
For plans sections and elevations, please refer to the archives section of the site available from the "references" menu.