© Rendering: ASYMETRIE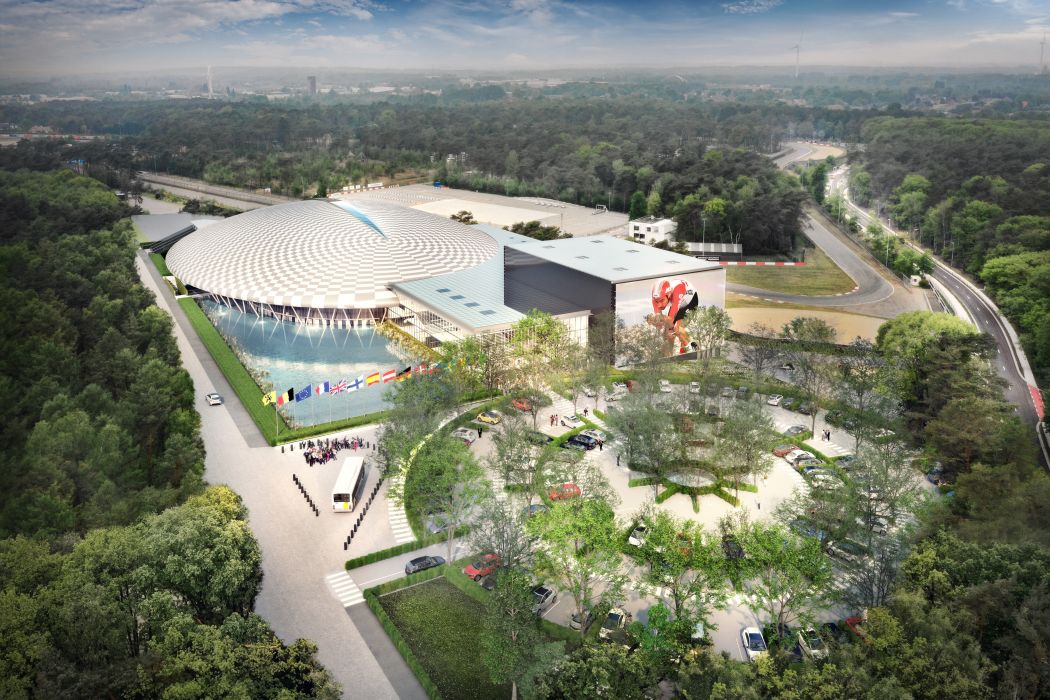 663 – VELODROME AT HEUSDEN-ZOLDER
Former motor racing circuit land, corner of Kerkstraat and Herderspad, 3550 Heusden-Zolder, Belgium
50°99'31''N / 5°26'57''E
Building:  18,840 m²; 2018-2019; (01/663).
"Design, Build and Maintenance" competition by invitation on behalf of Stadsbader nv.
Urban planning
Site history
Microclimate (with Von Karman Instituut)
Hydrogeology
Architecture
Interior design
Garden and landscape architecture
Structural design (with Greisch)
Building services engineering (with Istema)
Building physics, EPB (with Istema)
Air quality
Natural lighting
Acoustics (with A-Tech)
Security (with Robrechts & Thienpont)
Inclusive accessibility (with Plain-Pied)
Fire safety (with DGMR)
Sport surfaces (with Georges Soleil) and cycling track (with track architect Peter Junek)
Signage
Principal's requirements
Vzw Sportcomplex Flanders Zolder (a consortium of the municipality of Heusden-Zolder, vzw Cycling Friends, and vzw Terlamen) is acting as project owner and has launched a "Design Build Maintenance" competition to develop sporting infrastructure for track cycling at the highest level, to which international teams will come to Belgium to train, and which can also be used for world-class competitions. The infrastructure must excel in terms of the technical qualities to maximise speeds for track cycling. This must further be completed within the tightest possible schedule (target date for provisional acceptance has been set at 2021-07-01). In the track centre, courts should be set up for basketball, futsal, volleyball, badminton, each to a standard approved by the relevant federations.
Intensive daily use is expected (4000 hours/year = 11 hours/day) and it is requested that it should not affect the operation of the Zolder motor racing circuit, so that the existing medical centre should remain in operation until the newly medical centre is completed. The emergency entrance and exit from the circuit must always remain unobstructed.
The schedule also sets out three required options: a bare shell fitness space (135 persons), an equipped gym hall (70 persons), and a bare shell space for a performance laboratory (elite sport education, training and coaching).
The location
The outstanding and easily accessible location of the Zolder racing circuit, its name recognition and the infrastructure already in place for major sporting events in a stunning green setting makes the municipality the ideal location for this sustainable sporting project. It should be noted that world cycling championships were held here in 1969 and 2002.
The response
The site is very tight when it comes to positioning the structure, particularly the velodrome. This is made still more difficult as the existing medical centre for Zolder circuit has to remain in operation until the works have been completed.
The project is designed such that no space looks onto the Zolder circuit and with buildings fully accessible to people with disabilities.
The minimum width of the velodrome is determined both by the track geometry (with an internal lap distance of 250 m) and the width required for space for normal and emergency access allowing people to move freely around.
It is therefore proposed that the different structural volumes should be distributed:
1) The ellipsoidal velodrome, on the west of the site. A large roof volume is beneficial for all sports which involve an element of height and to improve the experience (for both spectators and athletes). The stands are set up around the track perimeter. The track centre is reached though two main staircases and two ramps.
Beneath this are located 270 bike lockers around and beneath the track centre, the cycle storage space, a cycle workshop, meeting rooms, two changing rooms, the technical spaces, the general work spaces, staff rooms and all store rooms.
At the lowest level there is access for goods vehicles from the service yard on the west side.
2) The main parallelipipedal building (with the fitness space, the gym hall and the performance lab) to the northeast of the velodrome. A mezzanine houses a VIP space. An additional event space is located below the main staircase, directly linked with the track centre.
3) The cafeteria with a direct view over the track and the gym. An external terrace adorns the centre of the cafeteria.
4) The glazed volume of the main entrance with the stairs and the lift to the south of the main building and a large media wall on the eastern facade.
5) The round car park with a capacity of 200 places intended for VIPs, staff and 130 bicycles and 50 motorcycles. The car park takes the form of concentric circles with green hedges and high-growing trees.
6) The main pedestrian entrances to the south, with kiss & ride, and to the east.
7) The parking for cycles and motorcycles, located externally (unsupervised parking) and internally (with social control), beside the cafeteria on the first level, with a capacity of 60 bikes.
8) A service road and service yard on the west of the site.
The ground floor height is determined so as to avoid any addition of or removal of soil.
A large ecological pond to the south of the velodrome reflects its image. It incorporates a lower cleaning bed and a higher section used to manage rainwater.
The ellipsoid
The ellipsoidal structural framework (82 m by 114 m, with a height of 10 m centrally under the arches) is very lighter and stiffer than any bending structure and allows the use of materials with high permissible stresses. The ellipsoidal form of the velodrome thus offers not just a very large and comfortable space, but also a very efficient lightweight structure. The whole is covered by a vapour barrier, EPB-compliant thermal rockwool insulation and a roof membrane in EPDM.
To optimise views of the racing, the seating is installed on parallel circles over the basic oval, at the height of the track straights. This offers smooth access to seating from the upper gallery, and safe and fast evacuation via the same upper gallery and via the lower entrance intended for the cameras. This compact geometry offers space for 2,125 spectators.
The stands themselves are in prefabricated concrete and the track in 5 cm thick prefabricated pine.
Energy, light and air, water
The ellipsoidal velodrome roof admits daylight through a long skylight covering 270 m². This skylight also serves for smoke evacuation and for natural ventilation to allow hot air to escape from the upper parts of the hall in summer.
Below this skylight a reflector is installed: a hanging sail with an aluminium mirror on the upper surface and a white underside.  This sail works as a reflector to redirect daylight across the domed roof and also completely prevents direct sunlight which could cause dazzle. A sound-absorbent material is applied on its underside. The light fittings mounted on its edges provide dazzle-free lighting at night.
An open geothermal installation with heat pump and linked with floor heating (and cooling) in the track centre guarantees thermal comfort. For larger events additional heating (or cooling) is provided by air handling units which draw in air without draughts and at low speed below the spectator seating, and with displacement ventilation.
Photovoltaic panels are fitted on the roof and walls of the main parallelipipedal building.
The water management design is based on the principle of a water-neutral solution, achieved by purifying water on site. Effluent from the septic tank is piped to a reed bed. The reed bed provides natural water purification. Rainwater is collected in the large pond.
LOCATION
Former terrain of motor racing circuit, corner of Kerkstraat and Herderspad, 3550 Heusden-Zolder, Belgium
50°99'31''N / 5°26'57''E
SURFACES
18,840 sqm.
CLIENT
vzw Sportcomplex Vlaanderen/Heusden Zolder acts as the client (a consortium of the municipality of Heusden-Zolder, vzw Cycling Friends, and vzw Terlamen).
Contact person:                   Diederik Van Briel, director
Tel.: +32 496 54 87 55, Email: Diederik.vanbriel@sport.vlaanderen
DEVELOPER (mission-DBM)
StadsPiste THV (composed of Stadsbader nv and SAMYN and PARTNERS sprl)
Kanaalstraat 1, 8530 Harelbeke,
Contact person:                   Mieke Cocquyt (STADSBADER)
Tel.: +32 479 90 07 55, Email: Mieke.Cocquyt@stadsbader.com
ARCHITECTS & ENGINEERS
Philippe SAMYN and PARTNERS sprl, architects & engineers   Philippe Samyn
Chaussée de Waterloo, 1537, 1180 Brussels                                Exclusive owner of the copyrights
Tel. + 32 2 374 90 60       Fax + 32 2 374 75 50
Email: sai@samynandpartners.com
TEAM
Architecture and engineering
Lead and design                     :            Dr Ir Philippe Samyn.
Partner in charge                    :            Jacques CEYSSENS
Collaborators                          :            Karim AMMOR, Guido BRUZZI, Antonella CARLUCCI, Sam DE DOBBELEER, Olivier GENNART, Valentin PASCU, Daniel PEREZ JUSTEL, Fulvio SERPONE.
Structural engineering             :            GREISCH nv / Baudouin Schuermans and François Laurent
Allée des Noisetiers 25, B-4031 Liège, Belgium,
Tel.: +32 4 366 16 16, Email: liege@greisch.com.
Building services
engineering                              :            ISTEMA nv / Piet Delagaye
Voskenslaan, 332, 9000 Gent, Belgium,
Tel.: +32 9 225 32 62, Email: Piet.Delagaye@istema.be.
Track architect                        :            JUNEK VELODROMES / Peter Junek
210 Townline Road, St. Catharines, Ontario, Canada
Tel.: +1 905 328 80 93, Email: peter@junekvelodromes.com
Sport advisor                           :            GFP Consulting / Georges Soleil
Rue de Remicourt, 50, 4357 Limont, Belgium,
Tel.: +32 475 47 61 25, Email: georgessoleil@gmail.com
Fluid dynamics,
smoke extraction,
daylighting,                                          DGMR / Peter Bijvoet
thermal simulations                 :            Van Pallandtstraat 9-11, 6814 GM Arnhem, Postbus 153, 6800 AD, Netherlands.
Tel.: +31 88 346 75 00, Email: BV@dgmr.nl.
Acoustics advisor                    :            Acoustic Technologies sa / Jean-Pierre Clairbois,
Jamarlaan 19 bus A 0.01, 1060 Brussels, Belgium,
Tel.: +32 2 344 85 85, Email: mail@atech-acoustictechnologies.com.
Kitchen advisor                       :            FB&O / Freddy Oushoorn
Doornzele Dries 122, 9940 Evergem, Belgium,
Tel.: +32 475-267 139, Email: fbo@telenet.be
Accessibility                             :            PLAIN PIED vzw / Julie Vanhalewyn
Rue Nanon 98, 5000 Namur, Belgium,
Tel.: +32 81-39 06 36, Email: contact@plain-pied.com
Wind flows                             :               VON KARMAN INSTITUTE (VKI) / Jeroen van Beeck
Steenweg op Waterloo 72, 1640 Sint-Genesius-Rode, Belgium,
Tel.: +32 2 359 96 11, Email: vanbeeck@vki.ac.be
Maintenance                       :               EEG / Sara LUTIN
Oostlaan 5, 8560 Gullegem
Tel.: +32 56 42 53 43, Email: sara.lutin@eeg.be
COMPANIES
Main company                     :               STADSBADER / Ben Bomhals, Mieke Cocquyt, Stefanie Maertens
Kanaalstraat, 1, 8530 Harelbeke
Tel.: +32 56 26 06 66, Email: Mieke.Cocquyt@stadsbader.com
Smoke extraction                  :               COLT nv / ing. Nico Luytens
Zandvoortstraat 5, B-2800 Mechelen, Belgium,
Tel.: +32 015 28 60 80, Email: nico.luytens@be.coltgroup.com.
Steelstructure                       :               CSM / ing. Stijn Janssen, ing. Ronny Loos
Harmonterweg 103, B-3930 Harmont-Achel
Tel.: +32 11 550 600, Email: stijn.janssen@csm.be
Track                                      :               JUNEK VELODROMES / Peter Junek
210 Townline Road, St. Catharines, Ontario, Canada
Tel.: +1 905 328 80 93, Email: peter@junekvelodromes.com
DOCUMENTATION
Documentation
management                      :               Philippe SAMYN and PARTNERS (André CHARON and Quentin OLBRECHTS).
3D-images                             :              Philippe SAMYN and PARTNERS and
ASYMETRIE sprl / Xavier Vanabelle, Mike Barrin.
Model                                    :               AMA bvba / Francis Van Hoye
BUDGET
30,000,000 €