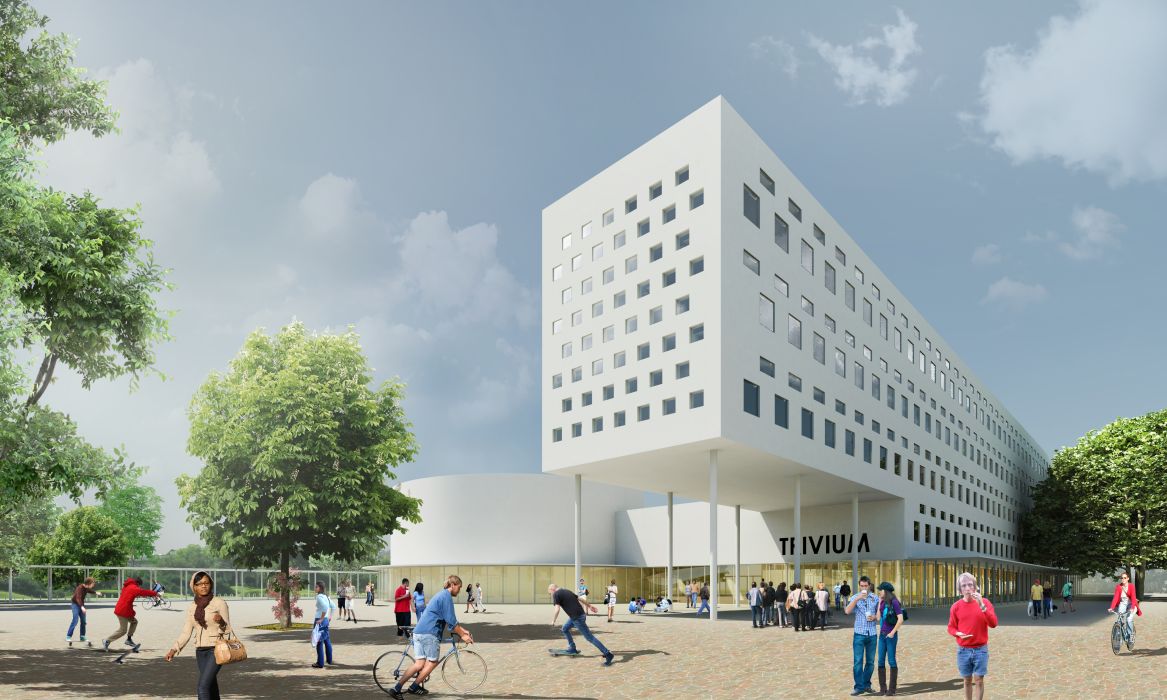 626 – TRIVIUM BUILDING FOR THE FACULTY OF CHEMISTRY OF THE KUL
Campus Arenberg, Celestijnenlaan, 200, 3001 Heverlee, Belgique 50°86'25.2″N, 4°67'43.6″E
7,476 m²; 2015 (01/626).
Insulation: K23 (NBN B 62-301 and subsequent amendments).
Energy performance: E45 (legislation in force in Flanders).
Landscaping.
Architecture.
Interior architecture.
Structure.
Building services engineering.
European competition upon invitation.
The site
The Arenberg campus of the KUL ("Katholieke Universiteit Leuven") is green and spacious, located on the edge of the town of Leuven. It has excellent road and cycle links to the town centre.
The new "Trivium" building, while complying with the master plan, needs to be built against an existing building complex, housing the faculty of chemistry. This complex dates from 1965 and has two auditoriums (300 and 400 seats) and two traditional teaching buildings (classrooms and laboratories).
The task
The "Trivium" building is designed to house a 500-seat auditorium, the rectorate of the faculty of chemistry (reception, offices, meeting rooms), classrooms, laboratories, collaborative areas, catering areas and spaces for meetings and discussions. The collaborative areas are teaching spaces with large capacities where a high number of students are able to work in small groups. Neighbouring areas need to be sufficiently spacious to allow for the flows of students arriving, leaving and waiting.
The building must also comply with requirements of flexibility in the layout, transparency of the ground floor and overall accessibility. Teaching areas must be comfortable, spacious and bright.
Project guidelines
To promote the concentration and safety of the users, the building's setting and use of space aim to achieve clarity, calmness and modesty. As a result, the building creates a calm, bright, sustainable and pleasant setting, set out with public areas and around an internal garden.
To place the sun at the heart of the project and further strengthen the concept of the master plan, a large esplanade (110 m x 55 m) stretches out in front of the faculty complex, perpendicular to the longitudinal axis of the campus. Without any building to the south, it is bathed in sunshine and looks out over the landscape of the Dyle valley. This is what the various aspects of the project are structured around.
This project offers a new urban element, connecting the various existing buildings of the faculty of chemistry along the main longitudinal axis of the campus, which it helps to reinforce further. To the east, it looks out over a large esplanade facing the other faculties.
In order to promote the brightness of the urban spaces (position, longitudinal axis, internal garden) and preserve the existing trees, the largest part of the project is a long thin building at the same height – 5 floors – as the existing buildings to which it is joined. It looks out onto the esplanade and houses the main entrance, creating continuity with a mainly glass ground floor. Generously proportioned open spaces and balconies looking out onto the campus help to enhance the building.
The new cylindrical auditorium is placed alongside the two existing auditoriums to create a cluster of low buildings. The connecting areas are spacious and conducive to meetings, resting and eating. The building has a gentle facade and opens out onto the esplanade.
Functionality
The long parallelepiped of the main building hangs above the esplanade and looks over the main entrance. The ground floor houses the deanship of the faculty, department offices and communal spaces.
The new auditorium, the existing auditoriums and the main lobby/cafeteria occupy the two lower levels. They have a logical lay-out and organisation.
From the entrance hall, a two-level internal corridor is naturally lit from above and contains eight staircases at regular intervals, as well as light pathways leading to the classrooms. As well as being extremely conducive to interaction, this space is also very important for the building physics, both in terms of natural light (it is the most efficient way of bringing sunlight into the heart of the building while guarding against dazzling), and in terms of ventilation, because it ensures the circulation of air through the building.
The internal corridor ensures straightforward evacuation in case of fire and provides easy access for people with limited mobility.  Its dimensions are particularly generous since they are calculated in accordance with the plan, for a maximum occupancy of 1,500 people, even though the peak occupancy is estimated at around only 850 people.
Structure
To ensure maximum flexibility in partitioning, the main building is long and thin, and is modulated on a grid plan of 1.35 m.
The structure is supported by columns and beams, and is made up of concrete slabs lightened by blocks of polystyrene. The mass of these slabs is cooled at night by the ventilation system. Consequently, to allow cold air to cool this mass, acoustic suspended ceilings only cover 50% of the total surface area of the premises.
Materials
The facade, coated with an insulated render, has windows regularly positioned along it. To limit overheating, solar shades are placed on the south side.
All technical installations are "Low-Tech", made from visible components which are accessible and easy to replace.
Energy
Since sustainable development starts from saving resources, the project is compact (the protected volume to heat loss surface area ratio is 2.50 m and the gross to net surface area is 1.35), creating a very well insulated building with excellent energy performance.
Architecture and Engineering: Philippe SAMYN and PARTNERS All projects are designed by Philippe Samyn who also supervises every drawing
Structural Engineering: Philippe SAMYN and PARTNERS with SETESCO (sister company (1986-2006) or INGENIEURSBUREAU MEIJER (sister company 2007-2015) if not mentioned
Services engineering: Philippe SAMYN and PARTNERS with FTI (sister company since 1989) if not mentioned
LOCATION
Campus Arenberg, Celestijnenlaan, 200, 3001 Heverlee, Belgique 50°51'45.2″N, 4°40'27.5″E
MAÎTRE D'OUVRAGE
Katholieke Universiteit Leuven (KUL) Service gestion générale Willem de Crooylaan, 60a, bte 5570 3001 Heverlee, Belgique Tél. +32 (0)16 32 20 83 M. Paul Lodewijckx, Chef de la division Laboratoires
ARCHITECTS & ENGINEERS
Philippe SAMYN and PARTNERS, architects & engineers sprl (SAI) Chaussée de Waterloo, 1537 B-1180 BRUXELLES tél. + 32 2 374 90 60 fax + 32 2 374 75 50 E-mail: sai@samynandpartners.com ISO 9001: 2008 / ISO 14001: 2004 / VALIDEO: 2009 Philippe SAMYN Exclusive owner of the copyright
COMPETITION TEAM
Architecture Design Partner : Philippe SAMYN
Associé : Jacques CEYSSENS
Collaborateurs: Karim AMMOR, Giuseppe CARDILLO, Ottavia D'ELIA, Elitsa GESHEVA, Roser IGUAL, Denis MÉLOTTE, Vlad POPA, Paolo RUARO, Radu SOMFELEAN, Jean-Michel VAN DE PUTTE, Giulia VENTRE
Techniques spéciales : Philippe SAMYN and PARTNERS sprl, architects & engineers.
Stabilité : Philippe SAMYN and PARTNERS sprl, architects & engineers.
Avec la collaboration de Techniques spéciales : Flow Transfer International sa, société soeur de SAI Rue du Ham, 137 B-1180 Bruxelles, Belgique Tél. + 32 (0)2 375 75 40 fax. +32 (0)2 375 75 66
Stabilité : Ingenieursbureau MEIJER bvba Prins Boudewijnlaan, 53b B-2650 Edegem, Belgique Tél. : +32 (0)3 448 25 00 fax. +32 (0)3 448 24 90
Physique du bâtiment : DAIDALOS-PEUTZ bvbaVital Decosterstraat, 67A bte 1B-3000 Leuven, Belgique Tél. : +32 (0)16 35 32 77 – Filip Descamps
Coordination sécurité-santé : VEKMO nv Watermolenstraat, 41 B-3140 Keerbergen, Belgique Tél. : +32 (0)16 22 89 58 – Patrick Godelie
Intégration picturale : Georges MEURANT.
DOCUMENTATION
Gestion de la documentation : Philippe SAMYN and PARTNERS (André CHARON and Quentin OLBRECHTS)
Images de synthèse 3D : Philippe SAMYN and PARTNERS (Vlad POPA)
---
For plans sections and elevations, please refer to the archives section of the site available from the "references" menu.