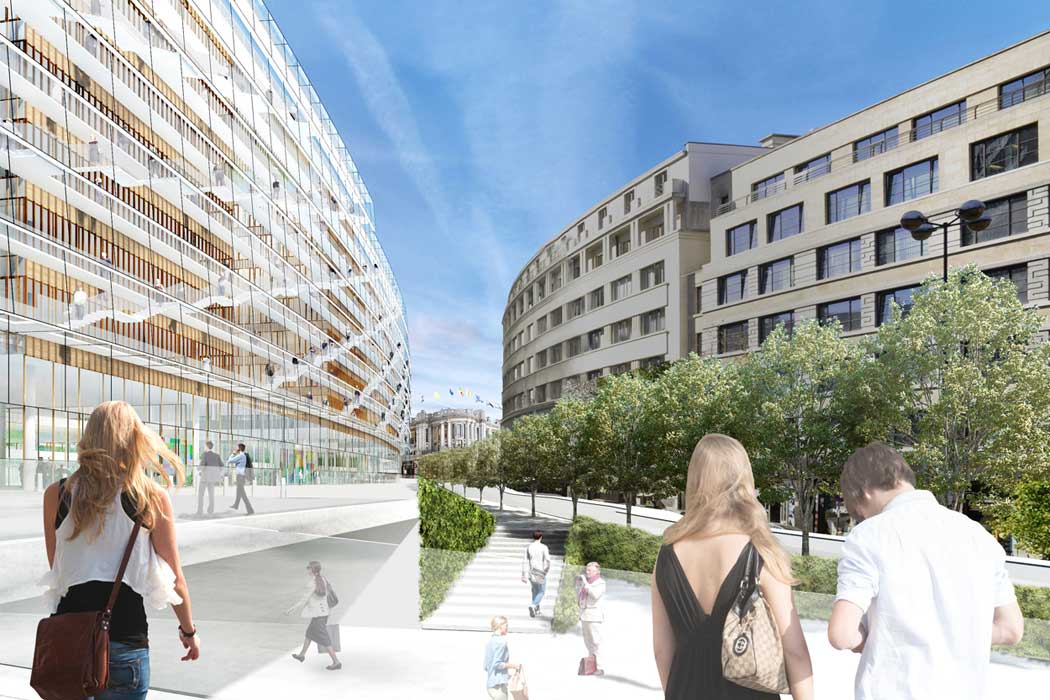 604-BNP PARIBAS FORTIS – MONTAGNE DU PARC
Montagne du Parc 3 to 1000, Brussels, Belgium
50°50'42,46″ N / 4°21'36,43″ E
86,904 m² ; 2013 ; (01/604).
Invited competition, second place.
Landscaping
Urban planning
Architecture
Heritage
New Way Of Working
Interiors
Structural engineering
Building services engineering
Building physics
Acoustics
Fire prevention
Accessibility
Safety and physical protection
Project Management
Planning
Cost control
Legal monitoring
PROJECT VISION
An exceptional location
Lying between the city's uptown and downtown areas, this site is at the heart of an extraordinary urban curiosity box, witness to a history which is rich yet laden with contradiction: gothic, classical, eclectic, "Bolidist", modernist and contemporary monuments, and, Victor Horta's unclassifiable Bozar Centre for Fine Arts.
It is also at the heart of the nation, close to its organs of power and authority.
Despite the thinking which inspired it, today the Van Kuyck "fortress" is a victim of historical misunderstanding and disrupts the flow of city life. The client is aware of this issue and has assumed responsibility. He has therefore made a drastic decision: to demolish the building and build a new headquarters more in keeping with the city and its inhabitants. He wants the new building to be open, transparent, light and environmentally friendly. He wants it to be modest, large but not imposing, joyous, generous, functional and attractive.
Restitching the urban fabric
The dialogue between full and empty spaces is restored by the new volume, which is unified yet open to the city. In harmony with neighbouring buildings, it bathes the public space with light and sunshine, blocked by the previous building.
The physical presence of the building on the site is measured. It is lower than the ridge of 20-30 rue Royale, and invisible from the three "historic" points of view. Only the large parallelepipedic glass surface facing Bozar, with its public and cultural role, lends its luminous transparency to the landscape which unfolds from the Royal Palace.
A cylindrical, ultra-clear glass double facade runs the entire length of the Western face and covers a pedestrian walkway on rue Ravenstein. Its soft curvature recalls the strongly "Bolidist" Generali and Shell buildings, opposite. It shelters the corridors and linear staircases connecting the five wings and demarcates four large atria between the office wings.
The gable ends of the five office wings face the double facade. Their light oak apron walls and frames, made from the same wood, fitted with external blinds (formed of vertical slats, oak on one side and mirrored on the other, this being a West-facing facade), give this casing a tactile, emotionally appealing softness, which provides a counterpoint to the "Bolidist" glass sails of the facade. They also recall the image of the Medieval city, where wooden structures stood harmoniously shoulder to shoulder with stone and brick buildings.
In the atria, opening oak window frames contrast with mirror-polished stainless steel apron walls and external blinds (with horizontal slats, as these facades are North and South-facing). The aim is to lighten the physical presence of the space and reinforce the perception of its external volume while efficiently reflecting natural light.
To the South, on place Baron Horta, the double facade becomes a "magic lantern", a generous glass display case, a majestic three-dimensional exhibition space, keeping watch of the city by night. It also provides the city with very important vertical connections (it connects Galerie Ravenstein on level -2 to place Horta on levels 0 and +1 and to Warande on level +3).
The Northern facade is designed to echo the facade of the "Chancellerie" building opposite, in the same way that the Eastern facade responds to the "20-30 rue Royale" building.
The oak opening window frames and apron walls of all facades, as well as the external slats (horizontal on the North and vertical on the East with one side made of light oak and the other mirrored), are protected from the rain by a sail formed of ultra-clear glass louvres.
Finally, the facades facing the four gardens to the East are treated in the same way as those facing the atria.
The entrances and the city
Entrances are restructured, taking on board the client's suggestion of modifying the surface of the place du Marché au Bois, to provide access on level -1. This proposal requires complete reconfiguration of the "square", in consultation with the public authorities. However, there is a precedent of similar work in the Square at Mont des Arts. The entrances are also organised in such a way as to avoid any future disturbance from the possible pedestrianisation of rue Ravenstein.
Visitor entrance – The main entrance is located on level 0, at the highest point of the Marché au Bois. Leading to the entrance there is a driveway with a roundabout for drop-off of important visitors arriving by car via rue de la Chancellerie.
Staff entrances – A staff entrance is planned for level -1, underneath Marché au Bois and beneath the main entrance. It is also possible to enter at level -2, approaching from Galerie Ravenstein, or via two secondary entrances on level +1 in place Horta and rue Montagne du Parc, in line with the transversal wing.
Vehicle entrance – An access ramp to the carpark is proposed for the North-West corner of Marché au Bois. It is connected to the building by a short tunnel which then leads, directly and without interruption, to the spiral ramp down into the carpark (level -3). This may also be connected to the carpark beneath Galerie Ravenstein.
Bicycle entrance – The cycle garage on level -1 is accessed by an uninterrupted cycle path which begins at the northern edge of Marché au Bois.
Goods entrance – The current vehicle entrance to the Chancellerie building is shared and used as a goods entrance for the new building.
The Bank has mentioned plans for a sizeable underground carpark for cars and tourist buses visiting BOZAR (accessed via rue Royale to Place des Palais). This possibility would provide access to vehicles from the Chancellerie building and the new building, as well as providing access to the carpark beneath 20-30 rue Royale, therefore removing all traffic from rue Montagne de Parc.
Internal movement
The glazed staircases and lift shafts located at the intersection of the wings offer rapid, fluid vertical connections. They provide independent access to each half-wing, enabling a great variety of multi-purpose layouts.
The rue Ravenstein elevation, composed of a glass double facade, contains passageways on each level (from the second floor up), connected by a staircase which ascends from left to right.  This feature not only connects the five wings in a circuit, but also promotes movement and chance encounters, representing the dynamism of the Bank.
Restitching the socioeconomic and commercial fabric- extending pedestrian walkways
The building represents a genuine "new quarter" which "reawakens" the existing neighbourhood.
Accessible to all, it is multi-purpose by nature and can fulfil a role which is constantly evolving over time. Above all, it is open, accessible and connected, welcoming, human and functional, due to its ground floor connections with the city on rue Ravenstein and place Horta.
The area facing rue Ravenstein forms a modern agora, a magnificent exhibition space enhancing the existing Bozar and the Chancellerie auditorium and reinforcing the cultural "streetmosphere".
The lower basement, basement and ground floor of Galerie Ravenstein is revitalised by the additional footfall of Bank employees and the potential staff entrance on level -2.  Effectively, this shopping arcade extends beneath rue Ravenstein, connecting to the Bank on level -2. Escalators and lifts also provide connections to ground level at place Baron Horta, and then on to the level of Warande, thus improving links between Central Station and the uptown area.
New Way Of Working
Genuinely extending the quarter into private space, the interior areas are inviting, human and smoothly interconnected. They are bathed in natural light. It is reflected by the external mirror-polished stainless steel apron walls and ceilings (20% perforated for sound absorbtion), and is dispersed among the trees planted in the mixed flower borders on the roof gardens.
The floor to ceiling opening windows (with an external glass guard panel) contribute to the sensation of open space.
The proposed workplace layout ("New Way of Working"), offers almost 5,000 pleasant workstations over the floors dedicated to office space, while ensuring accessibility to all (in line with the Access-i label).
The internal and roof gardens are a combination of trees and mixed flower borders.  Sheltered from the wind by the large curved glass sail facing rue Ravenstein and the glazed windbreakers on the roof, they provide a natural extension to the working environment in good weather (the outside temperature is over 22°C for quarter of the year). Just like at home or on holiday, staff here work "under the arbour".
RATIONALITY AND PERFORMANCE
The design is simple, regular and rigorously organised on a grid of 1.35 m. Clear and orderly, in the style of Vitruvius, its restraint is a source of delight.
The internal width of the wings, 14.85 m, allows for natural lighting and ventilation of these spaces, as well as making them suitable for a wide variety of uses other than offices, such as accommodation, catering, education, healthcare, etc.
The supporting structure is light and repetitive, built on a large 8.1 m x 10.8 m grid.
This building respects the art of construction, teamed with rigour and good sense. For example, the whole structure is encased inside the insulated envelope, preventing all thermal bridges.
Structure of the floors 
The floor grids are made of "I" profile steel, the bottom flanges of which are encased in a 15 cm thick reinforced concrete slab, ensuring soundproofing and contributing to fire resistance.  This structure, with an overall height of 700 mm, is covered with standard raised silicate slabs. This leaves a 500 mm space beneath the entire floorspace free for cable trays, air ducts (all of which are cylindrical), pipeworks and plumbing. The ceiling height is 2.85 m (or 4.65 m on level -1) and the ceiling is perfectly continuous and smooth on all floors.
The secondary beams are hollow in order to allow cables to be run through them. They are pre-cambered upwards in the factory, then "forced" horizontally on site prior to pouring of the reinforced concrete slab and "released" once the latter has set. This post-tensioning technique (reminiscent of Belgian engineer Abraham Lipsky's Preflex beam) compresses the concrete slab and also makes it possible to reduce the cross-section of the lower flange of the beams.  The resulting structure is very rigid, yet lightweight and consumes a small amount of raw materials.
– Cutting of large openings in the floors:
This flooring system is very flexible in terms of adaptation and transformation: openings of any size can be included from the outset, (as long as these respect the structural grid and do not compromise horizontal load transmission), as in the case of the lift shafts and gaps between floors, for example. They can also be created at a later date.
– Fire resistance:
The two hour fire resistance required for the structure would be perfectly achievable but the treatment of the metal structure inside the floors would reduce the space set aside for cables and plumbing. As the building is equipped with a sprinkler system throughout, an equivalent level of safety can be offered by using intumescent paint to give the metal structure one hour fireproof performance, and by guaranteeing additional resistence by carrying out a real fire resistance assessment and adjusting assembly details as appropriate (this assessment is carried out using finite element analysis software such as OZONE and SAFIR).
– Specific features of the structure:
The use of steel with a very high yield point, (S690 and S960) enables to lighten and refine certain structures to levels rarely seen before (stairways, glass roofs, the large glass sails on the rue Ravenstein elevation).
This lightness is also achieved through the morphology of these structures, entirely composed of tension and compression elements, preventing any bending and torsion. The debris from the demolition of the existing concrete structure is sorted and poured onto the basement sill plate in order to completely fill the disused level -4. This material serves as a sub-foundation to the sill plate of the new building and, due to its porous nature, it is used to create a public 9,000 m³ stormwater basin. 
Technology, when it is well informed and disciplined, can combine with art to delight our senses and our soul. Two slightly surprising aspects of the plan, the cranes and the heliostats, are a result of this philosophy:
– The two sleek, shimmering telescopic cranes, provide the building with a "mechanical caretaker" service. Completely invisible in their resting position on the roof garden, they are deployed not only for practical purposes (transport of equipment, upkeep and maintenance of facades), but also provide kinetic interest during festivals, playing a role in the choreography of these events, in the spirit of our Belgian cultural traditions.
– The large cylindrical mirrors which crown the internal facades surrounding the atria and roof gardens considerably increase the natural light gathered in all areas of the building, whilst helping to send sunlight flickering around the whole quarter.
Generally, the majority of facades are glazed (floor-ceiling), in order to maximise natural light.  Extra-clear vacuum-insulated glazing with a very low overall glass thickness (1.5 to 2 times thinner than standard double glazing) is used, providing a thermal performance comparable to passive triple glazing (U = 0.7 W/m²K) double the weight. In exposed areas, and only in these areas, the great variations in direct light is moderated using movable external blinds (with wooden external facades and polished stainless steel facing the atria and courtyards). This is the only solution which makes it possible to effectively manage the contradictory needs for natural light and solar and eye protection.  This makes it possible to dispense with so-called "selective" glazing: light transmission (> 92 %, or a gain of over 15% compared to standard selective double glazing) is therefore maximised and colour rendering (Ra> 95 %) is respected.
Features of the external facades:
– The window frames are made of oak.  The opaque sections are finished with oak and protected by a second skin of fixed horizontal glass slats. 
– The wood panel light shelves direct natural light towards the interior of the floors, thanks to their upper polished stainless steel coating.  The light shelves also serve as a support to the glass skin and the service access routes (for cleaning of the glass panels and maintenance of the solar protectors).
Features of the internal facades (atria and courtyards):
– In contrast with the external facades, the facades facing inwards towards the courtyards are smooth and glossy, in order to maximise the reflection of natural light.  The opaque sections are covered in polished stainless steel mirrors, while the window frames are also made of oak.
Operation:
First and foremost, in accordance with the first principle of the "Trias Energetica", energy needs are reduced to a minimum.
Furthermore, several sources are used to produce energy, in different configurations depending on the season:
– a trigeneration unit, the heat from which is used indirectly to heat the building;
– an absorption machine producing cooling as well as a considerable amount of residual heat, which is used to heat the building;
– a geothermal system which also stores the cold produced by the absorbtion machine, depending on demand;
– a gas condensing boiler which makes up the difference in areas where heat is required.
Finally, the basic heating and cooling of these spaces is produced by activating the concrete floor slabs, with additional heating provided via the hygienic ventilated air. When the concrete is activated, 60% to 90% of the heat or cold is diffused by radiation, with the remainder of heat release occurring through convection.
Activation of the concrete enables the building temperature to remain close to the ambient temperature: a maximum of 30°C for heating, a minimum of 17°C for cooling, in order to prevent condensation.  These regimes form an ideal basis for the use of heat pumps, "free-chilling" and efficient cooling.
Pollution:
The proposed energy concept offers clearly superior performance to that of a modern conventional system consisting of a gas condensing boiler and traditional refrigeration machines. The proposed system consumes 60 to 70 % less primary energy than a conventional system and reduces CO2 emissions by around 50 to 60%. Provided that a "green" energy supply contract is signed by the owner, the reduction in primary energy consumption and CO2 omissions could reach over 80 % compared with the baseline situation.  The cost savings relating to energy use heating and cooling as well as electricity consumption are around 70% compared to the baseline situation.
Integration of facilities:
The hollow beams at the intersection of the wings and stairways make it possible to install a compact network of circular ducts, without interfering with the floors. These also serve as smoke vents at no extra cost.
See also the point on Structure above, regarding the integration of technical networks in the floor structure and the integration of a stormwater basin into the backfill of level -4.
THE BANK IS MINDFUL OF BUDGET AND TIMESCALE
The construction, running and maintenance costs, as well as the timescale for works are rigorously calculated, controlled and monitored.
The fire prevention strategy is optimised and the number of doors and the length of fire-resistant walls is kept to a strict minimum.
In the basement, the recycling of the diaphragm wall ground anchors and the existing sill enables a reduction in infrastructure costs and the duration of works.
The energy performance and simple technical systems, in addition to the care taken in choosing environmentally friendly materials which will take on a patina rather than becoming dirty (oak, bead blasted or mirror polished stainless steel, etc.), reduce the running and maintenance costs of the site.
Architecture and Engineering:
Philippe SAMYN and PARTNERS
All projects are designed by Philippe Samyn who also supervises every drawing
Structural Engineering:
Philippe SAMYN and PARTNERS
with SETESCO (sister company 1986-2006)
or INGENIEURSBUREAU MEIJER
(sister company 2007-2015)
if not mentioned
Services engineering:
Philippe SAMYN and PARTNERS
with FTI (sister company since 1989)
if not mentioned
01-604
BNP PARIBAS FORTIS – MONTAGNE DU PARC
Client:
BNP Paribas Fortis
Architecture:

ARCHITECTURE & INGENIEURS

Philippe SAMYN and PARTNERS sprl/bvba

architectes, ingénieurs & urbanistes

ISO9001/ISO14001/VALIDEO

Direction, conception et coordination générale(urbanisme, architecture, intérieurs, structure, techniques spéciales, sécurité, sûreté, physique du bâtiment, développement durable, NWOW)

Personnes clés:

Direction et Design: Dr Ir Philippe Samyn, architecte

Chef de projet: Ir Alexandre Smeets, (project management, sous-traitant)

Suivi juridique: Maître Michel Scholasse

Suivi Sécurité incendie : Ir Arch Benoît Bastin (Bureau SECO)

Principaux associés en charge: Ir Arch. Denis Mélotte (administration, coordination journalière etcontrôle qualité), Arch. Quentin Steyaert (BIM Master), Arch. Benedetto Calcagno (Développement Durable).

Collaborateurs: Karim AMMOR, Laura BOUQUET, Mariuca CALIN, Blandine CAPELLE, Antoine COLBACK,  Sophie CHAMART,  Alexandro CHICHIZOLA,  Giuseppe CARDILLO, Dikran GUNDES, Elodie NOORBERGEN, Maria SARRADO,  Pawel SIERADZON, Eline VANDEVENNE , Monika WIELOCHA.

Structure:

Sous traitants:

1. Ingénieurs d'exécution STRUCTURES:

Ingenieursbureau Meijer bvba */Abcis Van Wetter sa (en société momentanée)
*filiale (30%) de SAI

Personnes clés:

Direction : Ir Jan Meijer (mandataire) et Ir Anne Van Wetter

Ingénieurs principaux: Ir Ben Verbeeck, Ing Ronny Van Hee (superstructure), Ir Phan To Chi Nguyen, Ir Didier Grillet (infrastructure)

Services:

2. Ingénieurs d'exécution TECHNIQUES SPECIALES, BREEAM, Physique du bâtiment et Experts en énergie:

ISTEMA nv / FTI sa* / INGENIUM nv (en société momentanée)

*filiale (30%) de SAI

Personnes clés:

Direction: Ir Piet Delagaye (mandataire), Ir Arch Andrew Janssens, Ir Nicolas Vyncke

Direction technique : Ing. Eddy De Baets

Ingénieurs principaux:

Ir Bart Vandemaele (HVAC), Ing. Ruben Putman (HVAC), Brecht Pauwels (Revit MEP), Ir Jeroen Soenens (Energie), Ir Arch Sien Vervoort (BREEAM), Ir Geert Verhelst (commissioning), Ir Arch Frédéric Michaux (Energie, PEB), Ing Hans Gestels (Electricité), Ing Pieter De Baets (Electricité), Ir Stefanie Sallet (Sanitaires)

Physique du Bâtiment: Dr Ir Filip Descamps et Ir Paul Mees (pour Daidalos & Peutz bvba, soustraitant de Ingenium)

3. Project Management, planning et contrôle budgétaire

IMMO-PRO scrl

Personnes clés:

Direction: Ir Alexandre Smeets

Associés en charge : Ir. Marianne Marcelis, Ing. Olivier Fournier, Philippe Fisette

Avec la collaboration (en sous-traitance) pour le contrôle budgétaire et pour les Phases 1, 2, 3 et 4, de:

Bureau Michel Forgue sarl

Personnes clés:

Direction : Ir Michel Forgue

Ingénieur en charge : Ir Elie Durand

CONSEILLERS:

1. Conseiller juridique (procédures administratives + volet contractuel de la construction)

HAUMONT, SCHOLASSE and Partners scrl

Maître Michel Scholasse

2. Conseiller prévention incendie

Bureau SECO sc

Ir Arch Benoît Bastin

CONSULTANTS:

1. Urbanisme et accompagnement de l'étude d'incidence:

AGORA sa

Arch. Serge Peeters, Urb. Ambre Coquillat, Ir. Urb. Paul Plak, Arch. François-Xavier Van Maele Géo. Nathalie Ninane, Bio Ir. Simon Vaneberg

2. Patrimoine:

SINT-LUKASARCHIEF vzw

Prof. Arch. Jos Vandenbreeden

3. NWOW (New Way of work):

VELDHOEN+COMPANY bv

MS Luc Kamperman

4. Intérieurs:

DINTERIEUR sprl

Dominique Hottois

5. Accessibilité pour tous:

PLAIN PIED asbl

Xavier Anciaux, Arch. Julie Vanhalewyn

6. Sûreté et protection physique:

ROBRECHTS & THIENPONT cvba

Ir Marc Thienpont

7. Animation urbaine:

Teritoires et Tourisme scs
Socio. José Clossen

8. Cuisine / Restaurant:

F&BO CONSULTING bvba
Arch. Freddy Oushoorn

9.Crèche

STRAGES sa
Ir. Arch. Christel Favresse

Les plans de Bozar sont aimablement transmis par Barbara Van der Wee Architects bvba, propriétaire des droits d'auteur (copyrights).

Les plans de la galerie Ravenstein sont aimablement transmis par l'Architecte Bernard Baines, propriétaire des archives d'Alexis Dumont (copyrights).

L'intervention artistique est due à l'intervention amicale de Georges Meurant.

La maquette est réalisée par AMA sprl (Francis Van Hoye)

L'infographie est due à POLYGON GRAPHICS bvba (Arch. Stijn Stagier)
---
For plans sections and elevations, please refer to the archives section of the site available from the "references" menu.