© Dessin : Polygon Graphics cvba -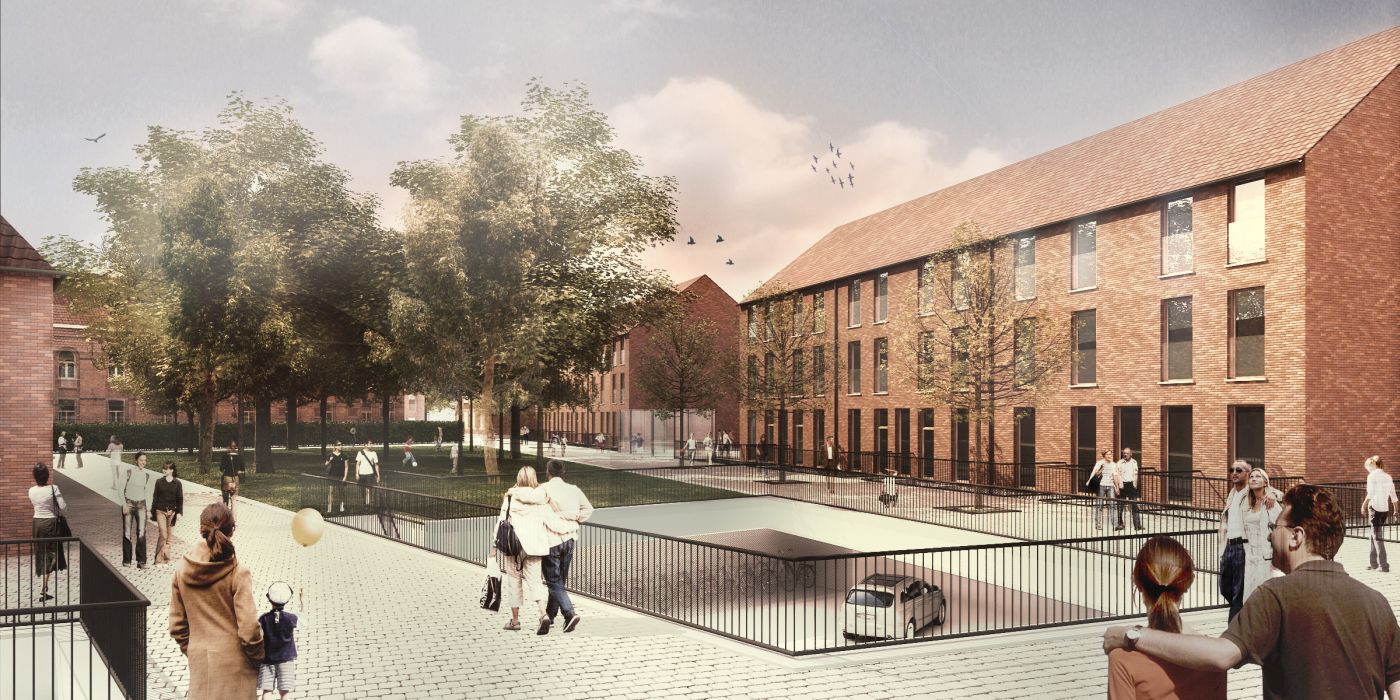 580 – TINELSITE
Contracting authority: Ville de Malines; delegated contracting authority: Van Roey Vastgoed n.v.
Malines, Belgium, 51°02'00,67″ N, 4°28'50,63″E
• Landscaping design.
• Architecture.
• Interior architecture.
• Structural engineering.
• Building services engineering.
1. Frame of reference
The project is part of the urban renovation programme in what is called the "Tinelsite" zone to the north of the town itself. The programme encompasses restoring and changing the use of a certain number of buildings (some after demolition and others after renovation), as well as the construction of new buildings. The principal buildings on this site are the Dossin barracks, the Convent and Church of the Order of Preachers, the Regional Youth Centre and the former police station.Within the rich historical context of Malines, the project has particular cultural significance given its relationship to the Holocaust memorial, museum and documentation centre at the Dossin Barracks and the new building occupying the site of what used to be the House of Correction.
2. The question
The request from the city of Malines can be summarized as follows:
– design and construct a Youth Centre and homework centre,
– design, construct, finance and market housing and a part-public, part-private underground car park.
The Monastery and Church of the Order of Preachers, reassigned primarily as a city library, do not feature in this request.
The site is to be a model of sustainability in terms of shared living and urban development as well as town-planning, construction and architecture.
3. The response
The project design is based on the following criteria:
– the car park must be as compact as possible and built in a single phase; it is for this reason that it is positioned under only part of the new building but on three levels;
– in the given context, there will be just one family in each of the planned homes;
– the building layout is in keeping with the ground plan of the area and with the ring road.
There is fairly scrupulous adherence to the master plan drawn up by De Smet Vermeulen Architects, at least when it comes to town-planning criteria.
There are various establishments along the inner streets and the small square. These are linked via the new park and existing streets to the "Kulturhus", which contains several urban facilities:
– the Regional Youth Centre (activities for young people of Belgian or non-Belgian origin),
– El Kantra (after-school centre),
– the new library (culture, encounters),
– the memorial (culture, history, citizenship training),
– housing and the neighbourhood (diversity and integration).
The town-planning project suggests that the youth centre, its biggest feature, should look onto the ring road. The very small-scale houses are in classic blocks and create an urban neighbourhood, open to the city at each end.
This functional architectural approach seeks to restore a greater mix of housing to the Klein Begijnhof-Heembeemd neighbourhood by providing the one-family homes, each with its own garden, that it lacked. This option is supported not just out of a desire to deliver effective urban planning but also by market research at local estate agencies.
The project attaches great importance to sustainability and environmental impact and is based on the sustainability framework for the city of Ghent. Above all, however, it aims to achieve what Philippe Samyn called, "a nice neighbourhood": brick buildings typical of urban living, with sloping roofs: tranquil architecture to be lived in.
In stark contrast to the housing, the youth centre goes literally all out, displaying its youthful features and dynamism on the Tinellaan. The old barracks have been transformed into a young and trendy building. Like an enormous ghetto blaster, two huge open boxes frame the existing facade in monumental fashion in front of the recreation areas. In this way, with its unobtrusive internal and external security system, the youth centre opens literally onto the outside world.
The new housing conforms to a classic layout and links up with adjacent rows as in any normal city. The classic brick construction imparts a decent, reserved architectural character. Concrete, steel, bricks, wood, glass and insulation combine in construction that is low-tech, reliable and sustainable.
Nature is brought right into the underground car park: light runs down slurry walls covered in greenery and casts strong reflections on the car park's ceilings, ground and white walls, creating a bright and secure atmosphere. The car park is compact and uses as little surface area as possible, meaning fewer surface-related problems and far greater ease of stage-by-stage working.
The innovative and sustainable concept driving this project is in keeping with that of the "Kulturhus" : combining a memorial, a library, new homes and activities for young people makes Tinelsite a piriority location for setting up a lasting synergy between all these players in order to highlight, together, the urban habitat and cultural diversity.
Putting good services and good housing in good areas generates an added value that goes beyond the strictly financial meaning of the term: the neighbourhood is restored, integrated with the memorial and the library, the youth centre has acquired new status and the urban space can become a playground thanks to social controls that develop organically.
A development programme and communication plan delivered by professionals guarantee the active involvement of all stakeholders and the drafting of optimum and increasing information on the project.
The above elements enable the work to be completed in a single phase, thereby reducing the period of disruption to residents.
Housing 4,075 m² (+ terraces and gardens 1,135.69 m²) ; youth centre 1,787 m² (+ outdoor covered area 232 m² + playground 386 m²); underground car park 9,813 m² ; 2010 -; (01/580).Housing 4,075 m² (+ terraces and gardens 1,135.69 m²) ; youth centre 1,787 m² (+ outdoor covered area 232 m² + playground 386 m²); underground car park 9,813 m² ; 2010-
Document E41_01/580-En Issue of 2012-09-04
Architecture and Engineering: Philippe SAMYN and PARTNERS All projects are designed by Philippe Samyn who also supervises every drawing
Structural Engineering: Philippe SAMYN and PARTNERS with SETESCO (sister company (1986-2006) or INGENIEURSBUREAU MEIJER (sister company 2007-2015) if not mentioned
Services engineering: Philippe SAMYN and PARTNERS with FTI (sister company since 1989) if not mentioned
MAÎTRE D'OUVRAGE
VAN ROEY NV Sint-Lenaartsesteenweg 7 2310 Rijkevorsel Monsieur Luc Piéret STAD MECHELEN – REGIE STADSVERNIEUWING Grote Markt, 21 B-2800 Mechelen
ARCHITECTES & INGENIEURS
Philippe SAMYN and PARTNERS sprl, architects & engineers Chaussée de Waterloo, 1537 B-1180 BRUXELLES Tél. + 32 2 374 90 60 Fax + 32 2 374 75 50 E-mail: sai@samynandpartners.com Philippe SAMYN Propriétaire exclusif des droits d'auteur (copyright)
EQUIPE DU CONCOURS
Architecture Design Partner : Ph. SAMYN. Partner in charge : J. CEYSSENS, G. ANDRE, J. VAN ROMPAEY. Collaborateurs : B. CAPELLE, J. DE CONINCK, F. DEFRENNE, N. DUVIVIER, D. GUNDES, O. JOTTARD, C. LIZIN, T. NAESSENS, S. TOURBACH, C. VAN RAEMDONCK Techniques spéciales: FTI (Flow Transfer International sa), M. Andrew JANSSENS Administrateur Délégué, et Dr Ir Philippe SAMYN, Administrateur. Stabilité: Ingenieursbureau MEIJER sprl, Ir Jan Meijer gérant et Dr Ir Philippe SAMYN, Administrateur. Physique du bâtiment et acoustique: DAIDALOS PEUTZ (Dr Ir Filip DESCAMPS).
---
For plans sections and elevations, please refer to the archives section of the site available from the "references" menu.