© Rendering: POLYGON GRAPHICS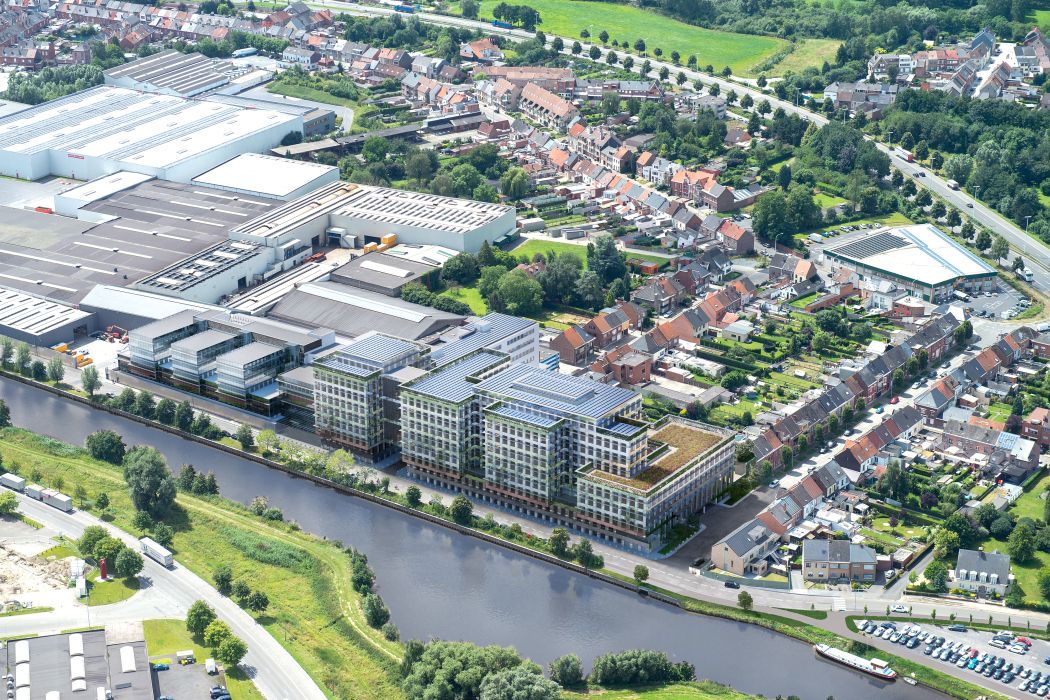 571 – EXTENSION OF JAN DE NUL s.a. COMPANY PREMISES
Tragel, 60, 9308 Hofstade – Aalst (Belgium)
50°57'18.8″N       4°02'12.5″E
37,956 m² of new surfaces, including 26,227 m² above ground, 15,451 m² of infrastructure; 2011 – ; (01/571).
Also see file 01/401 for the first building of 2005.
Landscaping.
Architecture.
 Interior architecture
 MEP engineering
The premises of Jan De Nul s.a., one of the world's biggest dredging companies and among Belgium's most important civil and industrial construction firms, have been located in Aalst, alongside the river Dendre, since 1938.
Following the company's significant development, a first office building was added to the industrial complex in 2005. The huge workshops and the offices are now occupied by 750 people.
Since 2011, the company is once again critically short of office space for its employees. After a first project started in 2011 (abandoned in 2017, after the building permit premises was granted) and the purchase of several neighbouring plots, a new project is being developed in 2019.
While continuing its industrial activities, the project involves restructuring all of the office buildings dating from before 2005, demolishing the company's historic building and replacing it with a new corner building, and creating a brand new building on the neighbouring land alongside the river Dendre, from the other side of the Kammenstraat to the Consciencestraat.
The corner building will mainly house meeting rooms.
The new building will have eight above-ground floors (new entrance hall, 165-seat auditorium, company restaurant and new office space) and three underground levels of parking for 440 cars. The new building will be connected to the corner building by a six-level walkway over the Kammenstraat.
The lengthways positioning of the land, the size of the first office building and the aim of limiting the shadows cast onto neighbouring houses all led to the comb-like configuration of the new buildings and the terraced layout of the floors.
The Owner would like a calm and measured architecture to act as a counterpoint to its industrial might around the world. For this reason, the first project involving a large sphere was not chosen.
Four spaces, with a coat similar to that of the first extension in 2005, are placed on two levels high base comprising the collective premises. The first level above ground has a very large terrace and an open ground garden. The roofs are planted.
The ventilated double facade has motorized interior blinds, which provide sun protection and an abundant and deep distribution of light in office floors. The exterior curtain wall is fitted with extra-clear glazing, reflective glazing and steel grating.
The facade of the old office buildings located along the Kammenstraat gets a new insulated rendering and aluminum window frames. The long baseboard made of polished and perforated stainless steel sheeting (covering the car parks of the 2005 building) continues on the base of these buildings.
The upper roofs, which are provided with a layer of photovoltaic panels and a closed-circuit geothermal installation, partially ensure the energy independence of the building.
The Owner will be carrying out the works itself.
Document E41_01/571 -EN_Edition 2020-01-31
LOCATION
Tragel, 60 and 67, B-9308 HOFSTADE – AALST
50°57'18.8″N    4°02'12.5″E
SURFACES
| | |
| --- | --- |
| 1st project (2017) | 2nd project (2019) |
| 33.165 m²   new area | 39.448 m²               new area |
| 20.440 m²   above ground | 24.572 m²               above ground |
| 12.725 m²   underground | 14.876 m²               underground |
| 2.557 m²     terraces | 5.489 m²                 terraces |
| 2.234 m²     outside walkways | 0 m²                        outside walkways |
CLIENT
JAN DE NUL nv
Mr Jan Piet DE NUL, chairman
Mr Dirk DE NUL, administrator
Tragel, 60
BE- 9308 HOFSTADE – AALST
tel. : 32 53/73 15 11                     fax : 32 53/78 17 60
e-mail : info@jandenul.com
STUDY TEAM
SAMYN and PARTNERS sprl, architects & engineers                               Philippe SAMYN            
Chaussée de Waterloo, 1537   B-1180 BRUSSELS                                    Exclusive owner of the copyrights
tel. 32 2/374  90 60                      fax. 32 2/374 75 50                               
e-mail sai@samynandpartners.com
Architecture                                                         :                                     Philippe SAMYN, Jacques CEYSSENS, Gabriel BALTARIU, Adnane BEN HSSAIN, Antonella CARLUCCI, Antoine COLBACK, Åsa DECORTE, Milan ENGSTRÖM,  Guillaume FOUCART, Olivier GENNART, Dikran GUNDES, Roser IGUAL, Eline LEENKNECHT, Denis MELOTTE, Ana MIRALLES BARREDA, Refik MUSOVIC, Marie NAUDIN, Joris NIVELLE, Daniel PEREZ JUSTEL, Chiara PIZZIMENTI, Vlad POPA, Paolo RUARO, Radu SOMFELEAN, Christophe VAN RAEMDONCK, Giulia VENTRE.
MEP engineering                                                 :                                     Philippe SAMYN and PARTNERS sprl, architects & engineers,
                                                                                                                     with FLOW TRANSFER INTERNATIONAL sa
                                                                                                                     Rue du Ham, 137
                                                                                                                     B-1180 BRUSSELS           
                                                                                                                     tel. : +32 2 375 75 40
                                                                                                                     e-mail : info@fti-sa.be
Energetic prestations of the building (PEB/EPB) :                                   Philippe SAMYN and PARTNERS sprl, architects & engineers,
                                                                                                                     with ISTEMA nv
                                                                                                                     Voskenslaan 332
                                                                                                                     B- 9000 GENT 
                                                                                                                     tel. : +32 9-225 32 6
                                                                                                                     e-mail : piet.delagaye@istema.be
OTHER PARTNERS AND CLIENT'S CONSULTANTS
Structural engineer                                             :                                     JAN DE NUL nv
                                                                                                                     Maggy DE MAN, Stefaan Van der Putten
Management of project and site                      :                                     JAN DE NUL nv (Kristien De Vries, Liesbeth Schollaert, Katrien Melkenbeke)
Technical control                                                 :                                     /
Acoustics                                                              :                                     /
Artistic integration (Not realised; 2015)
Georges MEURANT
Rue Souveraine, 50, 1050 IXELLES
tel. +32 2 514 24 65
DOCUMENTATION
Documentation management                         :                                     Philippe SAMYN and PARTNERS (André CHARON and Quentin OLBRECHTS)
3D rendering                                                        :                                     Philippe SAMYN and PARTNERS (Vlad POPA)
                                                                                                                     POLYGON GRAPHICS
Model                                                                   :                                     JAN DE NUL nv
Photographs
– Aerial                                                                  :                                     HENDERYCKX Luchtfotografie bvba
– site                                                                       :                                     /
Project 5 • 2016-07 to 11
---
For plans sections and elevations, please refer to the archives section of the site available from the "references" menu.