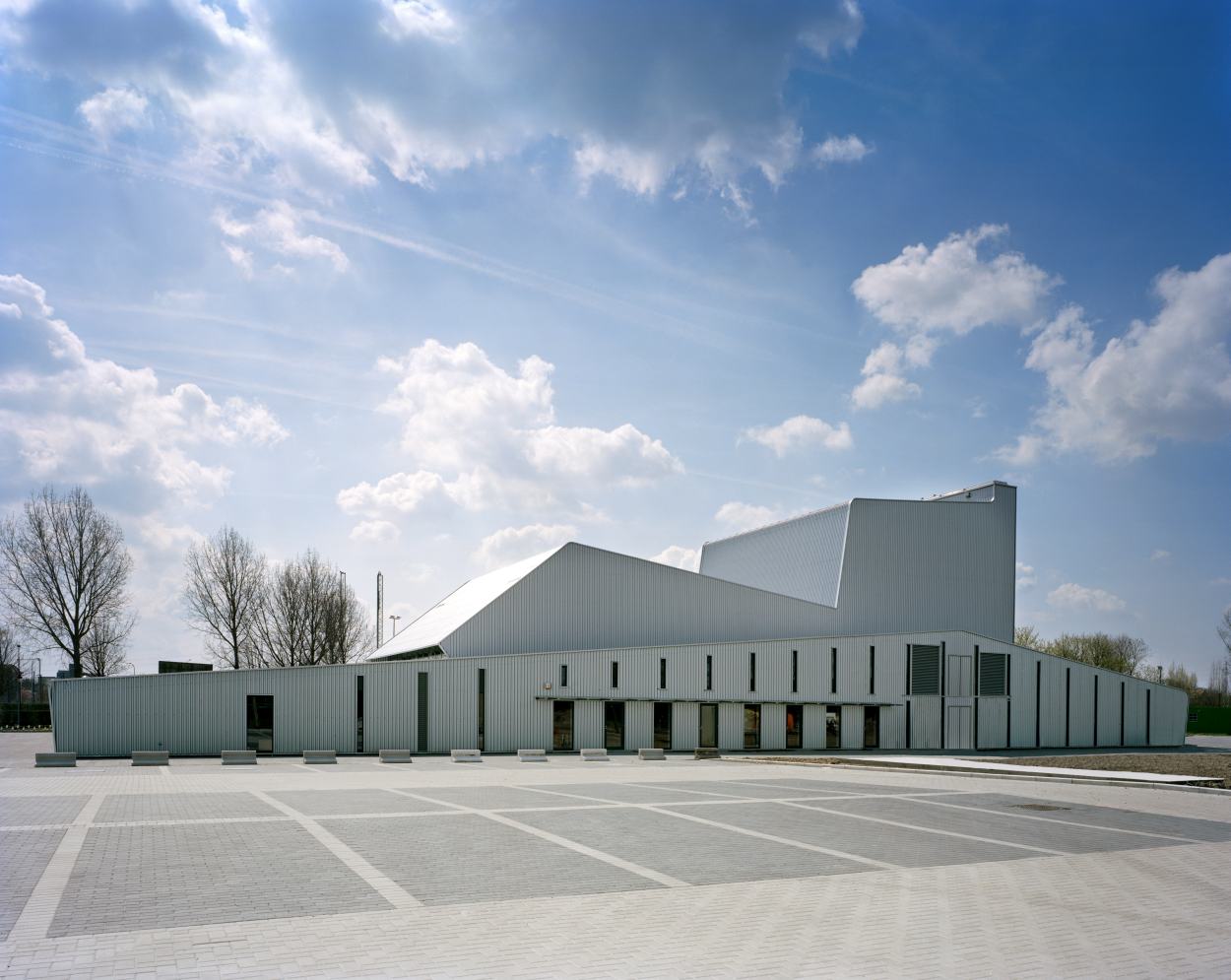 470-Cultural and Service Centre – Izegem
Izegem
BELGIUM
2.700 sqm;   (2004-2007); (01-470).
Architecture.
Cost control.
Equipment engineering.
Interior design.
Mechanical, electrical, plumbing engineering.
Project management.
Quantity surveying.
Structural engineering.
Scenography.
A park on the city's periphery houses the multipurpose hall (shows and music), as well as a community centre for the elderly.
A very tight budget coupled with the aim to adopt an exemplary environmental approach were the leitmotifs running through the project option.
So it is that the stage and the hall, with collapsible seats, preceded by the foyer, form the central nave of the building. It is flanked by two lateral wings housing a cafeteria, multipurpose rooms, greenroom, dressing rooms, shed and technical rooms.
A few administrative rooms are also fitted in on two floors between the hall and the foyer.
The building's volumetry dovetails as closely as possible with the functional requirements. Its structure in walls of reinforced concrete blocks and fireproof prestressed concrete slabs is sheathed by 15 cm of rock wool and a corrugated galvanised steel-sheet mantel, both for the roof and the outer walls.
The hall's high walls are 30 cm thick – a thickness necessary both for the structure's stability and its soundproofing. The exterior joinery is limited to the absolute minimum, and is in clear lumber.
A large services courtyard to the north of the backstage area, and an ornamental pond to the south of the foyer, surround the central nave on the outside.
The project makes provision for two large canopies that extend the lateral wings and undulate above the access paths. One of these also provides the link towards an existing parallelepipedal building housing a community centre. The other runs alongside an area planted with trees spaced at regular intervals covering a car park for 392 cars.
The project for the surrounding area was distorted by the municipal services, inter alia by a high-tension cabin painted in beige being sited near the building. The photographs have been touched up to remove this alteration. 
Document E41_01/470 -En Issue of 2010-08-11
Architecture and Engineering: Philippe SAMYN and PARTNERS All projects are designed by Philippe Samyn who also supervises every drawing
 Structural Engineering: Philippe SAMYN and PARTNERS with SETESCO (sister company 1986-2006) or INGENIEURSBUREAU MEIJER (sister company since 2007) if not mentioned
Services engineering: Philippe SAMYN and PARTNERS with FTI (sister company since 1989) if not mentioned
01-470
CULTURAL AND SERVICE CENTER
Client:
CITY OF IZEGEM.
Architecture:
Partner in charge : L. Gestels. C. Ceyssens.
Associates : J.-P. Buse, S. Konincks, D. Mélotte, J. Raman, M. Van De Worp, R. van Lammeren, M. Van Rossen, Th. Wynen.
---
For plans sections and elevations, please refer to the archives section of the site available from the "references" menu.