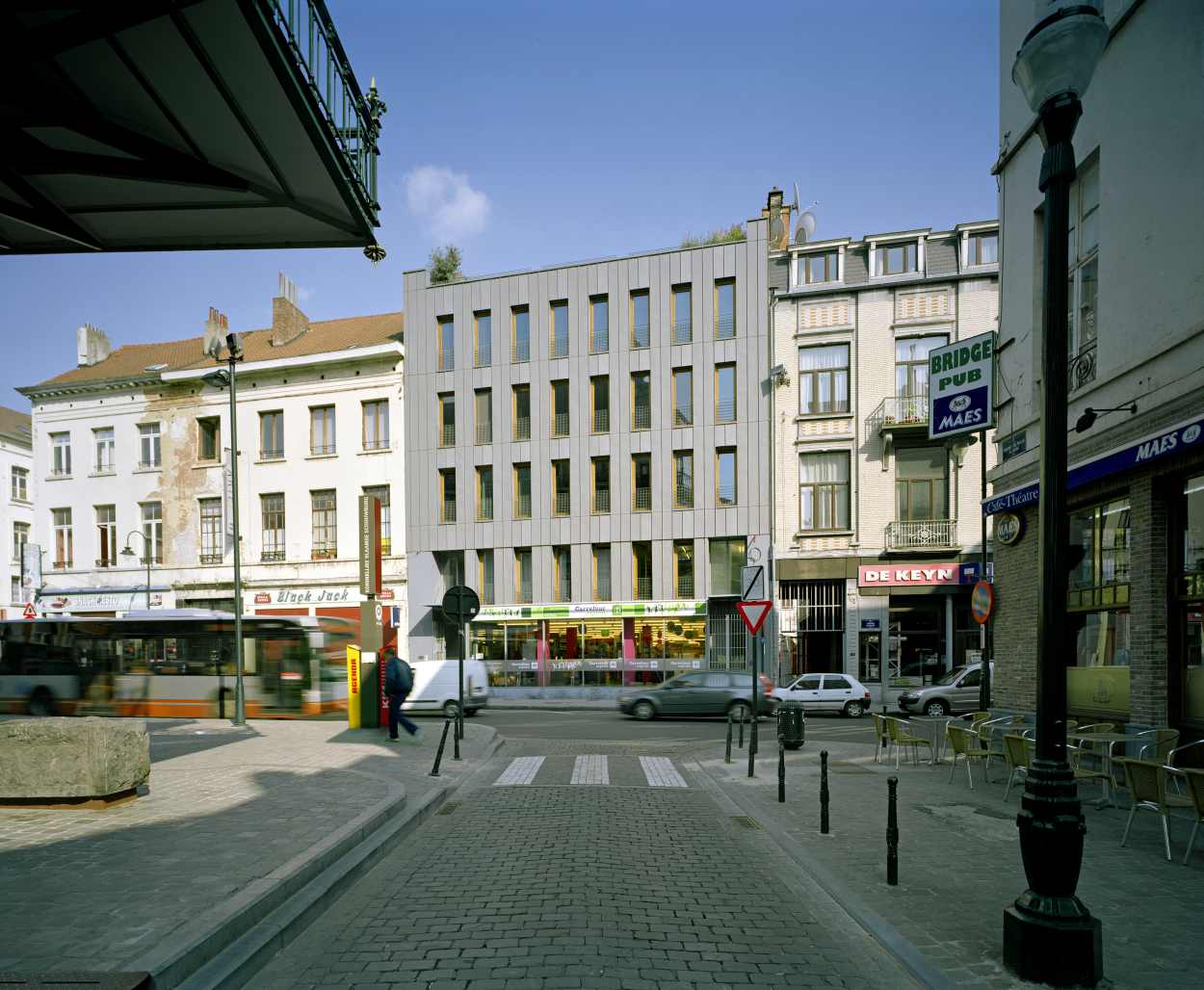 465-Housing for Spaarlaken
Rue de Laeken155
Brussels
BELGIUM
3.413 sqm aboveground; 867 sqm underground; (2004-2007); (01-465).
A warehouse dating from the early 20th century, and transformed numerous times, occupies the totality of a lot that is 14.5m wide and 52m long situated between the rue de Laeken and the rue de l'Epargne.
This building of five stories, plus basement, faces the recently renovated Flemish Theatre.
Its structure is a hybrid ensemble of concrete columns, concrete and steel beams, and wooden joisting and flooring.
The front façade is actually an inefficient curtain wall in aluminium and light glass windows; the rear façade is a masonry wall.
The building is transformed to accommodate seven large apartments, a commercial space at street level with a mezzanine that is accessible from the rue de Laeken, as well as an ensemble of 30 student lodgings on the side of the rue de l'Epargne where the access to the cellars and the 15-unit parking area in the basement is also situated.
Large indentations in the existing volume are realized for this purpose. The seven apartments thus benefit from large terraces oriented full south.
The entire project is almost exclusively realized using dry construction techniques: wooden floating floors to ensure fire-resistance and a high level of acoustic insulation between the housing units; interior partitions and the new façade walls using a wooden framework and facing.
The facades have light-hued wooden window frames, and zinc siding, with upright joints on the rue de Laeken and metal sheeting for the rest of the structure.
Document E41_01/465 -En Issue of 2010-05-05
Architecture and Engineering: Philippe SAMYN and PARTNERS All projects are designed by Philippe Samyn who also supervises every drawing
 Structural Engineering: Philippe SAMYN and PARTNERS with SETESCO (sister company 1986-2006) or INGENIEURSBUREAU MEIJER (sister company since 2007) if not mentioned
Services engineering: Philippe SAMYN and PARTNERS with FTI (sister company since 1989) if not mentioned
01-465
HOUSING, LAKENSTRAAT, BRUSSELS.
Client:
SPAARLAKEN.
Architecture:
Design Partner:
Ph. Samyn

Partner in charge :
J. Ceyssens.

Associates :
Cédric Bastin, G. Santarossa Cestari, H. Chasseur, L. Fonteyn, G. Forthomme, Maarten Franssens, K. Koch, S. Konincks, S. Piertes, J. Raman, Roeland Van Lammeren, M. Van Rossen, Th. Verwacht

Structure:
Philippe SAMYN and PARTNERS sprl with SETESCO sa (L. Sottiaux, Ph. Samyn, R. Fares, G. Clantin, Phillipe Saintes).
Services:
Service engineer:
Philippe SAMYN and PARTNERS sprl with FTI sa (J. Michiels, Ph. Samyn, Peter Van Impe).
CONSULTANTS

Acoustic:
DAIDALOS PEUTZ (P. Mees)

Health and Security:
CAD & V bvba (Karin Vijverman)

 

CONTRACTORS

Coordinator contractor     KARAD b.v.b.a.
Reekstraat 14
BE-1731 Relegem
tel. : 02-461 09 36    fax : 02-461 03 70

Concrete and steel construction    FRANS WILLEMS nv
Meir 43
BE- 2381 Ravels (Weelde)
tel.: 014-65 45 00    fax : 014-65 87 62

Facade (Zinc)    FERGE dakwerken bvba
Ninoofsesteenweg, 44
BE- 9450 Denderhouten
tel.: 054-33 72 51    fax : 054-32 91 21

Steel construction (stairs)    C&S staalconstructies nv
Meir, 45 a
BE- 2381 Ravels (Weelde)
tel.: 014-65 46 00    fax : 014-65 98 85

HVAC,     Plumbing, Electrical    NOVA nv
Nieuwstraat, 10
BE-1785 Merchtem
tel.: 052/57 80 05    fax : 052/37 50 45

Sprinkler system    ALTEBRA nv
Hasseltkouter, 53, Ind. II
B-9500 Ophasselt
tel.: 054-50 06 07    fax : 054-50 33 49

Elevators:
ELECTRATEC
Chaussée de Haecht, 545
BE-1030 Brussel
tel.: 02-241 93    fax : 02-241 79 73
---
For plans sections and elevations, please refer to the archives section of the site available from the "references" menu.