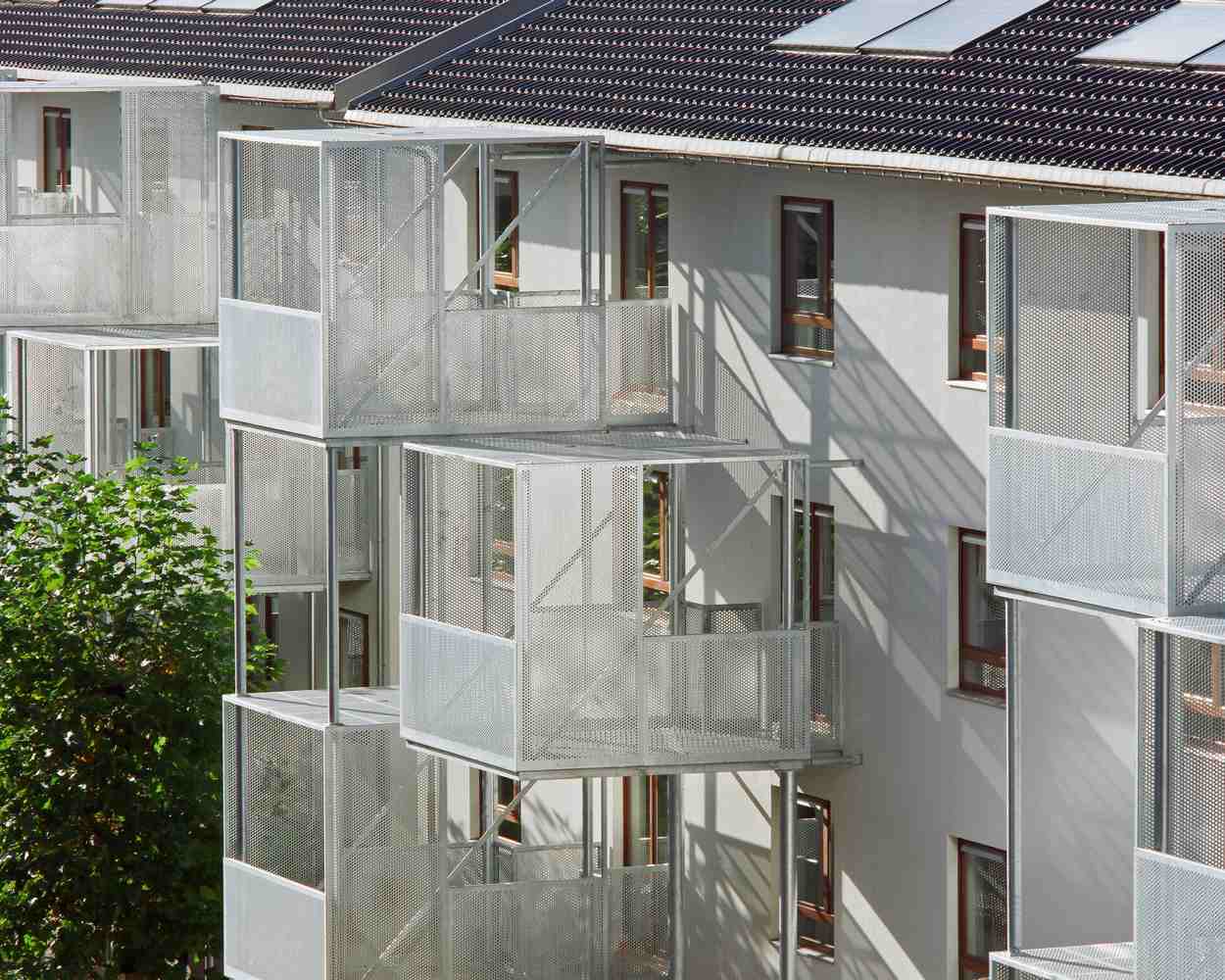 421-Renovation of 150 housing units – Minimes
LE FOYER BRUXELLOIS
Rue des Minimes, n° 107 to 137 and rue Notre Dame des Grâces, n° 3.
1000 Brussels
BELGIUM
12 552 sqm; (2001-2012); (01-421).
Invided competition entry; winning project
The 6 buildings in the Minimes neighbourhood were designed in 1954 by architects and urban planners from the Alpha group. The architectural composition of these social housing units is elegant and the buildings were erected with great care.
Still, time has left its mark. The thermal insulation needs improving, and it is also important to equip all units with decent sanitary facilities.
Special care has been taken to respect the great simplicity and harmony of the existing buildings.
In agreement with the Foyer Bruxellois, the number of studios and one bedroom flats has been reduced and the number of flats with two, three and four bedrooms has been increased. This meant reducing the total number of flats from 150 to 98 units.
The proposed changes also eliminate the private entries on the side or at the back of certain buildings, which simplifies checking who is entering and leaving the buildings.
In building C the suppression of the studios and their private entrances makes of the stairwell- located in the connector between building C and building D – an unnecessary space. The space is reused to create bedrooms for the housings located at the rear of the building.
With a view to durable construction, an inexpensive general solution has been developed that solves the problems of seepage, thermal bridges, insufficient insulation and the aging of the concrete. This solution consists of resurfacing the building with a continuous, watertight, insulated surface, including a layer of thermal insulation protected by a smooth, painted coating. This coating gives a warm visual aspect, that is much more attractive than the current concrete.
This solution is combined with total renewal of the joints in the current surfacing panels and systematically refastening the panels to ensure stability of the surfacing while saving the energy, cost and nuisance that would result from demolishing the panels.
Adding new wooden window frames in keeping with the existing outline adds to the visual warmth of the building. The frames are equipped with side drips to protect them from driving rain and to visually emphasize the contrast in depth between the full and hollow surfaces.
The use of a smooth, painted coating corresponds to an effort to keep the façades clean with minimum maintenance costs. This corresponds to an old tradition that has apparently been abandoned for some time in Belgium in favour of rough surfaces that tend to soil rapidly.
Comfort in the flats is also improved by integrating the area of the existing balconies in the living areas and providing a new, large private outdoor area (3m x 3m x 3m). This also means that the size of the sanitary facilities can be increased.
The other terraces alongside the living areas will also be integrated into the building, and new terraces will be constructed on independent structures as an extension of the building. If several small apartments without terraces are grouped into one large apartment, a new terrace will be erected.
These terraces are always put in near the living room on the facades facing south/east or south/west. They improve the quality of living of the inhabitants by allowing for activities that were not possible previously, like eating outdoors for example, or letting the children play outdoors without fear for their safety. They give the occupants an outdoor living area and, in addition, the building is more pleasant from the outside because they add liveliness to the facade.
This new outdoor area, in metal trellis or perforated sheet can also be covered with suitable wood (to be confirmed) for optimal living comfort. Four metal columns, that can be used for climbing plants such as ivy, support the terraces.
Like a moucharaby, the use of trellis or perforated sheet gives effective transparency from the inside looking out and opacity from the outside looking in. The basic principle is that the lateral vision of the buildings must remain possible.
The terraces are light gray in colour. White velum could be used for the ceilings.
The overall approach to the facades, plus the added terraces give a contemporary architectural expression, in which the changes are clearly shown while they respect the existing, high quality architecture.
Document E41_01/425 -En Issue of 2013-01-24
Architecture and Engineering: Philippe SAMYN and PARTNERS All projects are designed by Philippe Samyn who also supervises every drawing
 Structural Engineering: Philippe SAMYN and PARTNERS with SETESCO (sister company 1986-2006) or INGENIEURSBUREAU MEIJER (sister company since 2007) if not mentioned
Services engineering: Philippe SAMYN and PARTNERS with FTI (sister company since 1989) if not mentioned
01-421
RENOVATION OF 150 HOUSING UNITS – LE FOYER BRUXELLOIS
Client:
BELIRIS – S.C. Le Foyer Bruxellois
Architecture:
Design Partner:
Ph. SAMYN

Administrative Partner:
GH. ANDRÉ (TED/EXE), Y. AVOIRON (PU), J. CEYSSENS (EXE), B. VLEURICK (TED)

Project managers:
A. BÖHLKE (TED/PU), N. DUVIVIER (EXE), D. GUNDES (EXE)

Associates:
I. CARTON DE TOURNAI, B. DEBACKER, D. DEBOUGNOUX, G. HASBROUCQ,
J.-F. JOIRET, S. KONINCKS, L. LEBBINK, E. LOUIS, A. MACCIANTI, C. STALMANS,
B. SUETER, TH. VERWACHT, TH. WYNEN

Structure:
Structural engineering:
Philippe SAMYN and PARTNERS sprl, architects & engineers with SETESCO sa
(J. Schiffmann, Ph. Samyn, L. Sottiaux, M. Veraart)
Services:
Building services:
Philippe SAMYN and PARTNERS sprl, architects & engineers with FTI sa
(A. Janssens, J. Michiels, Ph. Samyn)

Monitoring office:
SECO scrl

Safety coordinator:
H&S Consulting

ENTREPRISES

General contractor:
BAM Galère
Avenue Georges Lemaître 60
6041 Gosselies

Subcontractors:

Metal terraces:
GALERE
Rue Joseph Dupont, 73
4053 Chaudfontaine

Wooden frames:
FABRIBOIS
Rue de Botrange, 44
4950 Sourbrodt

Interior carpentry:
RIBOUX
Rue de Pontaury, 4
5640 Mettet

Electrical installation:
SOTRELCO sa
Boulevard des Droits de l'Homme, 3
7100 La Louvière

Sanitary facilities, heating and ventilation:
IMTECH sa
Boulevard Industriel, 28
1070 Bruxelles

Solar panels:
ESE s.a.
Parc Industriel, 39
B-5580 Rochefort

Insulated render:
FACACLEAN SA
Boulevard du Jubilé 71 bte3
1080 Bruxelles

Façade panels:
ALLARD & FILS S.A.
Heideveld, 7
1651 Lot-Beersel

Anti-graffiti protection:
APP ALL REMOVE
Wijtschotbaan, 3
2900 Schoten

Roofing:
DESIGN TOITURE
Rue de Tarienne, 5
5651 Somzée

Ceiling boardings:
MANCA
Place Wilson, 85
6200 Chatelineau

Screeds:
PUMP & MIXING SERVICE
3, Vaartweg
1651 Lot (Vilvorde)

Floor coating:
CARISEL
rue de la Goëtte, 85
1420 Braine L'alleud

Epoxy coating of terracen:
4M EUROPE
ZI Cour Lemaire, 11
4651 Battice – Herve

Painting:
APRUZZESE
rue Servais Malaise, 52
4030 Liege

Light partitions and suspended ceilings:
AREMA CONSTRUCT
Kleinenbergstraat, 3
1932 Sint-Stevens-Woluwe

Kitchens:
DEA+
Vlinderstraat, 20
3550 Heusden-Zolder
Photo Model : Andrés FERNANDEZ MARCOS
Photo Realisation : Marie-Françoise PLISSART
Site : Bernard BOCCARA     
This project was awarded:
European Architecture Awards 2017
Category City Housing Development
---
For plans sections and elevations, please refer to the archives section of the site available from the "references" menu.