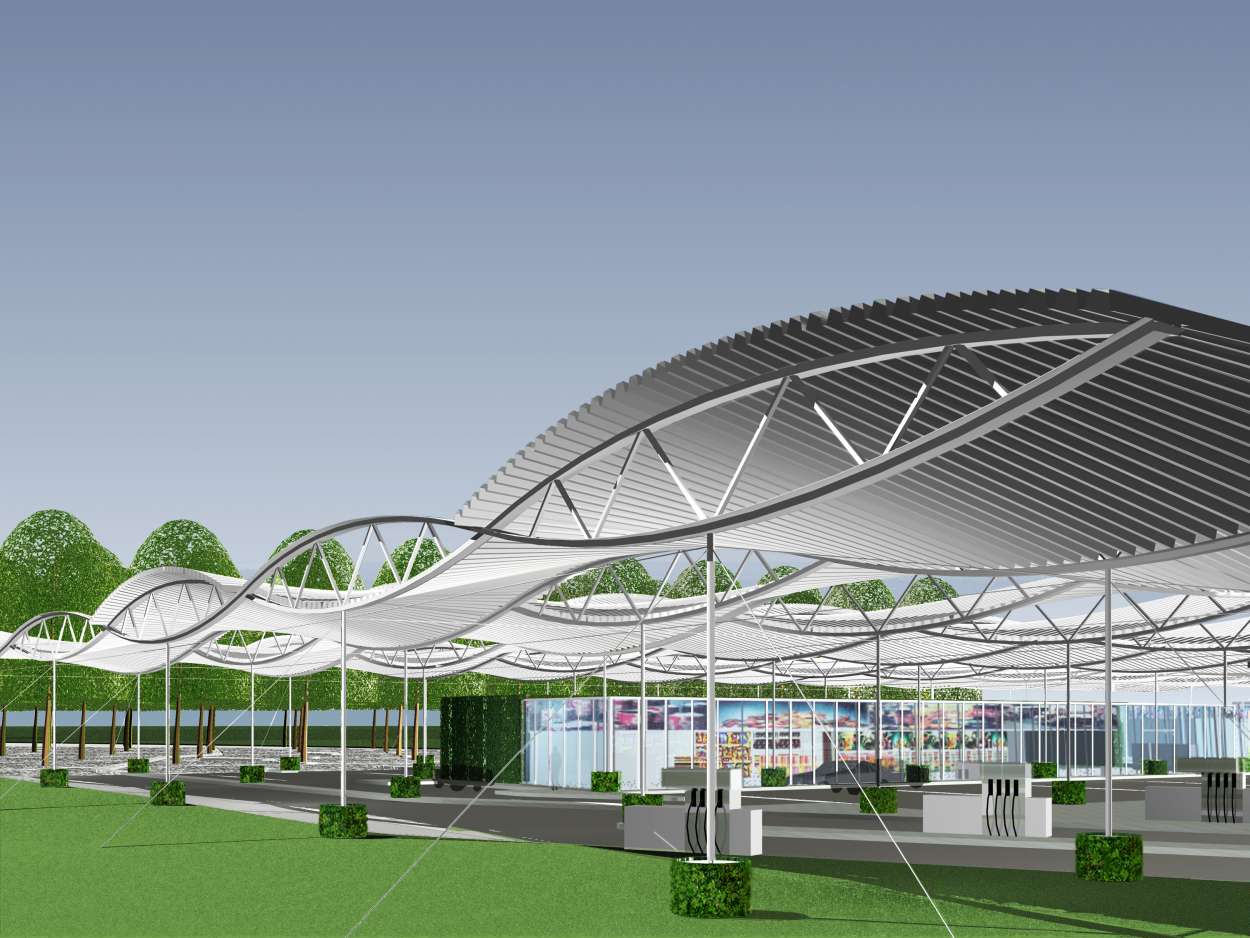 412-Service Station, Thieu rest area
Highway E19, Brussels-Paris, Thieu (Belgium)
Thieu
BELGIUM
Awning 5.472 sqm, buildings 1.430 sqm, landscaping
67.500 sqm (including car park); (2002); (01-412).
At design stage
– Architecture
– Interior design
– Landscaping
– Mechanical, electrical, plumbing engineering
– Project management
– Quantity surveying
– Structural engineering
The Thieu rest area is in the heart of Hainaut Province, a few kilometres from Mons. It overlooks the landscape, offering an exceptional view of the boatlift at Strépy-Thieu on the Brussels-Charleroi canal.
It is an ideal place to stop for a picnic, not just to admire the scenery, but also as the starting point of a hike or bicycle trip.
The existing facilities are outdated, with huge asphalt surfaces typical of the time of construction. These installations were designed industrially and are scattered here and there on the site.
The reconstruction project plans to concentrate the facilities on the smallest possible area, so the rest can be devoted to green spaces.
A large awning made of sinusoidal-shaped strips of corrugated metal sheets twisted into conoïdal shapes, will cover the service area, the reception pavilion and the restaurant.
The awning is borne by lens-shaped metal trusses whose lower ribs act as gutters, resting on thin cylindrical columns that also serve as down-pipes for rainwater.
To brace the structure, an orthogonal set of pre-stressed rods connect the top of the columns horizontally, coming down to the ground alongside the outermost columns.
Rain water collected on the awning is immediately drained into a framed bed of gravel over the footing of the columns' foundations to keep from disturbing the hydrologic equilibrium.
The awning gives almost total protection from the rain and the sun in the area it covers. Only eyelets of sunlight shine through, shifting with the hours.
The alternating curve of the roof, whose underside is white, provides a gentle diffusion of natural light.
The reception pavilion and restaurant consist of a structure of glass in light-coloured wooden frames that partially continues on its roof to give visual unity of these constructions and the awning.
The glazed horizontal areas are perfectly transparent and almost entirely shaded from the sun.
Document E41_01/412 -En Issue of 2003-07-15
Architecture and Engineering: Philippe SAMYN and PARTNERS All projects are designed by Philippe Samyn who also supervises every drawing
Structural Engineering: Philippe SAMYN and PARTNERS with SETESCO (sister company 1986-2006) or INGENIEURSBUREAU MEIJER (sister company since 2007) if not mentioned
Services engineering: Philippe SAMYN and PARTNERS with FTI (sister company since 1989) if not mentioned
01-412
SERVICE STATION, THIEU.
Client:
TOTAL
Architecture:
(first project)

Partner in charge : F. el Sayed
Associates : J. Brakel, M. Gros, F. Smal, C. Stalmans.

(second project)
Partner in charge : Q. Steyaert.
Associates : Th. Van De Casteele, D. Fonseca Rangel, I. Demuyser, A. Rangel Smith, A. Gutierrez Borja, C. Hovarth Jaume.
Awning 5,472 m², buildings 1,430 m², landscaping 67,500 m² (including car park); 2002 (01/412).
---
For plans sections and elevations, please refer to the archives section of the site available from the "references" menu.