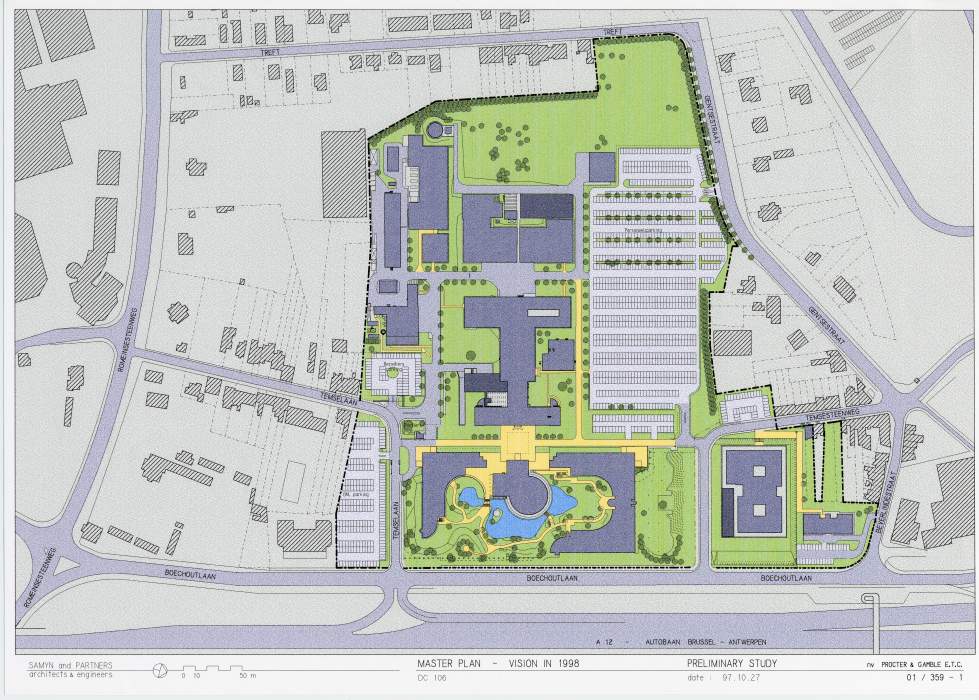 359 – PROCTER & GAMBLE MASTER PLAN
Strombeek-Bever (Belgium)
Masterplanning
Landscaping
Architecture (Building R, ABCE Extension, Visitor's Centre).
Structural Engineering (Building R, ABCE Extension, Visitor's Centre).
Mechanical, Electrical, Plumbing Engineering (Building R, ABCE Extension, Visitor's Centre).
Interior Design (Building R, ABCE Extension, Visitor's Centre).
Quantity Surveying (Building R, ABCE Extension, Visitor's Centre).
Project Management (Building R, ABCE Extension, Visitor's Centre).
Construction Management (Building R).
The Strombeek-Bever site progressively becomes one of the most important sites of the company  Procter & Gamble, requiring the elaboration of a master plan to structure the circulations, the buildings and the green areas planned to be built in the mid and long terms.
The important open-air parking area, as well as the recent purchases of an adjacent office complex and of a part of the community roads, offer a vast area allowing global restructuring of the site.
The main entrance, currently South of the site and of the most recently built facilities, is planned to be moved to the North at the end of a perspective created by an East-West lane, which leads from the Boechout Avenue to a new visitor's center. The park area surrounding the lane is layed out to best accomodate the flow of taxis and busses in transit, while the employee's parking is to be fitted on three underground levels under their current location. On the Boechout Avenue, a projected roundabout aims to provide full safety at the intersection of the traffic flows.
New office and research buildings, for which various lay-outs are under study, can be erected behind the new visitor's center and above the underground parking.
The pilot study for the visitor's center and an intimate meditation garden next to it is completed. A more advanced study for the extension of the first erected buildings on the site is also completed, and the building permit was delivered by the authorities. The project consists in the symmetrical framing of existing buildings with two pairs of  new wings, creating lightshed atria between the existing and new buildings.
As part of the site's development, the largest of the two purchased office buildings (R Building) was entirely renovated, offering more than 11.000 sqm of new workspace and meeting rooms.
Architecture and Engineering: Philippe SAMYN and PARTNERS All projects are designed by Philippe Samyn who also supervises every drawing
 Structural Engineering: Philippe SAMYN and PARTNERS with SETESCO (sister company 1986-2006) or INGENIEURSBUREAU MEIJER (sister company since 2007) if not mentioned
Services engineering: Philippe SAMYN and PARTNERS with FTI (sister company since 1989) if not mentioned
Architecture                           
Design and Management: Ph. Samyn
Administrative partner: Frédéric Berleur, Fawaz el Sayed
Associates: M. Vandeput, J. Van Rompaey, H. Dossin, D. Peremans, N. Milo, S. Verhulst,
R. Kim, R. Hoeben, W. Dhaenens, J.-L. Rodriguez  Samper
Structural engineering 
SAMYN and PARTNERS with SETESCO sa ( J. Schiffmann, Ph. Samyn)
Service engineering
SAMYN and PARNERS with FTI sa (J. Michiels, J. de Caluwe, L. Gestels)
Civil work:
STRABAG nv
Dorpstraat 45
B-2940 Stabroek
tel. 32 3 560 19 70 fax. 32 3 560 19 71
Building enclosure:
STRABAG nv
Ironmongery:
ATM MACHINE FABRIEK
Heirweg, 27
B- 3680 Maaseik
tel. 32 89 56 53 17 fax. 32 89 56 49 93
Interior carpentry:
BEELAERTS + CO.RA.CO. s.a.
Antwerpsesteenweg, 279
B- 2800 Mechelen
tel. 32 15 20 94 15 fax. 32 15 20 94 79
Interior finishing:
JMD + CALU bvba
Zoutleeuwsesteenweg, 85
B- 3803 Sint-Truiden
tel. 32 11 69 30 50 fax. 32 11
Electricity:
ELECTRICITY ENGINEERING COMPANY sprl
Vlaanderenkaai 8A
B-8500 Kortrijk
tel. 32 56 20 10 95 fax. 32 56 20 20 47
Plumbing:
VlLIEGEN
Meeuwerkiezel, 37
B- 3960 Bree
tel. 32 89 46 18 94 fax. 32 89 47 19 89
H.V.A.C.:
DEVIS nv
Herentaalseweg 48
B-2440 Geel
tel. 2 14 58 89 61 fax. 32 14 58 66 02
Elevators:
THYSSEN
Rue de Dobbelberg 101-103
B-1030 Bruxelles
tel. 32 2 247 37 11 fax. 32 2 247 35 00
14 hectares, approx. 45.000 sqm of new built surfaces ; 1997- ; (01/359-1).
---
For plans sections and elevations, please refer to the archives section of the site available from the "references" menu.