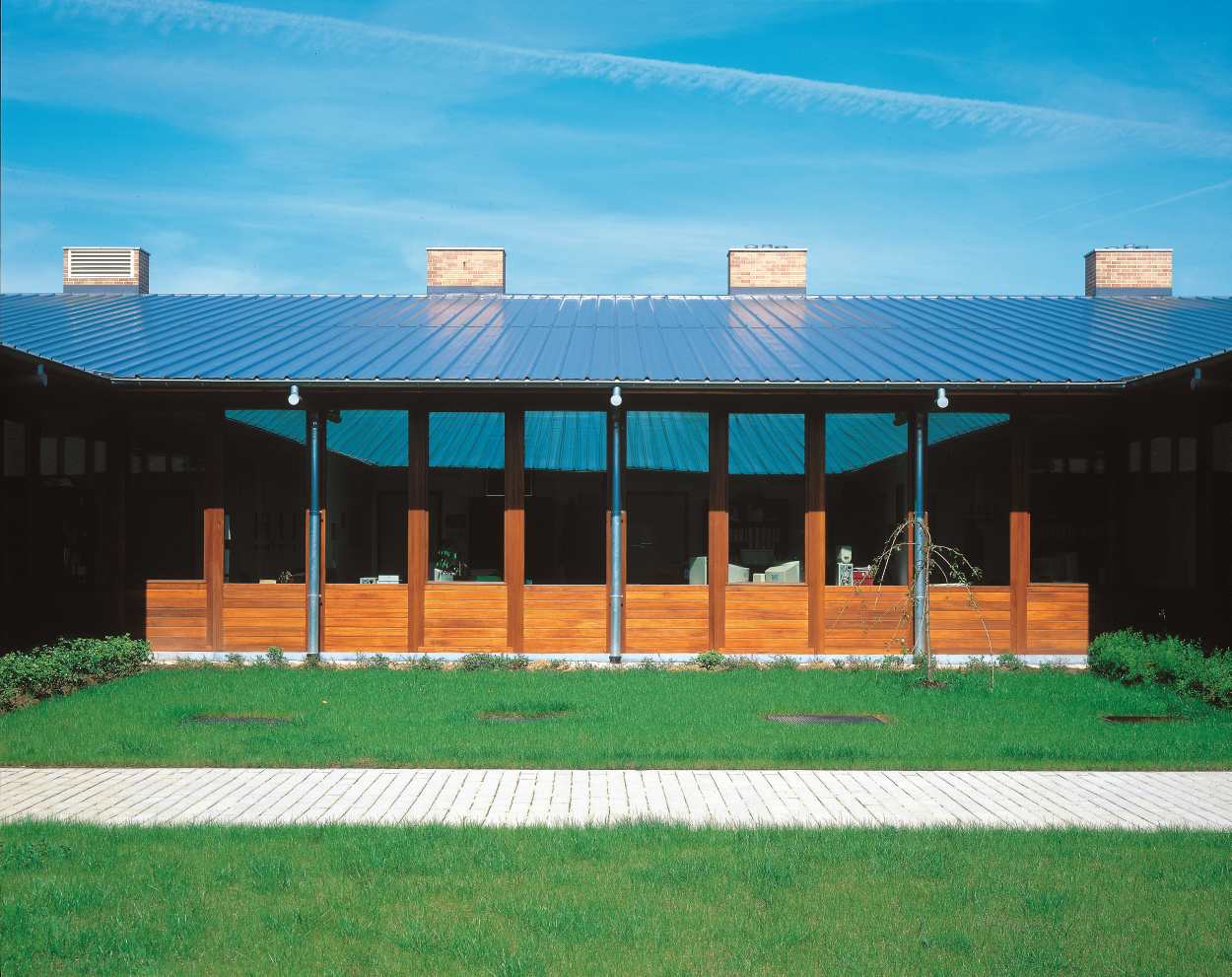 335-Chemical Technological resources center
Catholic University of Louvain-la-Neuve
Seneffe
BELGIUM
– Architecture
– Construction management
– Landscaping
– Mechanical, electrical, plumbing engineering
– Project management
– Quantity surveying
– Structural engineering
2003.02.24 
As part of its expansion programme and with backing from European funding aids to the underprivileged regions of Europe, the Catholic University of Louvain decided to build a pole of economic development in the region of Hainaut.
As a first step, the University erects the Chemical Technological Resources Centre (CERTECH) in the industrial zone of Seneffe. The centre is expected to act as a catalyst which ultimately will allow for the setting-up of small and big independent firms within this future industrial growth area and thus revitalize this region through the development of their industrial activities in various domains. The splendid view towards the canal gives a sense of space which is enhanced by the gentle sloped nature of the site.
As a result, the general setting of the buildings takes on a "U" configuration which opens directly onto the view. This arrangement creates a unifying space while at the same time permitting direct access to each of the elements of the future complex. The CERTHEC occupies the street frontage, at the very centre of the base of the "U" shape and thus, it is set in a dominant and stimulating position for the future development of the site.
The branches of the "U" shape are subdivided into cells covering an area of 800 m² on the ground, along with private parking facilities which permit to cover the usual range of needs required by small and medium-sized companies. In addition, two parking areas containing about 120 spaces each, are provided for visitors and employees of the firms located on site.
Faced with brick cladding, lacquered metal siding and wood-framed windows, and conceived as a mixed structure built out of concrete, steel and timber, the CERTHECH building stands out with the brick chimneys, one of its most recognizable features attached to its four facades. They channel air intake and extract air while incorporating in their lower section sets of bottled gas required for laboratory activities. Offices are organized around a central courtyard whereas laboratories are set in a crown-like arrangement along the external facades. Soft tones, an elongated volume and a clear emphasis on horizontal lines endow the building with an impression of serenity punctuated by the dynamic character conveyed by the chimneys. 
Architecture and Engineering: Philippe SAMYN and PARTNERS All projects are designed by Philippe Samyn who also supervises every drawing
Structural Engineering: Philippe SAMYN and PARTNERS with SETESCO (sister company 1986-2006) or INGENIEURSBUREAU MEIJER (sister company since 2007) if not mentioned
Services engineering: Philippe SAMYN and PARTNERS with FTI (sister company since 1989) if not mentioned
01-335
CERTECH, SENEFFE.
Client:
Catholic University of Louvain.
Architecture:
Partner in charge : D. Mélotte.
Associates : M. Achten, Gh. André, Y. Avoiron, J. Ceyssens, F. el Sayed, L. Finet, L. Kaisin, N. Milo, N. Neuckermans, Q. Steyaert.
1100 sqm (1996); (01-344).
---
For plans sections and elevations, please refer to the archives section of the site available from the "references" menu.