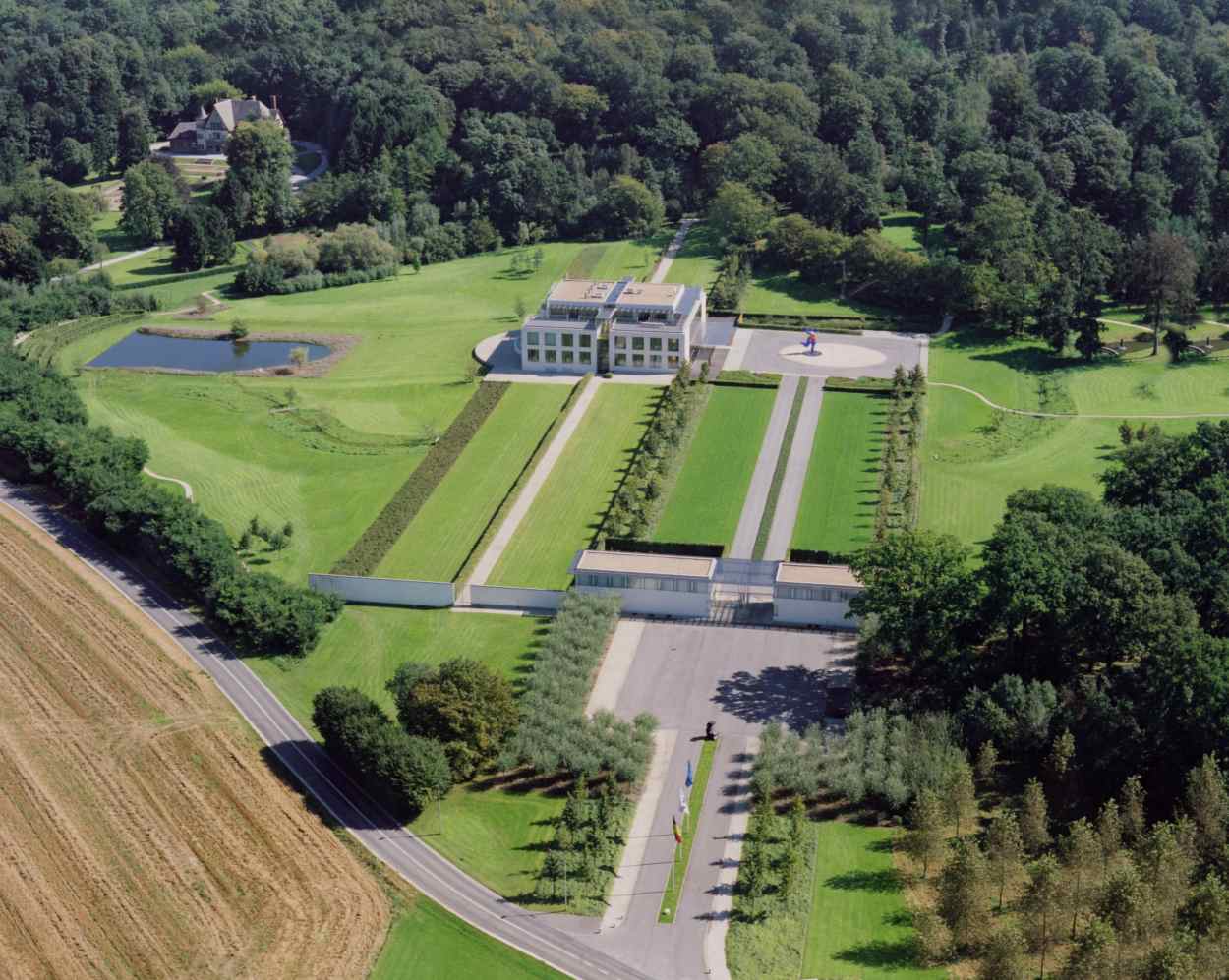 320-New Headquarters of a Financial Company
Gerpinnes- Charleroi
BELGIUM
2,603 sqm above ground, 1,077 sqm under ground (1995-1997); (01-320).
– Architecture
– Construction management
– Interior design
– Landscaping
– Mechanical, electrical, plumbing engineering
– Project management
– Quantity surveying
– Structural engineering
– Furniture design
2003.02.06
The CNP-NPM headquarters are built on an exceptional site bordering a vast protected forest close to the N5 road Charleroi-Philippeville.
The building is oriented so as to face the cardinal points. Besides the company's executive offices, the building contains several reception areas and conference rooms, as it serves as a meeting place for all the companies of the CNP group.
All functions are structured around a vast inner courtyard facing south. The courtyard, two levels high, occasionally serves as a concert hall. Above it are dining and reception rooms with related facilities.
The northern part of the headquarters contains, on the ground level, large meeting rooms and a library, and on the second floor, the president's offices. The third floor is an executive apartment.
The ground and second levels of the east and west wings are reserved for management offices.
The overall composition is simple and classical, and sits on a park landscaped to relate to the four cardinal points. Inside the building, the demand for calm and serenity, the wish to integrate large works of art and to provide an environment of physiological comfort (natural lighting and ventilation, odour and acoustic control) command very high ceilings.
The simplicity of the interior design (white walls, wooden floors) is echoed by the facade with both clear and white crystal glass. Horizontal glass roofs separate the four main building parts (the courtyard, the president's offices and the two other office areas) in order to distribute natural lighting to the centre of the building and right into its corridors.
Architecture and Engineering: Philippe SAMYN and PARTNERS All projects are designed by Philippe Samyn who also supervises every drawing
 Structural Engineering: Philippe SAMYN and PARTNERS with SETESCO (sister company 1986-2006) or INGENIEURSBUREAU MEIJER (sister company since 2007) if not mentioned
Services engineering: Philippe SAMYN and PARTNERS with FTI (sister company since 1989) if not mentioned
BATIMENT – BOUWKUNDE n° 259, June-July 1997, cover and pp. 19-26, 70;(Belgium).
L'ARCA n° 134, February 1999, pp. 50-55; (France – Italy).
INTERNATIONAL ARCHITECTURE YEARBOOK n° 5, The Images Publishing Group Pty, Ltd, Victoria Australia 1999, pp. 40-41; (Australia).
BULLETIN DE LA CLASSE DES BEAUX-ARTS, Académie Royale des Sciences, des Arts & des Lettres de Belgique, 6ème série, Tome X, 1999, 1-6, pp 99-122 : Ph. Samyn: "Siège social et central d'une société financière, Belgique" ; (Belgium).
In preparation : Rodolphe EL KHOURI : "the CNP Headquarter " Princeton architectural Press, United States. 2003.
STAALBOUWWEDSTRIJD – CONCOURS CONSTRUCTION ACIER 1998, nominated for category A (building with steel or mixed construction); (Belgium).
building : (A) Marc Detiffe.
(B) Ch. Bastin & J. Evrard.
model : J. Bauters.
Aera View : AIRPRINT. 
1st phase : roof and entrance lobby 6,000 sqm.
2nd phase : 37,000 sqm. (1995-1999); (01-330).
---
For plans sections and elevations, please refer to the archives section of the site available from the "references" menu.