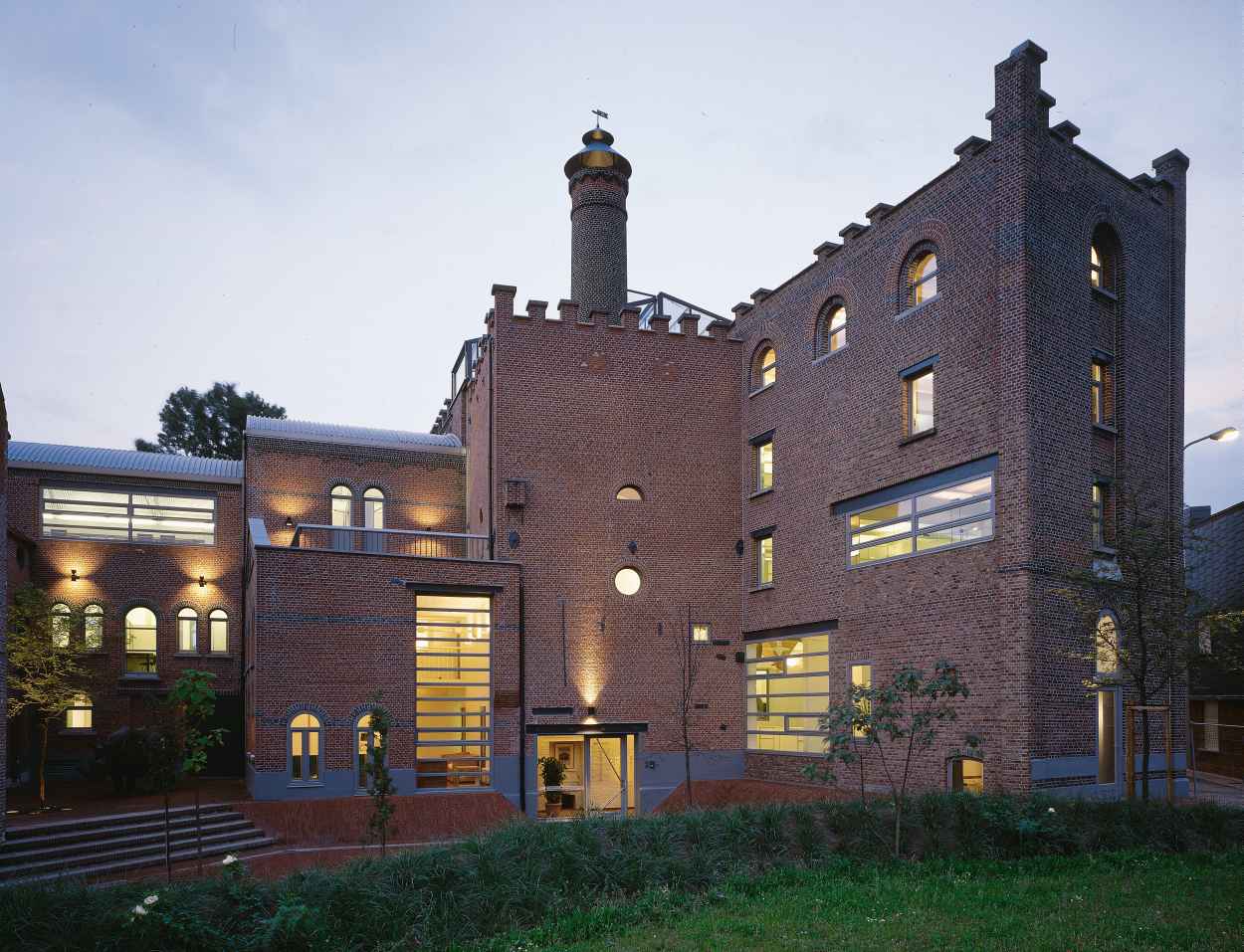 310-Office space for Seghers Engineering
't Hoofd
Klein Willebroek
BELGIUM
2226 sqm.(1965 sqm. + basement 261 sqm.) (1995-1996); (01-310).
– Architecture
– Construction management
– Interior design
– Mechanical, electrical, plumbing engineering
– Project management
– Quantity surveying
– Structural engineering
2003.02.24
The Lamot Brewery, built in 1837, expanded progressively until 1911. However, by 1950, it ceased to have any form of activity. The buildings were partly demolished in the 1980's. In the early 1990's, an initial attempt to transform the remaining structures resulted in the modification of their exterior appearance. Existing documentary records regarding the original building are unfortunately extremely sparse, both at the Sites and Monuments Commission as at the State's Archives.
The present-day building comprises six different volumes. Their transformation draws on a meticulous, almost humble and minimalist design idiom, respectful of the various existing structures. The original exterior appearance was retained except for new wooden window frames painted light grey, the landscaping of the interior courtyard designed by J.Wirtz, the addition of light steel guardrails and the glass roof covering the courtyard.
The interior restoration was first centred on building a stable and fire-resistant structure. Where needed, new foundations were built and light, severely deteriorated wooden floors were replaced by newly constructed concrete floors. Cracked and dangerous masonry work was repaired brick per brick. Some loadbearing walls, appearingly 50 cm thick, called for careful underpinning after the discovery of numerous chases and duct perforations within the wall, limiting its real width at certain crucial points to the equivalent of two walls each 9cm thick. This unexpected finding came about while piercing the brick construction with new openings for the construction of new bays.
The proper setting of stairways so as to allow natural light to penetrate the maximum number of work places presented special design challenges and finally led to the choice of building a narrow atrium between two volumes. This simple architectural gesture allows for regularly spaced windows to be placed on the western wall of the volume, thus enabling to install two work stations right across this zone.
The atrium includes a steel spiral staircase with wooden treads as well as a glazed elevator. The main concrete stairs, lined with wood, are located next to the atrium and give access to roof terraces. An irregular polyhedral shaped glass roof shelters both the atrium and the main stairs.
Aside from its main function as a natural daylight source, the atrium also serves as a chimney to discharge extract air from volumes. Although all windows can be opened, there is a need to provide additional fresh air into both volumes on account of low ceiling heights. This limited mechanical ventilation also operates during the summer nights to cool the exposed masonry and concrete structure.
Just as in the premises of Samyn and Partners'offices in Brussels, an old refurbished farmhouse dating back to the early 19th century, the exterior window frames are, wherever possible, flush with the outer plane of the façade. This enables to place insulated splayings inside to avoid cold bridges. They are fitted with mirrors to increase the reflection of natural daylight into the building.
All floors, including the roof terrace, are covered with raised hardwood strip flooring made out of 23mm thick merbau wood. Data cables, electrical wiring, water and insulated heating pipes are distributed through the void between the timber floor and the concrete slab below. Partitions built in transparent laminated glass are fitted tightly against the ceilings and floors without any additional structure to enclose private offices. Solid wooden doors provide access to the enclosed areas.
A compact furniture system was developed to provide a variety of work station layouts. It is based on a module presenting a double usable height of 375 mm beneath work-tops which can be closed by sliding panels. Indirect fluorescent light fittings are integrated within the modules placed above the working plane. Due to emphasis placed on energy saving, great care was put into the study of the fluorescent lighting system of the building. Only the atrium features halogen light fixtures.
An office extension was later designed on the basis of similar sustainable architecture principles. The plan is composed of a pair of rectangles of uneven length separated by a trapezoid void, rotated regularly around a central courtyard following the sides of a heptagon. This configuration allows the accomodation of many possible variations of the programme and makes possible the organization of workteams of variable size hierarchized in a flexible manner around freely shaped lobbies and ancillary spaces. Natural ventilation, the maximal use of natural lighting, the exlusive use of wood as finishing and structural material all reflect a commitment to sustainability. In addition, exterior catwalks, fitted with blinds on their outer side to reduce the solar factor and to reflect natural light inside the building, border the facades of the extension on each floor.
TRENDS-TENDANCES (France), April 1997, pp. 65-70; pp. 59-64; (Belgium).
Jaarboek ARCHITECTUUR VLAANDEREN 1996-1997, Ministerie van de Vlaamse Gemeenschap, pp. 174-175; (Belgium)
DAS BAUZENTRUM, Fachzeitschrift für Architekten und Bauingenieure. 2/97 März, pp. 28-31;(Germany)
L'ARCA INTERNATIONAL n°26, January 1999, pp.90-91; (France)
INTERIOR SPACES OF EUROPE, volume 2, " A pictoral review of European interiors "; The Images Publishing Group Pty Ltd, Melbourne, Australia, 1999, pp. 70-75; (Australia).
ARCHITECTURE INTERIEURE CREE, n°289, pp 70-73. "Entre préservation et remises aux normes"; (France). 
TRENDS-TENDANCES : Building of the Year 1997; finalist, April 1997;(Belgium).
Architecture and Engineering: Philippe SAMYN and PARTNERS All projects are designed by Philippe Samyn who also supervises every drawing
Structural Engineering: Philippe SAMYN and PARTNERS with SETESCO (sister company 1986-2006) or INGENIEURSBUREAU MEIJER (sister company since 2007) if not mentioned
Services engineering: Philippe SAMYN and PARTNERS with FTI (sister company since 1989) if not mentioned
01-310
't HOOFD SEGHERS ENGINEERING, WILLEBROEK.
Client:
SEGHERS ENGINEERING.
Architecture:
Partner in charge : J. Van Rompaey.
Associates : J. Daels, K. De Mulder, N. Milo, Ph. Van Caenegem, N. Vandendriessche,
Structure:
J. MEIJER
Services:
V.I.B.
Building : Jan Verlinden.
Model : SAMYN and PARTNERS.
2226 sqm.(1965 sqm. + basement 261 sqm.) (1995-1996); (01-310).
---
For plans sections and elevations, please refer to the archives section of the site available from the "references" menu.