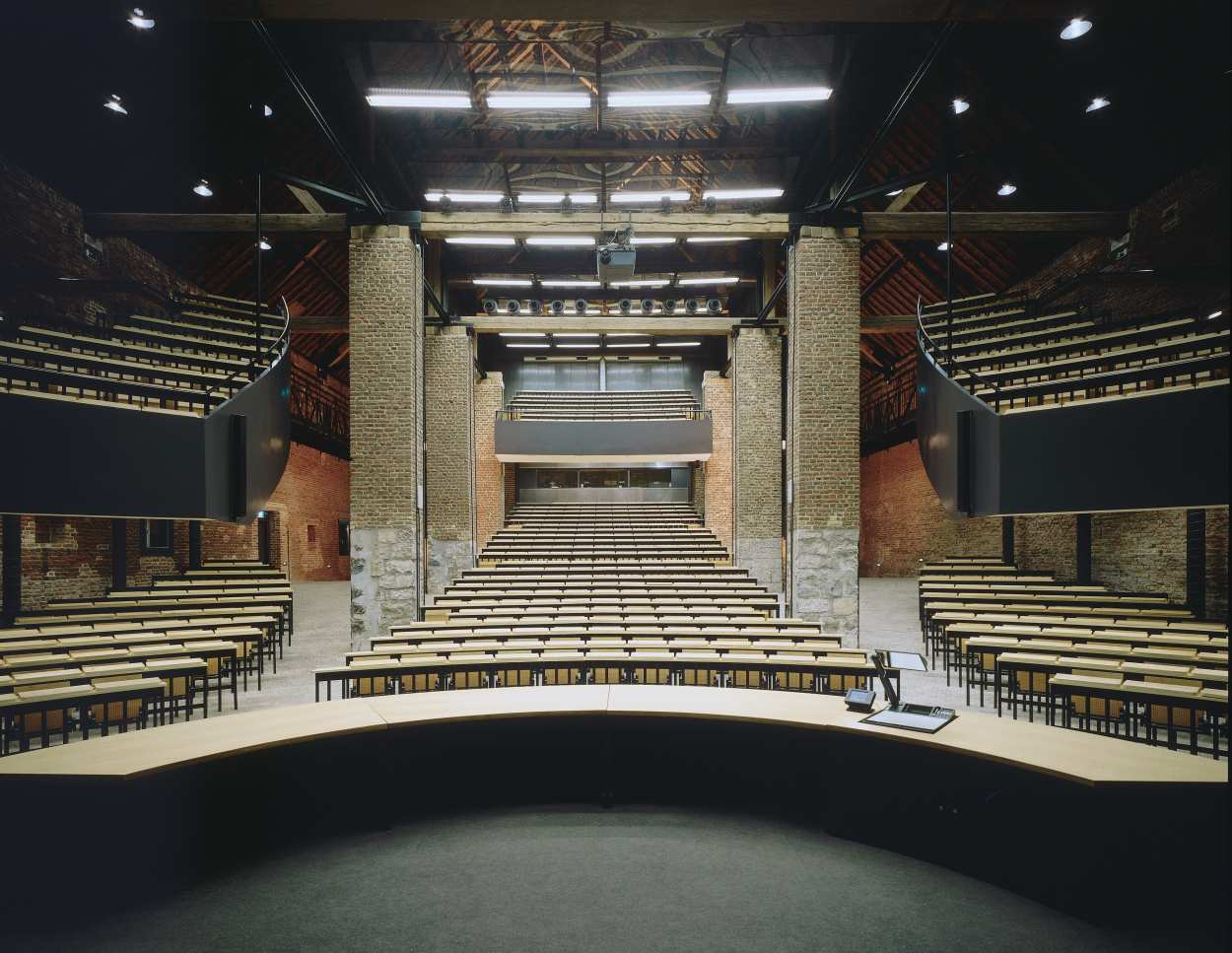 300-Agronomic Faculty at Gembloux
Main Auditorium
Gembloux
BELGIUM
1 500 sqm (1993-1996); (01-300).
– Architecture
– Construction management
– Interior design
– Mechanical, electrical, plumbing engineering
– Project management
– Quantity surveying
– Structural engineering
2003.02.11 
The Agronomic Faculty of Gembloux is housed in a large old abbey.
The Faculty recently acquired a neighbouring listed farm, which includes a large barn built in 1762.
The University wished to use the barn structure to house a 600 seat auditorium that could also be used for concerts and theatrical productions. In addition to the auditorium, the project includes the construction of a number of small lecture rooms to be used for committee meetings, symposia or conferences.
The competition-winning proposal makes full use of the pleasing barn structure without disrupting its original symmetry. A careful computer simulation permitted a design for the auditorium that provides the necessary 600 seats without interfering with the outside walls, while suppressing only two internal pillars.
The auditorium occupies one half of the barn, the rest of the barn being used for the main lobby, the foyer and the small lecture rooms. 
LES CAHIERS DE L'URBANISME, September 1995, pp. 86-89, 108-111; (Belgium)
WALLONIE NOUVELLES ARCHITECTURES, Editions PRISME 1996 . (Belgium).
L'ARCA n°116/L'ARCA INTERNATIONAL n°14, June 1997, pp. 32-35; (IT) (France)
Jacopo della Fontana "SAMYN and PARTNERS; Architecture to be lived"
l'ARCA EDIZIONI, Milano, 1997; 171 pp.; (Italy). A PLUS n°147, 4/1997, August – September 1997, pp. 58-61; Pierre LOZE ; (Belgium)
LES CAHIERS DE L'URBANISME, n°22-23, September 1998, pp. 91-97 ; (Belgium)
Kenneth POWELL : " Architecture reborn, the conver- sation of old buildings " ; 1999, Laurence King Publishing, London; pp. 132-133 (Great-Britain).
Anne NORMAN: "L'architecture sans fin. Restauration, rénovation, réaffectation du patrimoi ne bâti". Arts centre of the Brabant Wallon. House of the town planning (D/2000/7245/2) November 2000; pp 40-41; (Belgium).
BULLETIN DE LA CLASSE DES BEAUX-ARTS, Academie Royale des Sciences, des Lettres et des Arts de Belgique; 6th series, tome VII, 1996, 7-12, pp 219-230; Ph.Samyn: "Espace Senghor. L'Auditorium de la Faculté à Gembloux"; (Belgium). 
National Architecture Prize RENOSPECTO 1998 for the revitalisation and reconversion of the urban and architectural patrimony, December 7 1998, nomina- ted; (Belgium)
Architecture and Engineering: Philippe SAMYN and PARTNERS All projects are designed by Philippe Samyn who also supervises every drawing
Structural Engineering: Philippe SAMYN and PARTNERS with SETESCO (sister company 1986-2006) or INGENIEURSBUREAU MEIJER (sister company since 2007) if not mentioned
Services engineering: Philippe SAMYN and PARTNERS with FTI (sister company since 1989) if not mentioned
01-300
AUDITORIUM, FACULTY FOR AGRONOMY, GEMBLOUX
Client:
FACULTY OF TNE AGRONOMIC SCIENCE
Architecture:
Partners in charge : B. Vleurick.
Associates : Gh. Andre, Y. Avoiron, A. Charon, K. De Mulder, F.El Sayed, L. Finet, D. Melotte, N. Milo, M. Patel, R. Tapia
The Auditorium "Leopold Senghor" at the Agronomic Faculty of Gembloux was awarded:
At the Heritage Day in the Walloon Region in 2010
The First Prize of the Public
1 500 sqm (1993-1996); (01-300).
---
For plans sections and elevations, please refer to the archives section of the site available from the "references" menu.