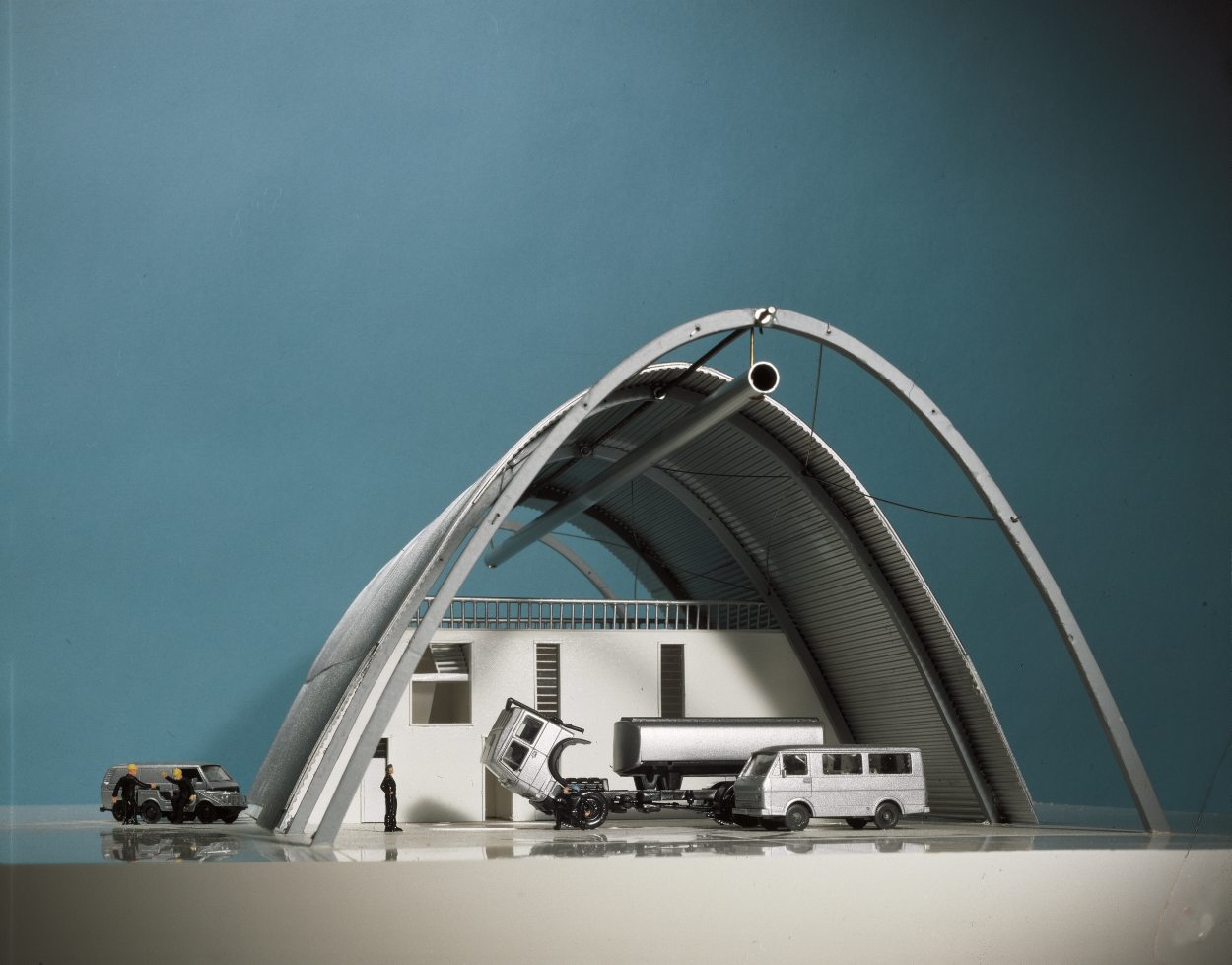 264-Belgian Army Warehouse
Florennes
BELGIUM
9.626 sqm.
– Architecture (with Atelier de l'Arbre d'Or for admin). (1991-1992); (01-264).
– Architecture
– Mechanical, electrical, plumbing engineering
– Project management
– Quantity surveying
– Structural engineering
 2003.01.17
"This project was commissioned by the Belgian army ready for the return home of a division posted in Germany.
It actually involved the construction of new buildings for maintenance work on army vehicles and equipment: a project designed for practical-functional purposes, strictly geared around the specific purpose for which the space was to be used and, hence, largely bereft of stylistic artistry.
At first sight, Samyn seems to have opted for a highly rigorous approach focused around the vast array of data provided by the client: buildings which are cheap and easy to maintain, smoothly arranged spaces and plenty of outside room for manoeuvring large vehicles.
The five buildings, following the same layout as the old premises, fit neatly into the old geometric grid defining the plot of land, without interfering with the rhythmic pattern of gaps between the natural and built environments. In any case, the buildings have their own peculiar stylistic-spatial appeal.
Samyn has designed his own original building shell out of a framework of concrete arches and steel/aluminium sections. Its parabolic design, constructed around a regular grid of standard-size structural elements and finishing features, combines the various programme functions into one single unit without distorting the layout of the interior space.
This allows for highly flexible interaction between the spaces themselves and the activities they host, thanks to the help of non-bearing partitions that are easy to remove.
The functional organisation of space and rational design of the circulation system are the result of constructing the work areas around a central core that acts as the visual hub of the entire building.
The structural-stylistic solidity of these structures is toned down by the layout of the communal areas facing a long tree-lined avenue running right across the army base.
This avenue also provides easy access and a panoramic view of the surrounding countryside."
Elena Cardani : l'ARCA n°70; pp. 70-73, April 1993.
Architecture and Engineering: Philippe SAMYN and PARTNERS All projects are designed by Philippe Samyn who also supervises every drawing
Structural Engineering: Philippe SAMYN and PARTNERS with SETESCO (sister company 1986-2006) or INGENIEURSBUREAU MEIJER (sister company since 2007) if not mentioned
Services engineering: Philippe SAMYN and PARTNERS with FTI (sister company since 1989) if not mentioned
01-264
BELGIAN ARMY WAREHOUSE
Client:
BELGIAN ARMY
Architecture:
Partner in charge : B. Legrand
Associates : T. Berlemont, F. el Sayed, , W. van Laer.
9.626 sqm.
---
For plans sections and elevations, please refer to the archives section of the site available from the "references" menu.