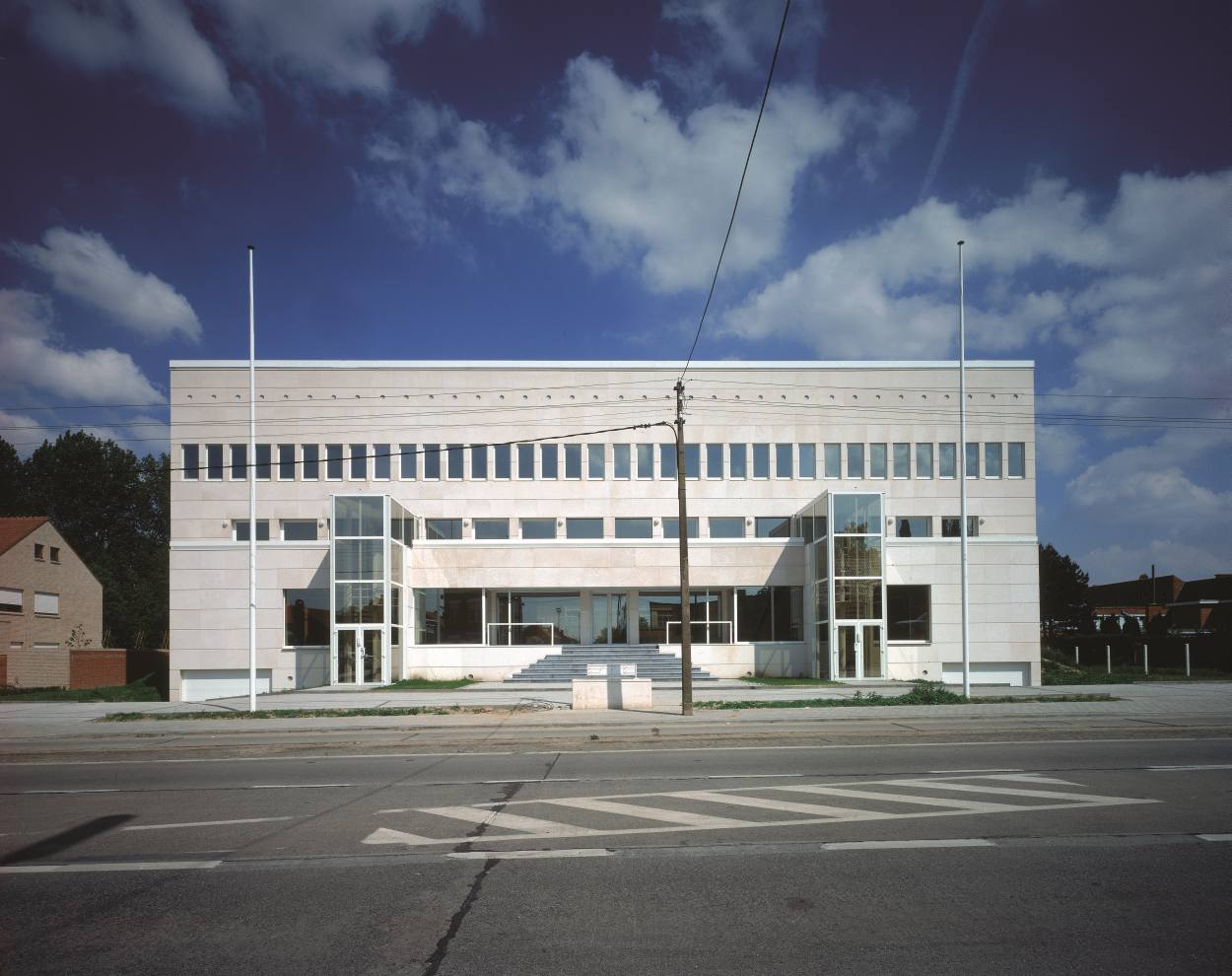 180-Urbaine UAP
Headquarter of Urbaine UAP and housing
Roeselaere
BELGIUM
1,500 sqm. (1987-1990); (01-180).
– Architecture
– Construction management
– Interior design
– Landscaping
– Mechanical, electrical, plumbing engineering
– Project management
– Quantity surveying
– Structural engineering
2003.03.14 
The project responds to the Urbaine UAP Insurance Company's wishes to establish a regional representative headquarters in Flanders, initially intended to require minimal space, with future growth possibilities.
The project entails ground floor office space with parking below and duplex apartments on the second and third floors above. Like the Athenée royale in Waterloo, (1980 – 1986) and the Vandenbusshe project at Deinze (1993 – ), the project is conceived so that the space can easily be adapted to alternative functions.
The basis structure of the building comprises 9 x 36 m spaces served by sizeable additions containing vertical passageways and technical space. Such additions balance the building's composition and orient visitors. The preoccupation with flexible space proved useful as, less than two years after its completion, the entire building was refitted for office space.
L'ARCA, n° 45, January 1991, p 98 ; (Italy)

ARCH & LIFE, n° 45, November – December 1991, pp. 12-14; (Belgium).
Architecture and Engineering: Philippe SAMYN and PARTNERS All projects are designed by Philippe Samyn who also supervises every drawing
Structural Engineering: Philippe SAMYN and PARTNERS with SETESCO (sister company 1986-2006) or INGENIEURSBUREAU MEIJER (sister company since 2007) if not mentioned
Services engineering: Philippe SAMYN and PARTNERS with FTI (sister company since 1989) if not mentioned
1,500 sqm.   (1987-1990); (01-180).
---
For plans sections and elevations, please refer to the archives section of the site available from the "references" menu.