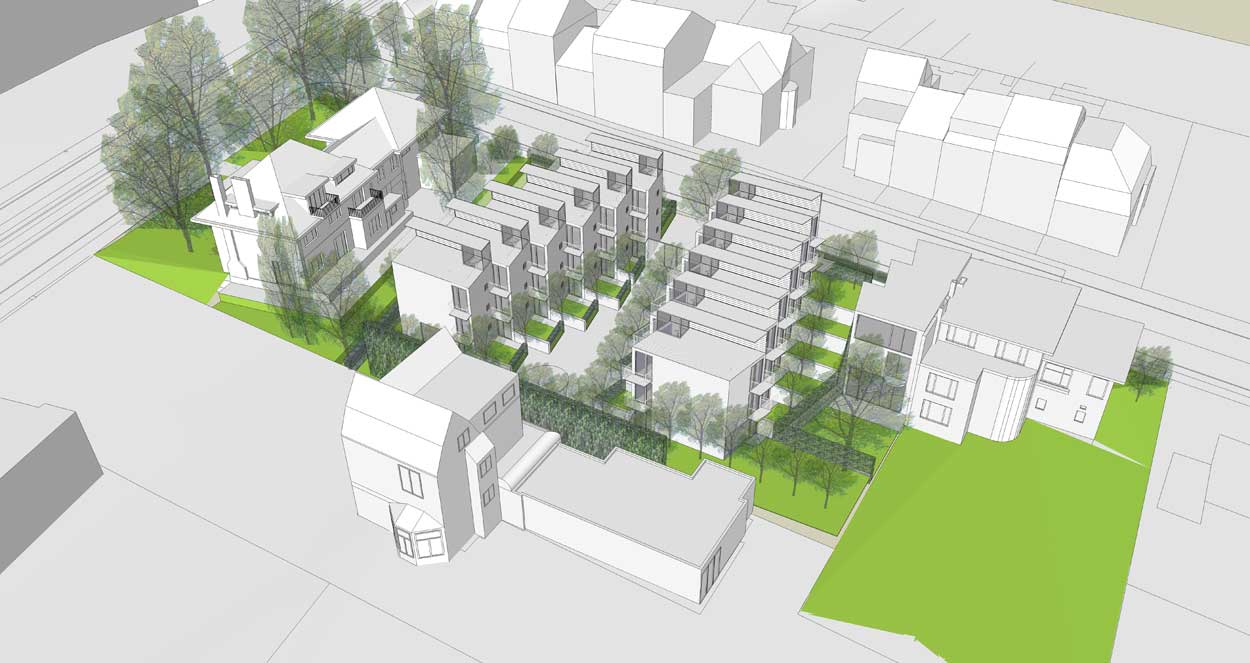 596-12 houses and 6 apartments avenue helene
Avenue Hélène
1082 Berchem Sainte-Agathe
BELGIUM
(2013-2014); (01-596).
Stopped at building permit application stage.
– Analysis the existing situation
– Architecture
– Building physics and internal climate
– Civil engineering
– Conceptual energy plan
– Daylighting
– Interior design
– Landscaping
– Masterplan
– Urban design
– Urbanism
– Building services engineering
The beautiful property and its close surroundings provide the smooth establishment of 12 houses and a building of three apartments attached to a house designed by Victor Bourgeois. The existing villa is transformed in three luxurious apartments.
This process contributes to meet the current demographic challenge of Brussels.
The slope of the ground enables to arrange a very short entrance to the underground garages in the northeastern corner.
The architectural statement highlights two morphological characteristics of the "genius loci".
On one side, it is symmetrically organized on both sides of the pleasant breakthrough in the northern alignment of the Avenue Helene and of the important built volume, located on the attached property to the south of the plot. On the other side, its oblique alignments answer to the obtuse angle created by the current villa. The result is a "W" shaped siting which avoids any overlook from a dwelling to another.
Architecture and Engineering:
Philippe SAMYN and PARTNERS All projects are designed by Philippe Samyn who also supervises every drawing
Structural Engineering:
Philippe SAMYN and PARTNERS with SETESCO (sister company (1986-2006) or INGENIEURSBUREAU MEIJER (sister company 2007-2015) if not mentioned
Services engineering:
Philippe SAMYN and PARTNERS with FTI (sister company since 1989) if not mentioned
Photo: model © Philippe SAMYN and PARTNERS / photo shoot André CHARON
---
For plans sections and elevations, please refer to the archives section of the site available from the "references" menu.