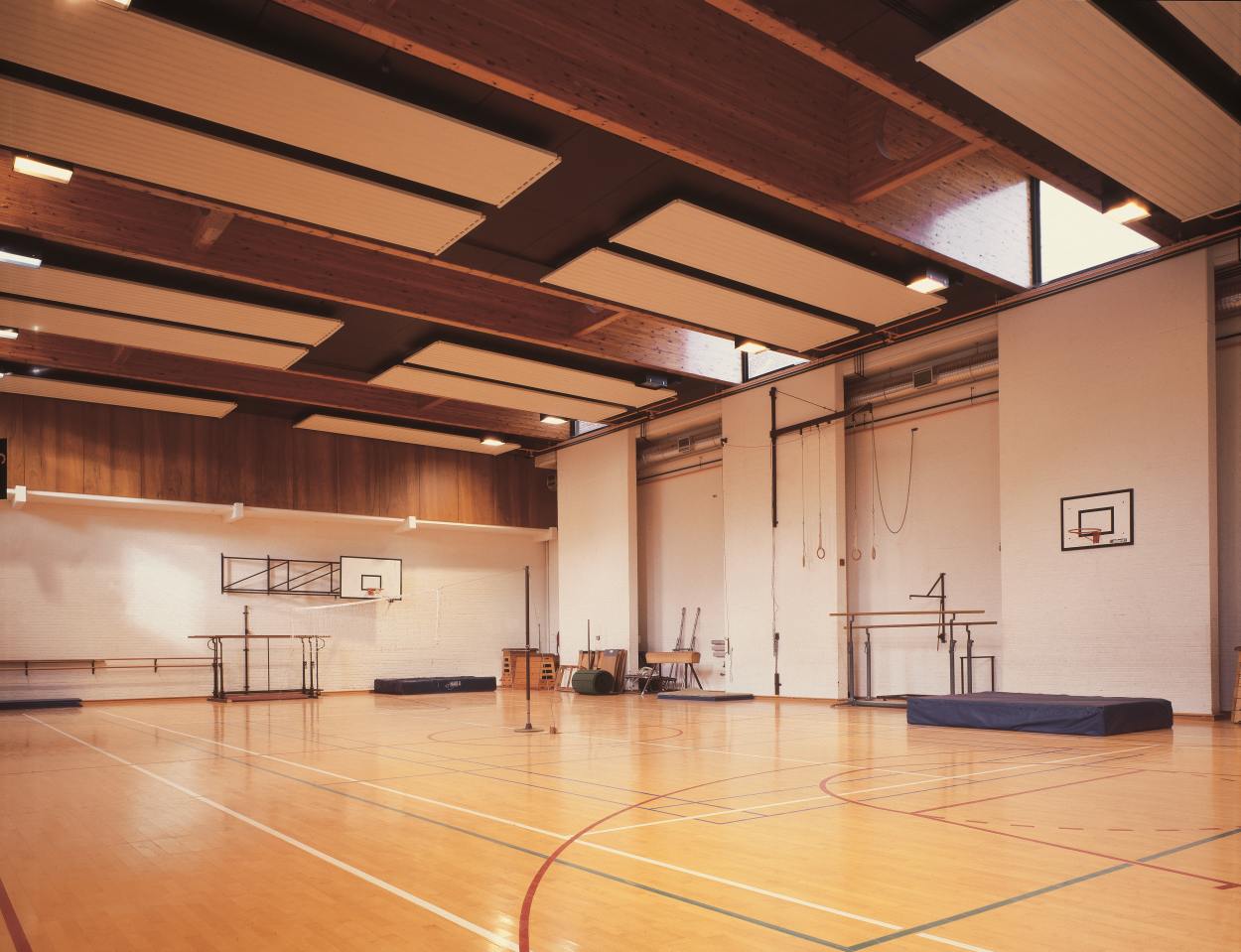 048-Athenee Royal in Leuze-En-Hainaut
Kitchen, restaurant, gymnasium, classrooms, administration offices and a SMP centre
LEUZE-EN-HAINAUT
BELGIUM
3600 sqm (1980-1983); (01-048).
– Architecture
– Construction management
– Interior design
– Landscaping 
– Mechanical, electrical, plumbing engineering
– Project management
– Quantity surveying
– Structural engineering
 2000.12.06
The extension of the secondary school in Leuze develops itself on a long site. The programme calls for the setting of the administration rooms and the social-medical-psychological centre on the street front, followed by the gymnasium, the restaurant and the kitchen.
4 classrooms complete the composition around the gym and reduce its visual mass.
The project features the use of traditional materials (brick and wood), a simple and clear constructive system, an economy of means and a regular framework incorporating the surroundings (low walls, trees, roads, etc.).
TERRE CUITE ET CONSTRUCTION-BOUWEN MET BAKSTEEN, n°3, 1983, pp.1-7; (Belgium).
Architecture and Engineering: Philippe SAMYN and PARTNERS All projects are designed by Philippe Samyn who also supervises every drawing
Structural Engineering: Philippe SAMYN and PARTNERS with SETESCO (sister company 1986-2006) or INGENIEURSBUREAU MEIJER (sister company since 2007) if not mentioned
Services engineering: Philippe SAMYN and PARTNERS with FTI (sister company since 1989) if not mentioned
| | |
| --- | --- |
| 01-048 | ATHENEE ROYAL, LEUZE-EN-HAINAUT. |
| Client: | FONDS DES BâTIMENTS SCOLAIRES DE L'ETAT, DIRECTION PROVINCIALE DU HAINAUT. |
| Architecture: | B. Colin, R. Delaunoit, M. Vandeput. |
| Structure: | Ph. Samyn, with J. Dufour for execution |
| Services: | COGET. |
3600 sqm  (1980-1983); (01-048).
---
For plans sections and elevations, please refer to the archives section of the site available from the "references" menu.