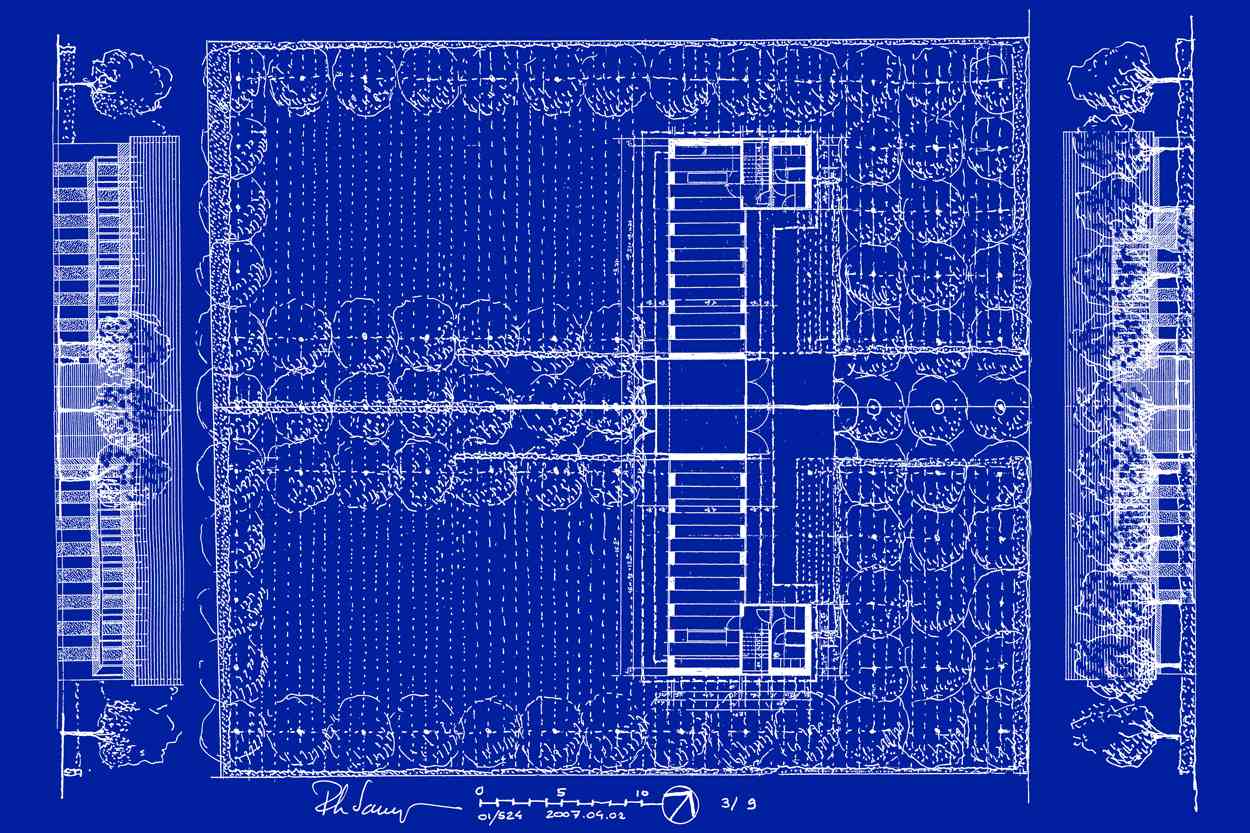 524-Two Houses at Fernelmont
Fernelmont
BELGIUM
(2007-…); (01-524).
At design stage
– Architecture
– Interior design
– Landscaping
– Mechanical, electrical, plumbing engineering
– Project management
– Quantity surveying
– Structural engineering
This project concerns two ordinary houses on two lots of a classic development site in a charming village.
A garden, with a gated and fenced courtyard is situated to the North along the street.
Tall garages make up the dividing common wall between the two houses. The access paths are prolonged to the South along the private gardens thus ensuring privacy for both houses.
A smaller volume containing the entry hall, the laundry room and the stairwell is attached to the greater principle volume of each house. One large and open space makes up the entire volume at street level with the kitchen wall at the gable end and a wood-burning stove set against the garage wall.
The bedrooms and bathrooms are aligned regularly on the second floor and are accessed, to the North, by a cantilevered corridor. A terrace to the South mirrors this.
These houses are very low energy consumption structures built entirely of wood, extremely air-tight and without cold bridges. They are enveloped by a 30-cm-thick layer of rockwool insulation.
Mechanical ventilation with the thermal exchanger situated in the attic completes the technical installation.
Document E41_01/524 -En Issue of 2007-12-07
Landscaping.
Architecture.
Interior design.
Structural engineering.
Mechanical, electrical, plumbing engineering.
Cost control.
Construction management.
Architecture and Engineering: Philippe SAMYN and PARTNERS All projects are designed by Philippe Samyn who also supervises every drawing
 Structural Engineering: Philippe SAMYN and PARTNERS with SETESCO (sister company 1986-2006) or INGENIEURSBUREAU MEIJER (sister company 2007-2015) if not mentioned
Services engineering: Philippe SAMYN and PARTNERS with FTI (sister company since 1989) if not mentioned
377 m²; 2007 –  ; (01/524)
---
For plans sections and elevations, please refer to the archives section of the site available from the "references" menu.