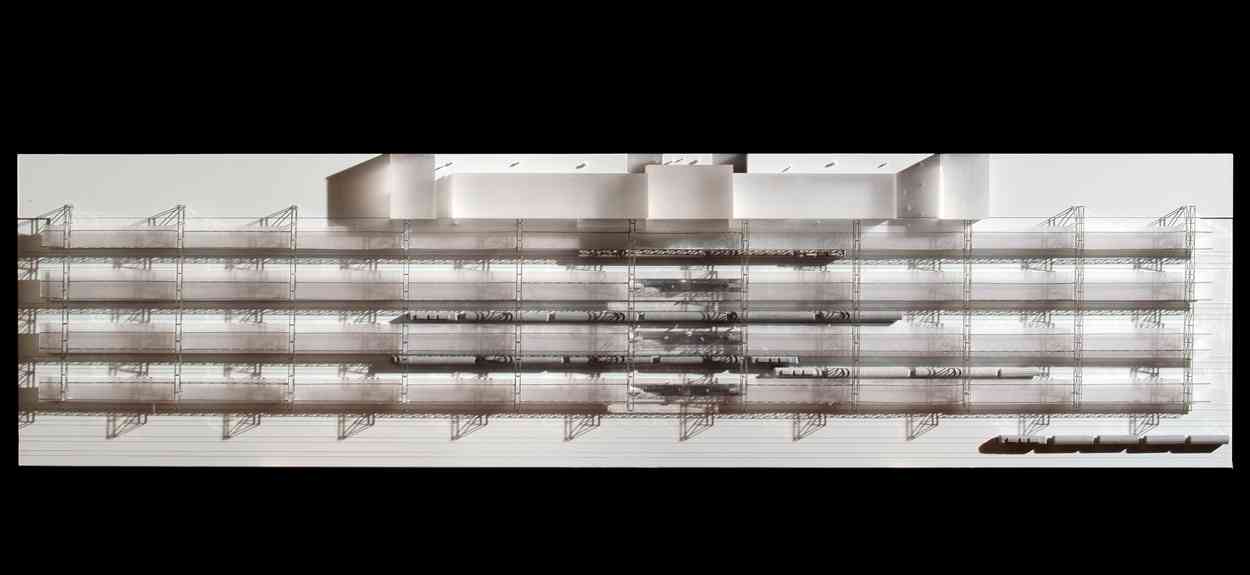 514-Mons Rail Station
Mons
BELGIUM
(2006); (01-514).
Invited competition entry
– Architecture
– Landscaping
– Structural engineering
– Urban design
The rail station of Mons is situated on the peripheral boulevard of the old city and to the west of it.
As is often the case, the ensemble of the rail tracks creates a significant urban no-man's-land that is almost impossible to cross, and makes any agreeable connection between the old city and the urban growth outside this barrier quite difficult.
To the west of the city, the area known as "Grands Près" has indeed been extensively developed in recent years and makes this connection essential.
Aware of the current situation, as well as perceiving the potential to add value to the railway properties, the Société Nationale des Chemins de Fer Belges envisages the reduction of the width of the land occupied by the rails by half.
An underground gallery beneath the tracks, linked by various service boutiques, provides access to the rail platforms. Elevators, stairways and escalators are situated in a rectangular space with a glass roof that abundantly illuminates the pedestrian path below ground.
On the side of the old city, a flowing-form glass-walled kiosk houses stairways and elevators as well as two curved ramps for the use of bicyclists.
The west side of the gallery leads into a rectangular public open space of gentle incline, surrounded by buildings of three or four levels. This square enables one to rejoin the alignment of the principal avenue of the "Grands Prés". An eight-hundred vehicle parking facility completes the ensemble.
Eleven large cross beams in steel trellis, with a span of 52.5 m and 5.25 m in height, perpendicular to the rails, support the 35-m longitudinal and 1.75-m high trellis beams that, in pairs, support the streamlined metallic sheeting awnings. A system for the evacuation of rainwater, a full-section type, enables a perfectly horizontal path for the piping.
This structure, that closely resembles the usual railroad protective structures, enables the elimination of any columns on the railway platforms.
Document E41_01/514 -En Issue of 2006-07-14
Architecture and Engineering: Philippe SAMYN and PARTNERS All projects are designed by Philippe Samyn who also supervises every drawing
 Structural Engineering: Philippe SAMYN and PARTNERS with SETESCO (sister company 1986-2006) or INGENIEURSBUREAU MEIJER (sister company 2007-2015) if not mentioned
Services engineering: Philippe SAMYN and PARTNERS with FTI (sister company since 1989) if not mentioned
01-514
TRAIN STATION, MONS.
Client:
BELGIAN RAIL.
Architecture:
Partner in charge : Gh. Andre.
Associates : Th. Vandeweyer, Th. Van De Casteele, D. Fonseca Rangel, C. Bastin.
7,793 m
2
platform area; 26,391 m
2
infrastructure area, 2006, (01/514)
---
For plans sections and elevations, please refer to the archives section of the site available from the "references" menu.