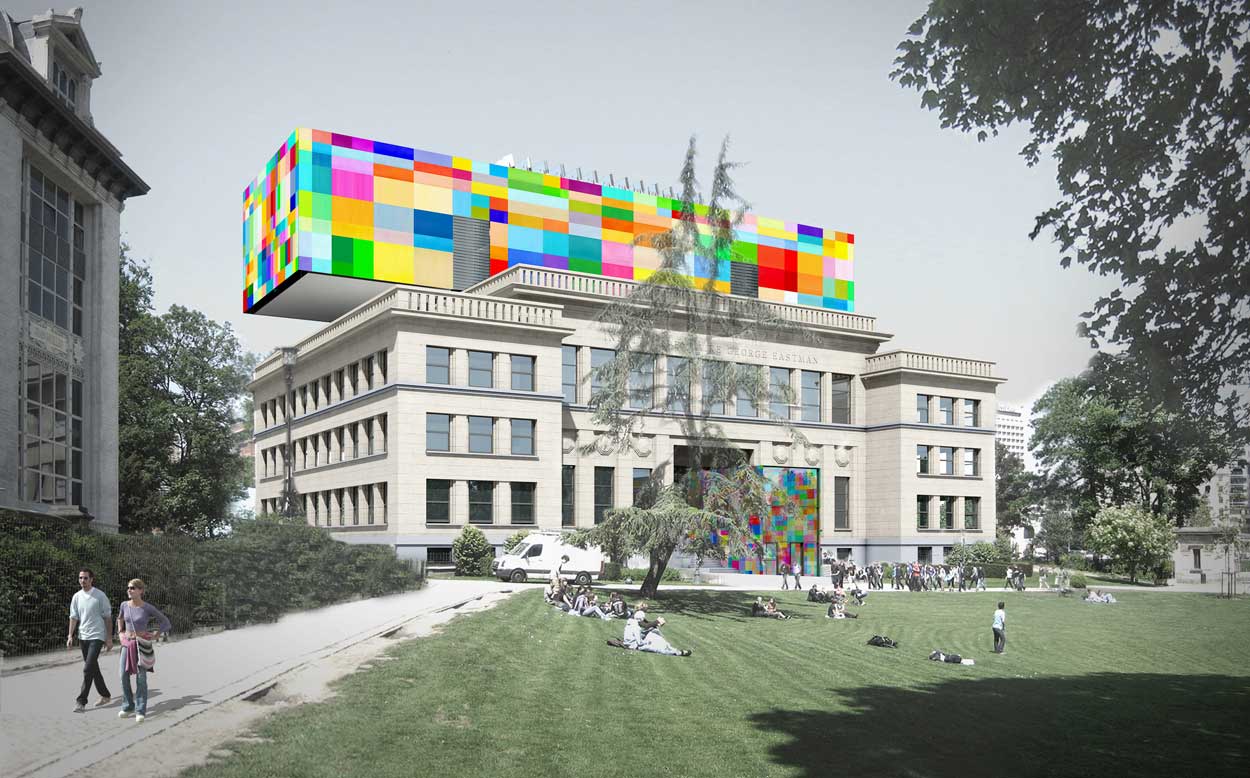 573-House of European History
Parc Léopold
Brussels
BELGIUM

(2010); (01-573).
Invited competition entry
With its airs of a classical palace enhanced by its majestic setting in the Léopold Park, the Eastman building is there to remind us of Europe's foundations.
The idea now is for the building to be occupied without its history being disowned, just as Europe has taken shape without blotting out anything of its own. The building is to be turned into a House of European history.
Set back from and grafted onto the static and symmetrical classical palace, we find a volume housing a treasure-trove of objects and ideas, a colourful and kinetic expression of the mosaic of our cultures, the development of multiculturalism, and respect for diversity and for our mobility and inventiveness. It nonetheless remains a serene and stable whole, and aims to convey the search for equality between citizens.
It is also a place where colour rules and a venue for festive evenings at twilight.
In the same spirit, the entrance porch and its shimmering patchwork lead to and fit into the monumental staircase, albeit without depriving the latter of its use or altering the level of the position of the main entrance. This new entrance at street level enables everyone to come into the heart of the Centre together so as to be welcomed there.
Once through the compulsory security check, the visitor finds himself in the huge foyer bathed in natural light, which is as high as the building itself. He immediately appreciates its spatiality and organisation.
Its muffled acoustic surroundings, natural materials, and floors, walls and ceilings in wooden panels and pure grey fabric, contribute to a feeling of wellbeing and serenity.
All the centre's furniture, which is made using traditional methods, already evokes the history of Europe's regions. Each item has a marked identity and no single piece resembles the others, which, incidentally, makes it easier for it to be replaced if necessary.
The temporary exhibition rooms are multi-purpose and arranged on the ground floor, with the upper floors being set aside for the permanent exhibitions.
The more private rooms, located in the side wings of the existing building (on the ground floor for temporary, and on the second floor south and the third floor for permanent) are in counterpoint to the large rooms with a ceiling height of 7m (on the ground floor for temporary, and on the second, third, fourth and sixth floors for permanent) and the gardens of Europe on the terrace roofs (on the fourth and fifth floors).
Everything works towards making technology step aside in favour of history. Here exact sciences fit together at the service of social sciences. The result is that the environmental approach, which our grandparents mastered out of necessity, is adopted here but this time in the context of an ideal, as long as nature does not force it upon us again in an authoritarian way.
Integration with the site, materials in empathy with our persons and our cultures, adaptability, energy design, natural lighting, limitation of maintenance and cleaning costs, sensory comfort and security are therefore the key words here.
Surface area of the existing building maintained: 6,712m²; surface area of the building after conversion and extension: 9,725 m²; 2010-07-20; (01/573).

Invitation international competition; ranked 5/12
Document E41_01/573 -En Issue of 2012-01-02
– Acoustics
– Analysis the existing situation
– Architecture
– Building physics and internal climate
– Civil engineering
– Conceptual energy plan
– Cost control
– Daylighting
– Equipment engineering
– Furniture design
– Interior design
– Mechanical, electrical, plumbing engineering
– Project management
– Structural engineering
– Signalizing
– Scenography
– Utility Engineering
– Engineering and Technical Design
Architecture and Engineering:
Philippe SAMYN and PARTNERS All projects are designed by Philippe Samyn who also supervises every drawing
Structural Engineering:
Philippe SAMYN and PARTNERS with SETESCO (sister company 1986-2006) or INGENIEURSBUREAU MEIJER (sister company 2007-2015) if not mentioned
Services engineering:
Philippe SAMYN and PARTNERS
with FTI (sister company since 1989)
if not mentioned
01-573
MUSEUM OF EUROPEAN HISTORY, BRUSSELS
Client:
EUROPEAN PARLIAMENT.
Architecture:
Partner in charge : Q. Steyaert.
Associates : L. Barbarito, C. Bazier, S. Buemi, B. Calgagno, Th. Cooreman, M. Chtourou, F. Defrenne, N. Duvivier, A. Fayt, D. Gundes, Th.Henrard, O. Jottard, S. Kotsikas, C. Lizin, D. Mélotte, E. Papacosta, K. Perlepe, M. Sartori, D. Spantouris, S. Tourbach, S. Van Der Meer, N. Wampach.
Services:

Building services:
FTI (Flow Transfer International sa) (Andrew JANSSENS CEO, Jean MICHIELS and Dr Ir Philippe SAMYN Administrator).

Energy Consultance:
AirSR sprl (Dr Ir Dominico OLIVARI, Dr Ir Philippe SAMYN, Dr Ir Gabriel MASY).

Structural engineering:
INGENIEURSBUREAU MEIJER sprl, (Ir Jan MEIJER manager et Dr Ir Philippe
SAMYN manager).

Economist:
Bureau Michel FORGUE sarl (Ir M Michel FORGUE manager, Ir Elie DURANT).

Signals:
sdesign sprl (Johanna FISCHER, François-Joseph de LANTSHEERE).

Security:
RT Consultancy cvba (Paul ROBRECHTS).

Artistic:
Georges MEURANT.
---
For plans sections and elevations, please refer to the archives section of the site available from the "references" menu.