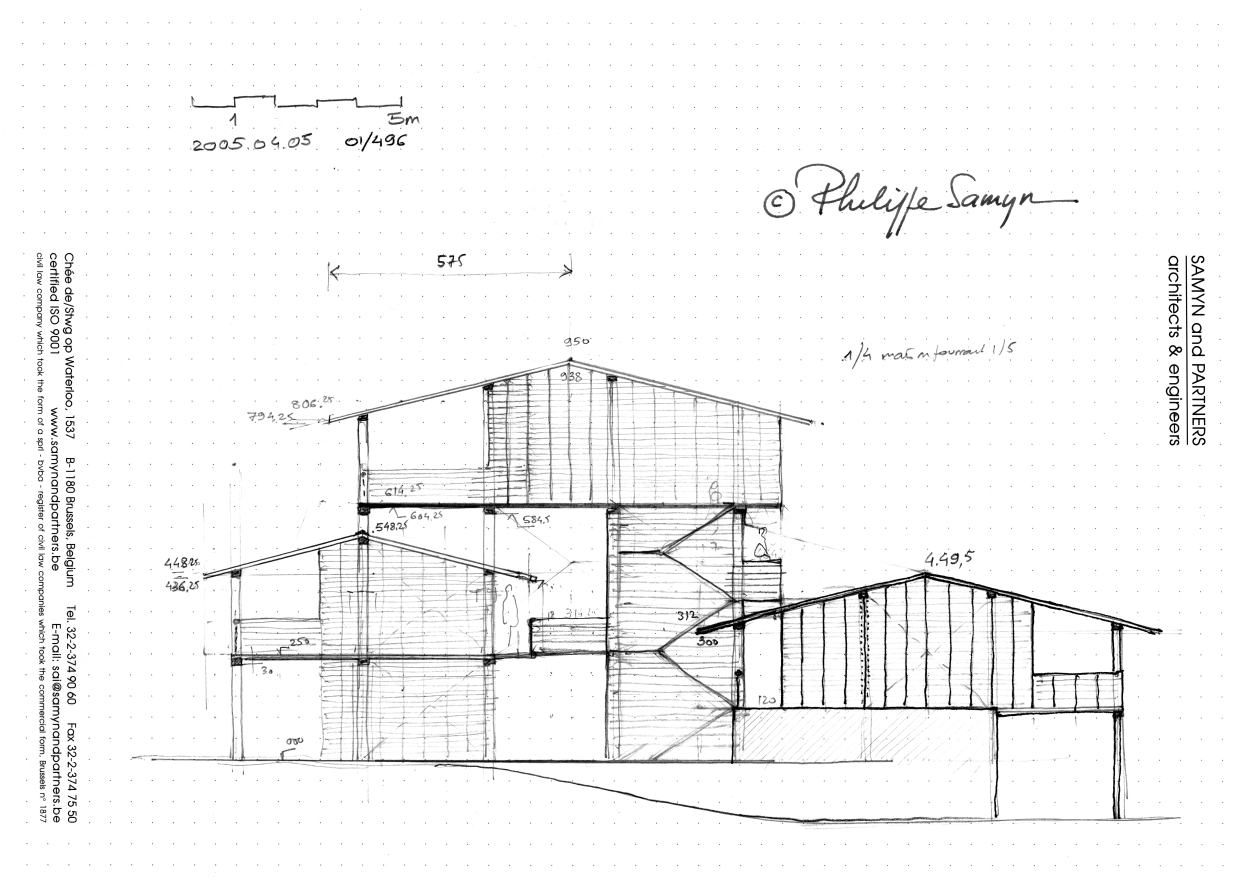 496-House in Praia do Forte
State of Bahia
BRAZIL
380 sqm + 180 sqm covered terraces;  (2005); (01-496).
At design stage 
– Architecture
– Mechanical, electrical, plumbing engineering
– Structural engineering
Praia do Forte is a little fishing village on the southern Atlantic, 13° latitude south of the equator.
It is regularly swept by winds from the sea waves (and southeast in July and August) that carry corrosive salt mist in air dampened to saturation.
The coast here consists of fine sand beaches lined with coconut trees. A coral reef protects them from the sea waves.
In a climate with temperatures between 25° C and 30° C, fauna and flora are remarkably diversified, and are protected by regulations that put strict constraints on constructions.
The charm of the region is a factor promoting the development of tourism, which makes these rules even more necessary.
The house is consequently made entirely from IPE wood on existing pebble foundations. The assembling is also made from wood, in keeping with traditional usage, both for the structure and, the walls and roofs. Steel nails are only used to fasten the 7 cm thick solid wood floors.
The walls are made from mobile wooden shutters running horizontally. The roofs, at a 1/5 slope, consist of Roman tiles on a lathing, not fastened by any other means. This provides good ventilation and lets light filter through subtly, while keeping out the tropical rains.
The house consists of three volumes set around a patio partially covered by the upper volume. A dream for Robinson Crusoe, drafted in paper and pencil.
Document E41_01/496 -En Issue of 2005-07-01
Architecture and Engineering: Philippe SAMYN and PARTNERS All projects are designed by Philippe Samyn who also supervises every drawing
 Structural Engineering: Philippe SAMYN and PARTNERS with SETESCO (sister company 1986-2006) or INGENIEURSBUREAU MEIJER (sister company 2007-2015) if not mentioned
Services engineering: Philippe SAMYN and PARTNERS with FTI (sister company since 1989) if not mentioned
380 sqm + 180 sqm covered terraces ; 2005 – ; (01/496).
---
For plans sections and elevations, please refer to the archives section of the site available from the "references" menu.