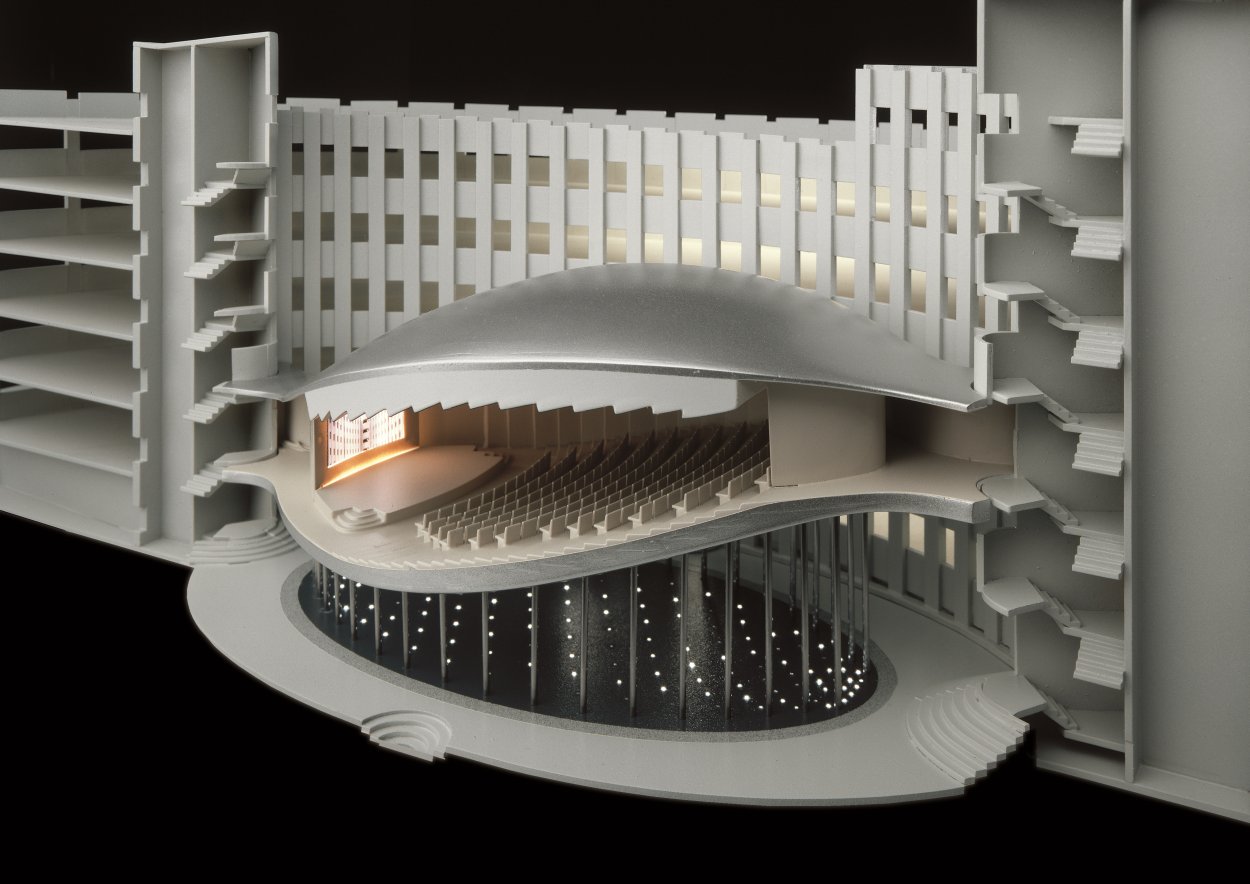 410-Construction of an auditorium in a multilevel car park
Rixensart
BELGIUM
735 sqm  (2001); (01-410).
The Glaxo SmithKline Beecham company wanted to provide its engineers and personnel on the Rixensart site with a high-performance communication tool together with a meeting and information area.
Available space was already quite limited, so this prompted decision-takers to consider the idea of using the courtyard of the oval car park inaugurated in 2000. (See 01/334-1).
Consequently, an auditorium has been set up in the heart of the oval cylinder of the car park.
Mounted on slender columns, it has a capacity of 192 persons and is accessible using the existing staircases of the parking.
The plan corresponded to three constraints: connections with the 2 staircases, preference for maintaining the natural lighting and ventilation of the car park and the effort to develop a comfortable auditorium.
The space in the partially-covered courtyard forms an open lobby, heated by infrared radiation, that can be closed if need be by translucent fibreglass curtains, slightly permeable to air, attached to the lower outside edge of the auditorium volume.
The lighting of this area is provided by a set of projectors embedded in the floor along a geometric pattern created by artist Léon Wuidar.
The cloakrooms and toilets are located in an available storage area under the car park ramp.
The auditorium enclosure is made of polished stainless steel sheets to preserve the distribution of light in the car park and favour the natural lighting of the lobby during daylight.
Air is treated by very thin ventilation groups placed under the stage that pump air in under each seat; it is extracted through a plenum in the ceiling. Calories and frigories are provided by energy distribution networks existing on the site.
Light-coloured wood panels covering the walls and the ceiling in a saw-tooth like pattern enhance the layout of the tiers. They integrate frosted glass panels that diffuse the light from fluorescent tubes.
The seats in pure grey cloth are set on the oak floor.
Document E41_01/410 -En Issue of 2003-01-09
Architecture and Engineering: Philippe SAMYN and PARTNERS All projects are designed by Philippe Samyn who also supervises every drawing
 Structural Engineering: Philippe SAMYN and PARTNERS with SETESCO (sister company 1986-2006) or INGENIEURSBUREAU MEIJER (sister company since 2007) if not mentioned
Services engineering: Philippe SAMYN and PARTNERS with FTI (sister company since 1989) if not mentioned
01-410
Auditorium, rixensart.
Client:
GLAXO SmithKline Beecham Biologicals.
Architecture:
Partner in charge : Gh. André.
Associates : C. Vandeputte, G. Hasbroucq, L. Van de Velde, L. Lebbink.
---
For plans sections and elevations, please refer to the archives section of the site available from the "references" menu.