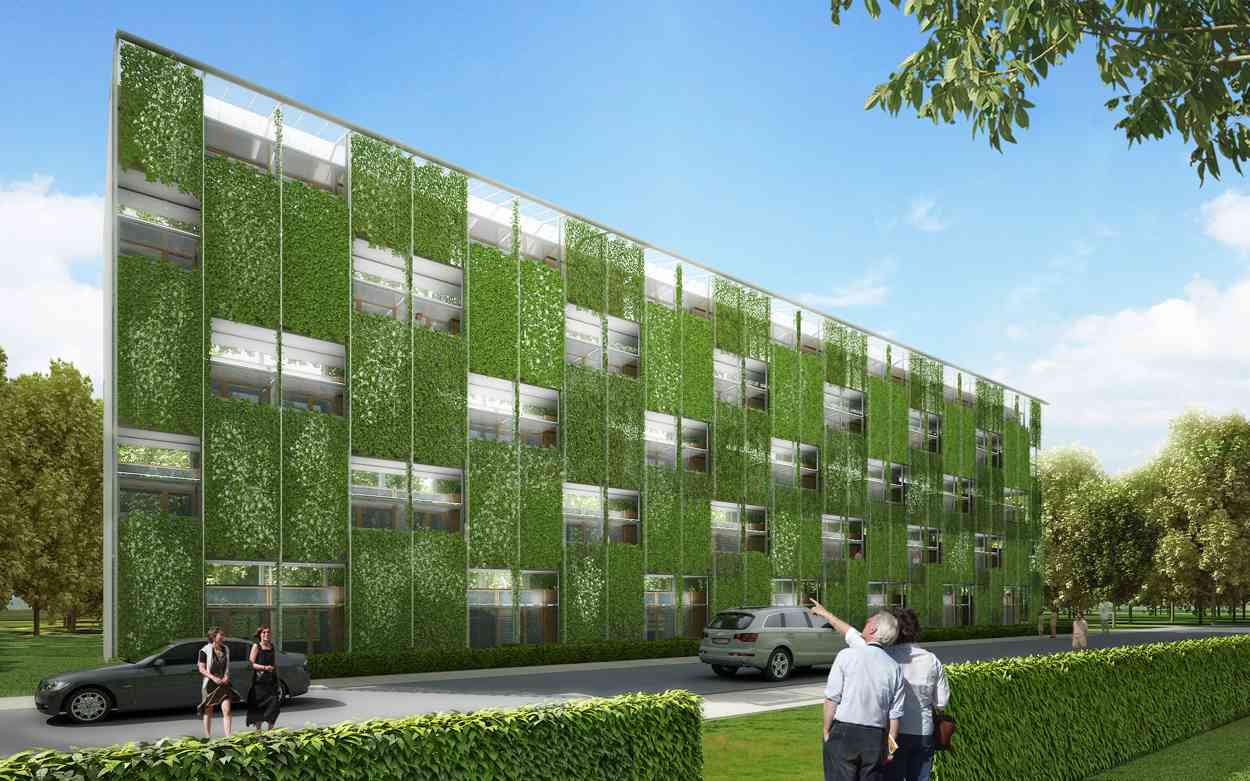 565-Construction of a new hospital, Liege
BELGIUM
(2009); (01-565).
Open competition
– Architecture
– Daylighting
The concept concerns the facade of a healthcare unit. 
Providing a French window leading to a small terrace for each hospital room goes hand-in-hand with strict security requirements for these openings and surfaces. This leads to a more comprehensive reflection as to the entire project including thermal specifications and the comfort of the occupants.
A thin steel grid structure parallel to the facade at a distance of 1.20 m serves as a support for climbing plants (polygonum). It also provides effective solar, glare and infrared protection during the summer months while allowing for more sunlight in winter months.  It serves as an effective dust protection screen and keeps the air clean.
The large bay windows—half the width of a room—are staggered from floor to floor. The diffusion of natural light is further improved on the north facade by grouping the bay windows in pairs.
The lightshelves at each level further optimize the diffusion of light while, at the same time, protecting the terraces from rain. They also diminish backlighting as is shown in the light effect simulation.
The sanitary facilities of each room follow the same staggering pattern from level to level as do the bay windows and are articulated around continuous vertical shafts for piping which faces, parallel to the façade, form the interior supporting columns.
The facades are composed of reinforced concrete bearing walls with superior thermal insulation properties and clad in weather-protected wood. All joints are made of multi-cellular compressed polyurethane, thus avoiding the use of silicon mastic joints.
High-performance insulated sliding shutters protect the bay windows at night.
The honeycombed reinforced concrete floor slabs provide additional and cost-free energy stockage.
The principles of the concept are illustrated in the joined drawings.
Document E41_01/560-En Issue of 2009-11-04
85, 000 m² for the entirety of the hospital project; 2009; (01/565)
---
For plans sections and elevations, please refer to the archives section of the site available from the "references" menu.