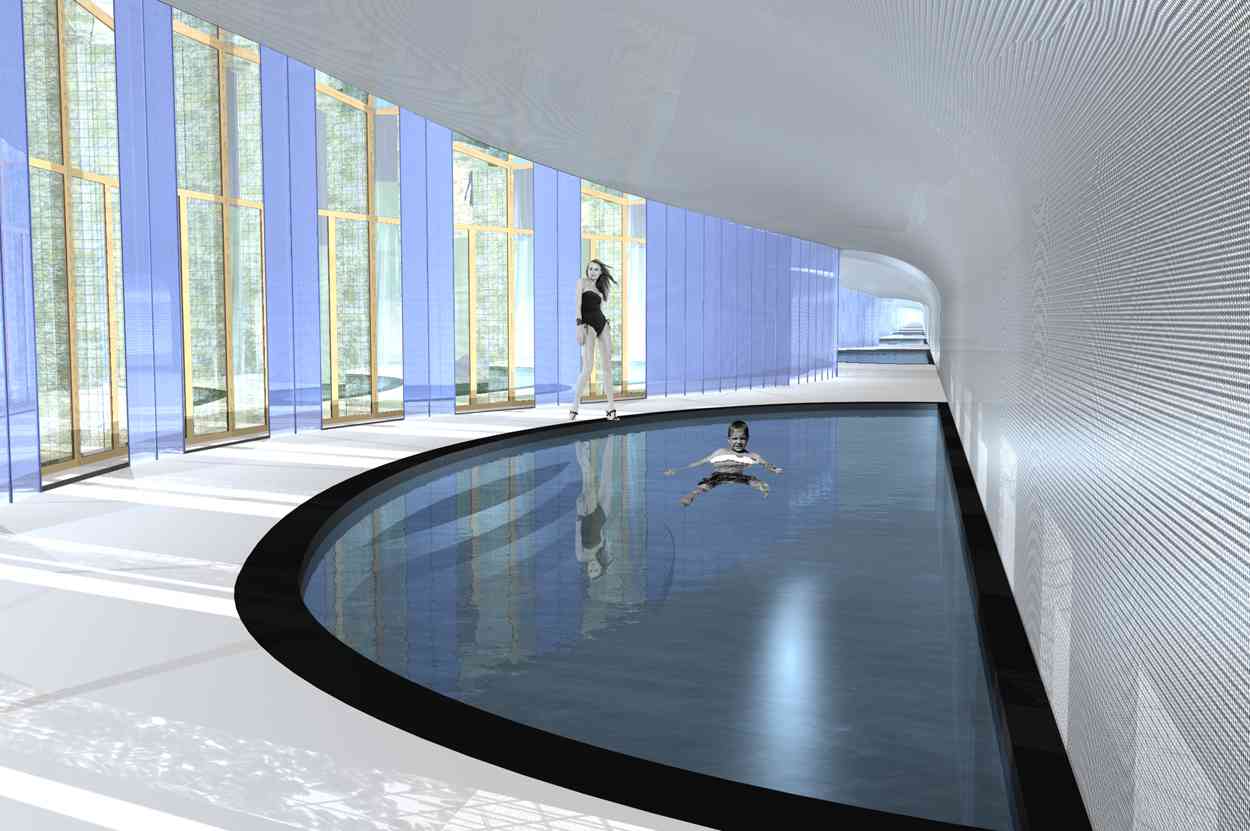 502-A SWIMMING POOL FOR BETHESDA
Uccle
Brussels
BELGIUM
185 sqm;  (2007); (01-502).
At design stage
– Architecture
– Construction management
– Equipment engineering
– Interior design
– Landscaping
– Mechanical, electrical, plumbing engineering
– Project management
– Quantity surveying
– Structural engineering
A charming villla in the vernacular style of the surrounding neighbourhood has recently been carefully renovated and enlarged by the architect Bernard Baines.
The 2330 m2 garden (including the footprint of the villa) has interesting perspectives that the owner wishes to conserve while also building a covered swimming pool on the property. This project is being continued at the request of Bernard, who does not have the possibility to conclude it.
The landscaping includes a raised knoll along the street side, and the remodelling of the terrain includes a valley and a small hill that expands the perspectives, while at the same time limiting excavation work to a strict minimum.
The façade is entirely covered in vegetation, as is the roof.
The concrete shell that forms the ceiling and the roof is thermally insulated on the exterior and covered with a cloth of woven stainless steelwires on the interior in order to conceal and protect the acoustic insulation material.
The semi-elliptical pool is equipped with a movable floor surface and can be transformed into a dance floor. The interior wall facing undulates as does the exterior façade and is covered in sandblasted glass that conceal the red, blue and green diodes, thus creating a dynamic lighting effect.
Document E41_01/502-En Issue of 2006-03-01
Architecture and Engineering:  Philippe SAMYN and PARTNERS All projects are designed by Philippe Samyn who also supervises every drawing
 Structural Engineering:  Philippe SAMYN and PARTNERS with SETESCO (sister company 1986-2006) or INGENIEURSBUREAU MEIJER (sister company since 2007) if not mentioned
Services engineering:  Philippe SAMYN and PARTNERS with FTI (sister company since 1989) if not mentioned
| | |
| --- | --- |
| 01-502 | SWIMMING POOL, UCCLE. |
| Client: | BETHESDA. |
| Architecture: | Architecture Design Partner: Philippe SAMYN Partner in charge: Quentin STEYAERT Associates: Frédéric WIRINGER (architect), Nele PEETERS (intern) |
| Structure: | Structural engineering: Bureau BASE (Dirk JASPAERT) Léopold Ruelensstraat 27, 3010 Leuven [Kessel-Lo] Tel.: 016/35.51.60       Fax: 016/35.51.61 dirk.jaspaert@chello.be For large files: dirkjaspaertbas@mac.com |
| Services: | Building services engineering: Flow Transfer International (FTI) (Jean MICHIELS, Andrew JANSSENS) 137 rue du Ham 1180 Brussels Tel.: 02.375.75.40    Fax: 02.375.75.66 fti.sa@skynet.be Health and safety coordination: Didier HAZARD 14 rue du Printemps 1050 Ixelles Tel.: 02/640.11.09    Mobile: 0477.31.11.09 |
185 sqm ; 2005 ; (01/502).
---
For plans sections and elevations, please refer to the archives section of the site available from the "references" menu.