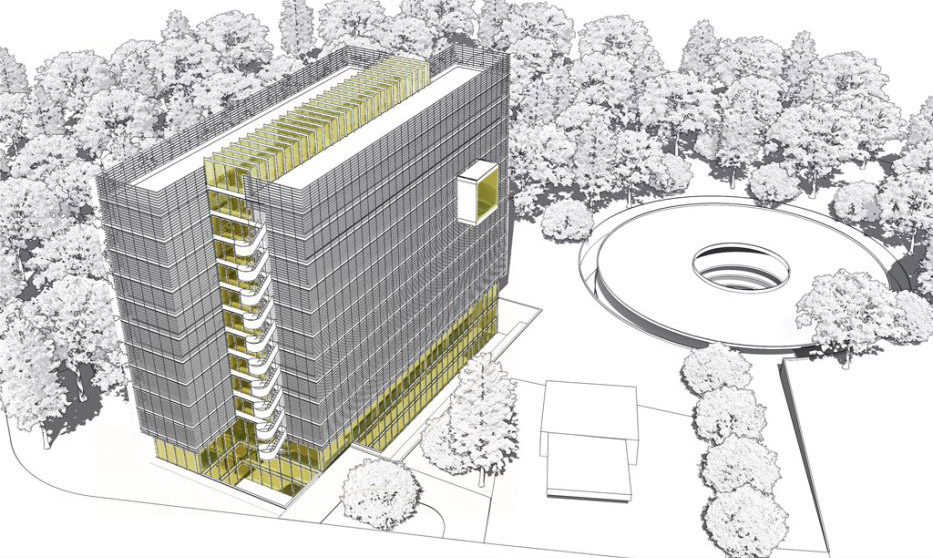 623 – QUATRE-BRAS
Steenweg op Mechelen 455, 1950 Kraainem
50°82'08,31″ N / 4°47'69,10″ E
11,468 m² offices, 3,600 m² parking, 2015 (01/623)
• Landscaping
• Architecture
• Interior architecture
• Structural engineering
• Building services engineering
Situated beside the Brussels ring road, at the edge of the Soignes forest, the office building is exceptionally well located at the entrance to the capital and to Flanders.
Built in 1968, its 20 m-wide floors are divided into three sections: 7.1 m, 5.8 m and 7.1 m. These, together with its central hub and mineral facades with their rows of ribbon windows are characteristic of the functional buildings of that time.
The project transforms the central 5.8 m section into an atrium, whilst only retaining glass lifts and oblique staircases connecting the floors. As a result the office floors benefit from natural light on each of their longitudinal sides, drastically reducing the amount of electricity required for artificial lighting. The internal corridors serving the office floors also enjoy wide perspectives and generous natural lighting distributed through heliostats and mirrors.
The emergency staircases are moved to the outside of the building and the toilets are located behind the blind gables.
The two basements, currently used for parking, as well as the service floor in the roof, are reconfigured to create offices with natural lighting. As a result, the renovated building provides a gross area of 11,468 m² which is 122 m² more than the current situation.
The decorative pillars and windows are replaced with a continuous glazed facade with glass doors and exterior access balconies.
Louvres fitted to the outside of the balconies allow the influx of natural light and energy to be controlled while forming railings.
To the side of the building, a cylinder is buried, naturally lit/ventilated and covered with water. This not only houses the parking bays from the current basement carparks but also those that are dispersed beneath the beautiful trees on the site. In this way the latter is redeveloped into a stunning wooded park.
Boasting a capacity of 600 spaces, the carpark also lends itself for use as a park and ride service at the entrance of the Brussels region.
Architecture and Engineering: Philippe SAMYN and PARTNERS All projects are designed by Philippe Samyn who also supervises every drawing
Structural Engineering: Philippe SAMYN and PARTNERS with SETESCO (sister company 1986-2006) or INGENIEURSBUREAU MEIJER (2007-2015) if not mentioned
Services engineering: Philippe SAMYN and PARTNERS with FTI (sister company since 1989) if not mentioned