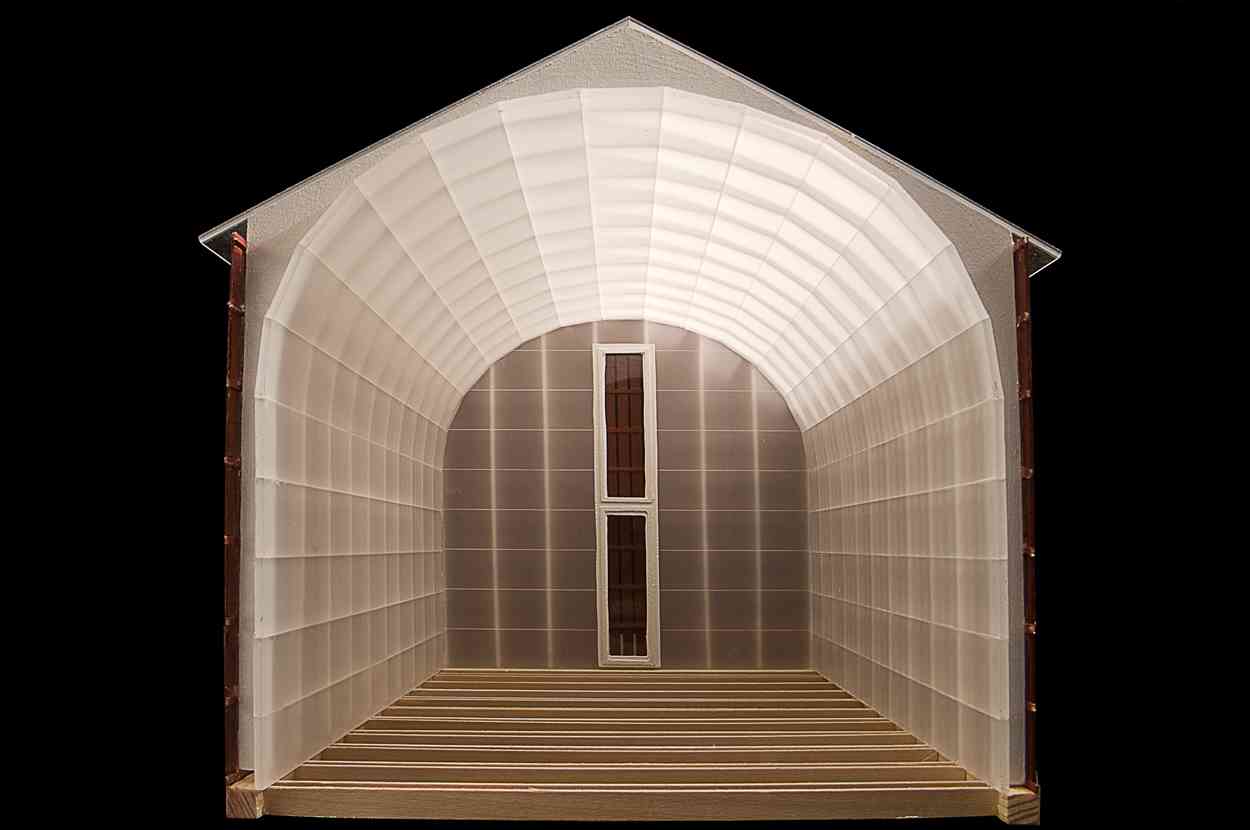 561 – EXTENSION TO ERIK SALVESEN'S STUDIO
FINLAND
25 m² ; (2009); (01-561).
Bestuderingsfase
– Architecture
– Mechanical, electrical, plumbing engineering
– Structural engineering
Erik Salvesen divides his time between his painting studio in Ekenäs and the Swedish Theatre of Helsinki, where he is the set designer (see www.eriksalvesen.com).
The former stationmaster's house and its annexe, listed buildings dating from 1882, are very fine examples of Finnish traditional wooden architecture.
The house's vast attic is no longer used as a studio for the artist, who has now decided to convert the annexe currently used as a shed for garden tools.
The plan view of this small structure is 5 m x 10 m, it has very few windows and is therefore very dark.
It is constructed with a light framework and wooden plank walls to be insulated, fitted out and finished. It is intended for use as a storage and preparation area adjacent to the expanded studio itself.
The new volume, 5 m x 5 m in plan view, added as an extension to the existing space, is flooded with light.
Its external walls are made of planks identical to the existing structure, omitting the vertical battens.
Its roof is made of single panes of laminated glass 2 x 4 mm on stainless steel supports positioned to reflect the spacing of those on the existing metal roof.
Multiplex porticos, aligned to the roof profiles, support the roof and the vertical walls with horizontal cross-battens.
A wall made of multi-layer extruded polycarbonate boards is then fixed to the inside of the arched supports. This is curved to form an arch, which enables the translucent panels to be continuously interlocked.
The gable sheets, made of the same material, are connected to the vault panels with a watertight seal. The latter is attached using a pre-compressed polyurethane foam joint which enables the large thermal expansion movements of the panels to be accommodated.
The ends of the extruded panels are sealed with a self-adhesive aluminium strip.
This envelope which forms the walls and roof has an insulation coefficient of U = 0.83 W/m² °C whilst providing lots of light.
The structure rests on a wooden floor, an extension of the existing floor (and on a dry stone masonry foundation) which is also very well insulated.
Architecture and Engineering: Philippe SAMYN and PARTNERS All projects are designed by Philippe Samyn who also supervises every drawing
 Structural Engineering: Philippe SAMYN and PARTNERS with SETESCO (sister company 1986-2006) or INGENIEURSBUREAU MEIJER (sister company 2007-2015) if not mentioned
Services engineering: Philippe SAMYN and PARTNERS with FTI (sister company since 1989) if not mentioned
---
For plans sections and elevations, please refer to the archives section of the site available from the "references" menu.