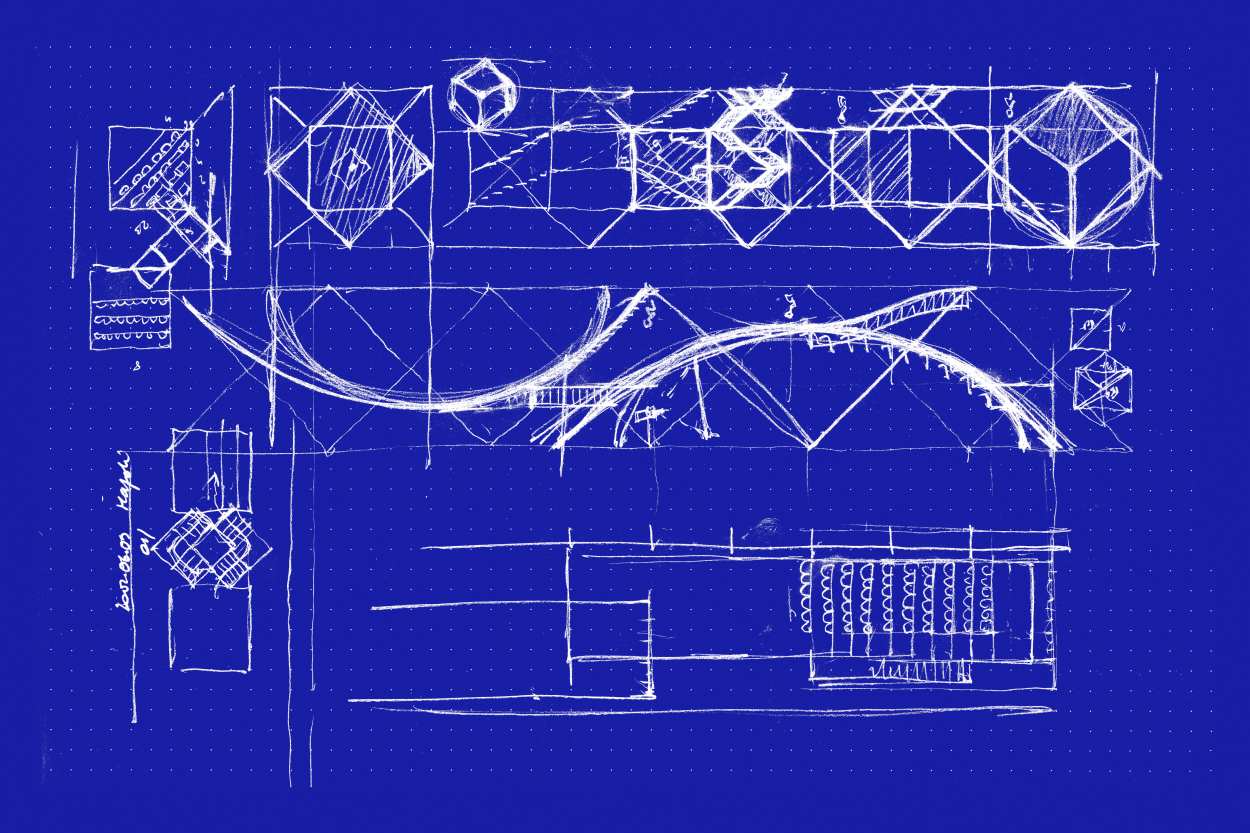 433-Vroenhoven bridge
RIEMST
BELGIUM
220 m; 3500 sqm (2002); (01-433).
Invited competition entry; preliminary design
– Architecture
– Interior design
– Landscaping
– Mechanical, electrical, plumbing engineering
– Structural engineering
The Albert canal linking Antwerp to Liege has been undergoing major works since the '60s to broaden it to allow passage for 9000-ton barges. This economic requirement means replacing many engineering structures in both Flanders and Wallonia, since most structures date back to the construction of the canal and have too narrow spans. In this context the Vroenhoven bridge in Limburg will be demolished and reconstructed.
The bridge now standing and the bunker alongside it were listed in 1995 for their great architectural and historical value.
Despite that, the bridge is to be demolished, since its span of 40 metres represents a danger for continually growing canal traffic.
The solution proposed is a steel lattice bridge reminiscent of the bridges constructed at the end of the 19th century.
The two main beams are continuous, standing on four supports. The two lateral spans measure 33.2 metres and the central span 91.3 metres.
The X-shape of the lattice (square measuring 8.23 m on each side) keeps weight to a minimum, because, among other things, the buckling length of the diagonals is reduced by half.
The 16 m wide concrete road slab accommodates two lanes of traffic, two bicycle lanes and two sidewalks. It lies on cross beams, also in lattice, separated by a distance of 8.3 m. This spatial arrangement of the components gives the construction appreciable transparency.
The Vroenhoven site is of great interest for drivers and boaters as well as for cyclists and pedestrians. It was important to ensure that the design of the bridge and the surrounding areas were well suited to all these kinds of users. So the banks upstream and downstream of the bridge were drafted like a large park serving as a landmark for the Albert canal.
The new staircases and bicycle paths running through the park offer a fast connection between the street level and the canal banks as well as many viewpoints to see the new construction.
On the mounds, rows of trees of growing length confine the space around the bridge, integrating it subtly and naturally into the site.
The public authorities required that a multifunctional option should be studied. The large space between the main lattice beams can accommodate a hall that could host various types of event. A floor and a covering in glazing offer visitors a panoramic view of the site and its new facilities.
Document E41_01/433 -En Issue of 2002-10-14
Architecture and Engineering: Philippe SAMYN and PARTNERS All projects are designed by Philippe Samyn who also supervises every drawing
Structural Engineering: Philippe SAMYN and PARTNERS with SETESCO (sister company 1986-2006) or INGENIEURSBUREAU MEIJER (sister company 2007-2015) if not mentioned
Services engineering: Philippe SAMYN and PARTNERS with FTI (sister company since 1989) if not mentioned
220 m; 3500 sqm; 2002; (01/433)
---
For plans sections and elevations, please refer to the archives section of the site available from the "references" menu.