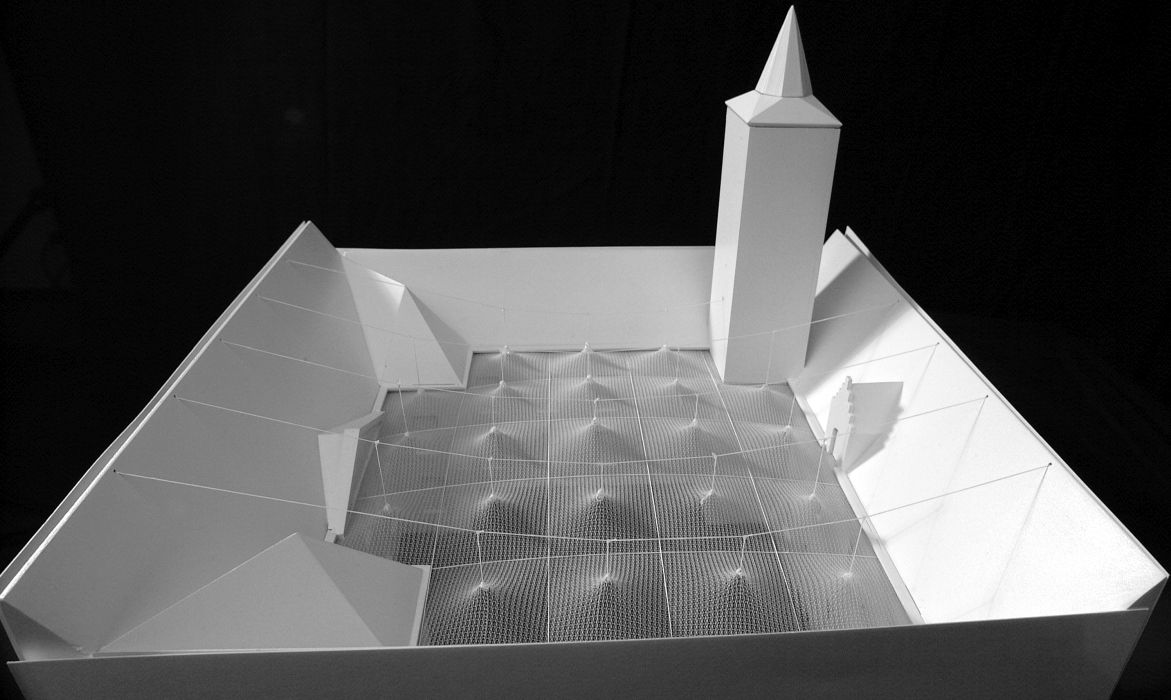 425 – Castle of Alden – Bilzen – Limburg (B)
500 m² s; 2001 ; (01/425)
• Architecture.
• Structural engineering.
The objective is to realize a temporary cover of 500 m² for the interior court of the castle of Alden Biesen in Limburg, seat of various spectacles and demonstrations.
The proposed solution, is composed of a membrane in white polyamide or in translucent P.V.C., of high resistance straps and stringing made of polyester used in aeronautics.
These high performance materials, which are particularly light, assure a simple installation and a security towards fire or an accidental fall of the roof.
This cover, whose total mass is only 250 kg, comes to fix itself to an interior metallic structure under the roof and to anchorages in the upper part of the facades and in the court floor. These last elements are permanent but hardly visible from the outside.
The membrane, realized in one piece, presents a general dome shape in order to evacuate the rainwater towards peripheral gutters and vertical drainage pipes, also in textile. This overall shape is then composed of small individual pyramids of about 4.4 meters side, with inverse curvature. The tops of the pyramids are suspended to five bearing ropes joining the two highest ridges of the roof, fixed to the new metallic frames in the attic. The bases of the pyramids are delimited by a grid of straps fixed to the membrane. These straps, after being deviated vertically along the facade, are anchored in the paving of the court.
The five bearing ropes (in one direction) absorb the descending loads and the grid of straps the ascending loads. They also permit the pretensioning of the membrane in the two directions. These two elements as well as the membrane are the strictly necessary and sufficient components for this type of cover. They are interdependent and constitute the removable and foldable part of the structure.
The placing of the cover, once unfolded, is possible thanks to a system of pulleys and installation ropes from the roof and the court, therefore in all security.
Document E41_01/425 -En Issue of 2016-06-16
Architecture and Engineering:
Philippe SAMYN and PARTNERS All projects are designed by Philippe Samyn who also supervises every drawing
Structural Engineering:
Philippe SAMYN and PARTNERS with SETESCO (sister company (1986-2006) or INGENIEURSBUREAU MEIJER (sister company 2007-2015) if not mentioned
Services engineering:
Philippe SAMYN and PARTNERS with FTI (sister company since 1989) if not mentioned
Architecture
E. Bodarwé, , S. Godemont, P. Monniez, S. Lauwereys, B. Vleurick.

Structure
Samyn and Partners.
---
For plans sections and elevations, please refer to the archives section of the site available from the "references" menu.