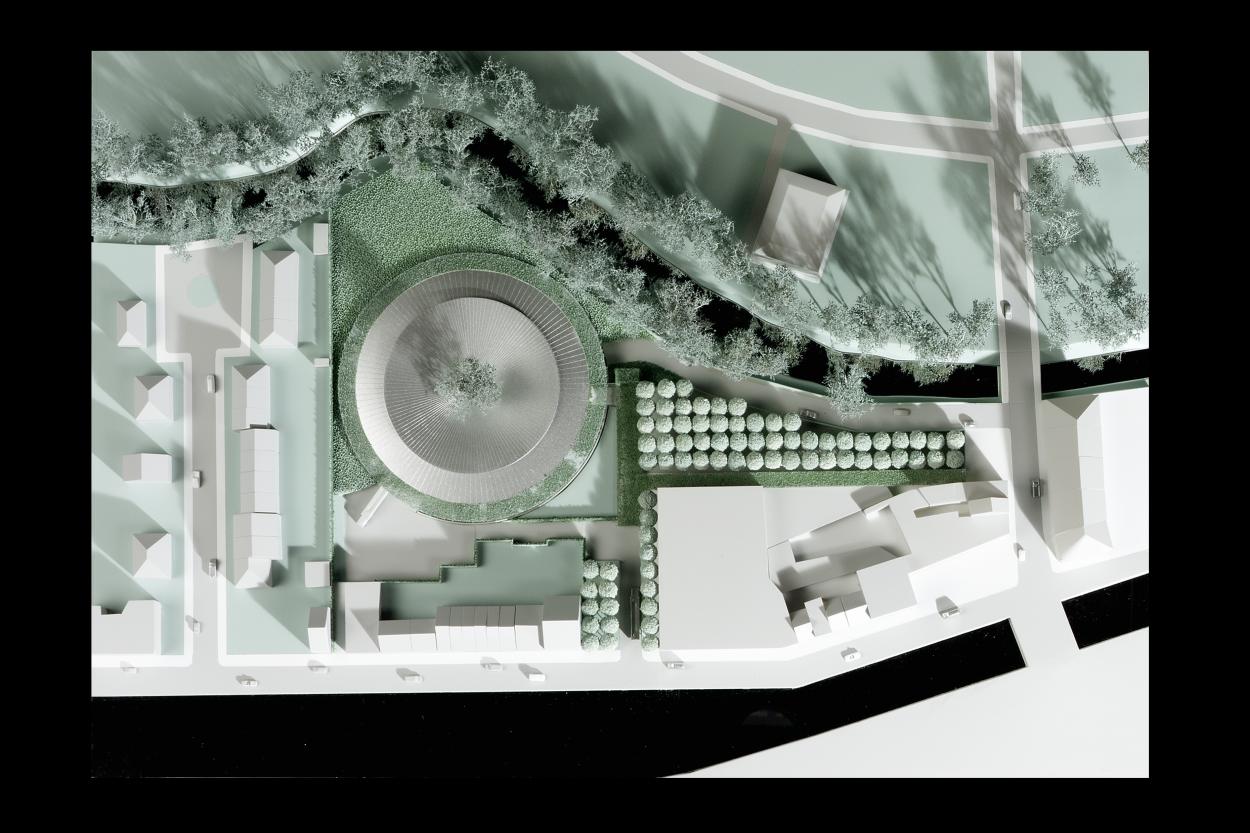 394-1-Market for Delhaize – De Leeuw
Basiliekstraat, Suikerstraat
Halle
BELGIUM
3.200 sqm above ground and 4.470 sqm underground parking; 2000- (2000); (01-394-1).
At design stage
– Architecture
– Interior design
– Landscaping
– Mechanical, electrical, plumbing engineering
– Structural engineering
A new supermarket concept is being studied for the "Delhaize – De Leeuw" food stores whose objective is to adapt the architecture of the store specifically to each site, in harmony with the surroundings, to create a pleasant environment where the "supermarket" is super because it has recovered the simple "market" function.
The concept is based on a series of simple options:
eliminating outdoor car parks, putting them under the sales area, while supplying them with natural lighting and ventilation;
ensuring "gentle" air  conditioning of the sales area by using the inertia of the concrete structure in both the roof and the floor (to store energy), and by natural cross ventilation;
providing as much natural lighting as possible without jeopardizing the requirements of the sales area. 
The first prototype project concerns a site in Halle.
It provides for a circular building plan under a slightly sloping roof, and a central light well naturally ventilating the entire sales area and the car parks.
A ring with the utilitarian and service premises surrounds this unit, covered by a roof with a small slope slightly lower than the first.
A cylinder of windows that can be opened stands between the two roof units.
The façades are made in metal mesh and covered with ivy.
Document E41_01/394 -En Issue of 2005-08-05
Architecture and Engineering: Philippe SAMYN and PARTNERS All projects are designed by Philippe Samyn who also supervises every drawing
Structural Engineering: Philippe SAMYN and PARTNERS with SETESCO (sister company 1986-2006) or INGENIEURSBUREAU MEIJER (sister company since 2007) if not mentioned
Services engineering: Philippe SAMYN and PARTNERS with FTI (sister company since 1989) if not mentioned
3.200 sqm above ground and 4.470 sqm underground parking; 2000- ; (01/394-1).
---
For plans sections and elevations, please refer to the archives section of the site available from the "references" menu.