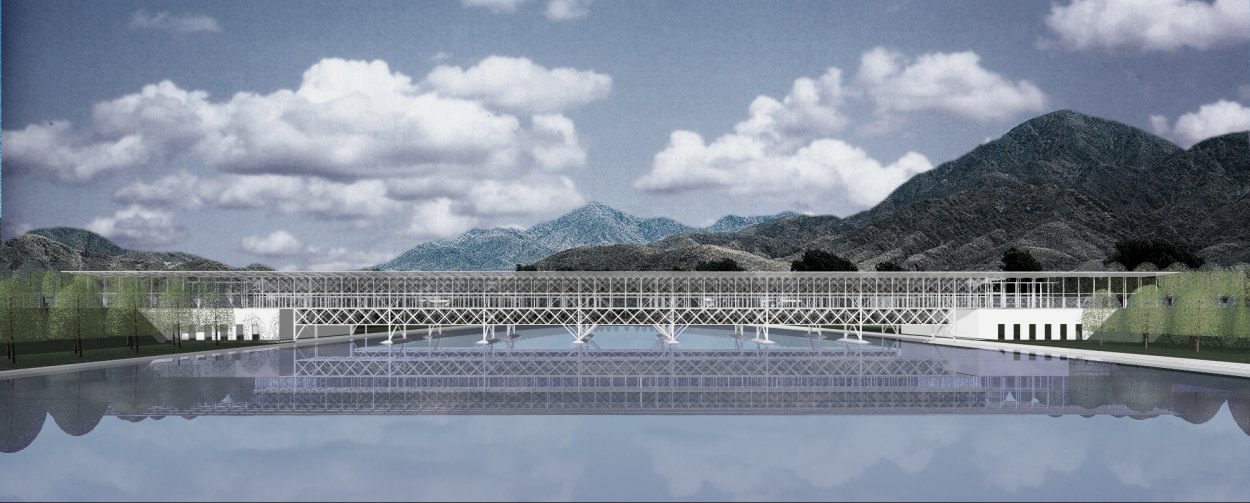 382-Puente Henriquez
Copiapo
CHILE
6 000m² (2000); (01-382).
– Architecture
– Interior design
– Landscaping
– Mechanical, electrical, plumbing engineering
– Structural engineering
Landscape architecture.
Architecture.
Structural Engineering.
MEP Engineering.
Interior Design.
The city of Copiapo is a former mining town located in the desert North of Chile, midway between the Andes Cordillera and the Pacific coast.
Flanking the Copiapo River, the city enjoys the relatively green landscape of the valley which contrasts with the neighbouring desert mountains. Experiencing an economic revival, the city, so far developped solely on the North bank, nowadays grows on the South bank. The link between the two banks is only made of the Panamericana and of dirt roads flooded during each river rise. The Copiapo River is indeed a versatile river that regularly floods the shallow part of city. Its bed moves and can widen from 20 to 200 metres. In order to manage this situation, the city intends to reorganize the whole River area into a flood-absorbing urban park, where the river is led according to its varying levels and where the banks are stabilized and urbanized. The Henriquez bridge and its artificial lake, conceived in a undissocialble manner, constitute the head project of this lare-scale urban landscaping intervention. It is the main central and linking element between the two banks, in perfect alignment with their major arteries. It is at once a bridge, a building and a square, in the spirit of the Ponte Vecchio in Florence.
In the manner of a gigantic hall on stilts, the 200 m long, 30 m wide and 15 m high construction is made of multiple metal porticoes regularly spaced to bear, above the roadway, an openwork corrugated steel roof which covers almost the whole bridge.
The 30 m wide bridge roadway is made of wooden structural and finising elements resting on multi-mesh metal beams, themselves supported every 23 m by slender metal columns whose feet rest on reinforced concrete piles at water level. The central part of the bridge is dedicated to car and pedestrian trafic (3 m + 9 m + 3 m), while the two sided (2 x 7.5 m) developped over two levels are dedicated to polyvalent spaces. Platforms are also set under the roadway within the multi-mesh beams. The upper and lower platforms are enclosed by glass and connected by stairs to the main level. The space of the bridge can thus be used partly or as a whole for various events such as markets, fairs, cultural, educational and religious events. Not only is the Henriquez bridge a central and gathering place where inhabitants can identify to their city, it is also a place which opens onto the whole region, in the image of a window opening onto the river, the valley, the desert and the mountain.
Document E41_01/382 -En Issue of 2001-06-05
ATACAMA. un diario de opinion; and CHARNARCILLO. El diario de la mineria. Press review concerning the bridge of Copiapo (01/382); 2001.03.23/27/28/30; (Chile). 
ABSTRACT Magazine, August-September 2001, pp 38-42 " Le pont HENRIQUEZ-BRUG/BRIDGE " ; (Belgium).
ARCHITECTURE méditerranéenne, n°56, December 2001, pp 118-121 ; "Le pont Henriquez, Copiapo, Région d'Atacama, Chili" ; (France). 
C.A. Revista Oficial del Colegio de Architectos de Chile, a.g, n°108, janvier-février-mars 2002; pp 46-49; "Puente habitado en una laguna, puente el palomar di Copiapó"; (Chile). 
Architecture and Engineering: Philippe SAMYN and PARTNERS All projects are designed by Philippe Samyn who also supervises every drawing
Structural Engineering: Philippe SAMYN and PARTNERS with SETESCO (sister company 1986-2006) or INGENIEURSBUREAU MEIJER (sister company since 2007) if not mentioned
Services engineering: Philippe SAMYN and PARTNERS with FTI (sister company since 1989) if not mentioned
01-382
PUENTE HENRIQUEZ, Copiapo (Cl).
Client:
Gobierno Regional de Atacama.
Architecture:
Partner in charge : Q. Steyaert.
Associates : B. Vleurick, A. Chaudemanche, E. Collignon, with R. Tapia, J. Undurraga S and J. Guaita (Chile).
Structure:
Samyn and Partners with  S. Bordoli V and G. Davia (Chile).
Models : M. I. N. V. U.
Drawings (A) : Samyn and Partners and Claudio Pavez     
6 000 m². ; 2000 – ; (01/382)
© Models : M. I. N. V. U.
© Drawings (A) : Samyn and Partners and Claudio Pavez
---
For plans sections and elevations, please refer to the archives section of the site available from the "references" menu.