© Rendering: Philippe SAMYN and PA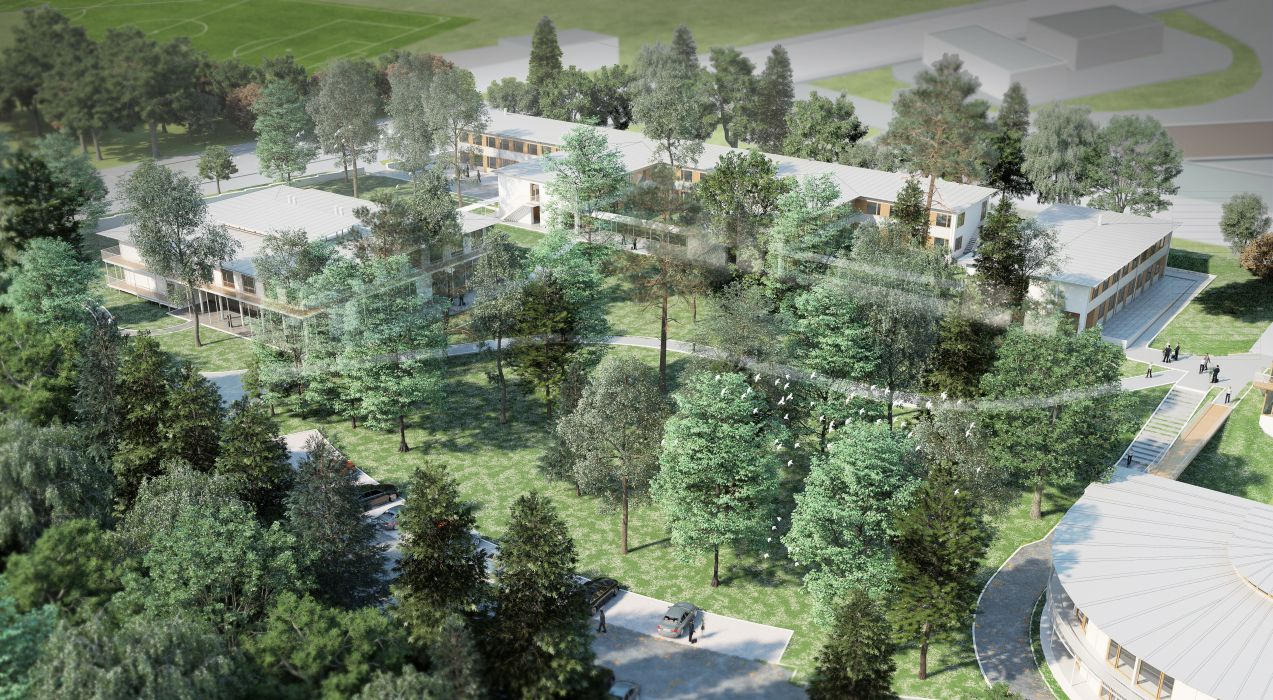 287 – PSYCHIATRIC HOSPITAL SANS SOUCI
Avenue de l'Exposition
Jette – Brussels
BELGIUM
9 199 sqm. (1993 – ); (01-287).
Under construction
Audit.
Space planning.
Cost estimation.
Landscaping.
Architecture.
Interior design.
Structural engineering (concepts).
Mechanical, electrical, plumbing engineering (concepts).
Project management.
Construction management.
Quantity surveying.
The psychiatric hospital "Sans souci" was founded in 1910. It is directed by Professor Raoul Titeca, a well-known psychiatrist with an "avant-garde" vision of therapy that extended to the hospital's architectural design.
While adhering to the basic scientific principles of Professor Titeca's methodology, the hospital's medical staff has intensified the fundamental and applied research that is carried out both at the university and the hospital.
New methods of therapy, in particular those for long-term patients, necessitate an audit of the hospital's premises, including its space planning and a proposal for the reconstruction of the hospital's present facilities, housing 145 patients and located in a 2.6-hectare wooded park.
The audit, space planning and cost estimate have been completed in June 1993.
A restaurant and kitchen, with a surface of 460 sqm, have been built and delivered in 1995.
The first hospital building (I), named "La Rotonde", with a surface of 1,650 sqm, hosts 30 patients and is in use since June 2002.
The following construction phase (II), with a surface of 1,700 sqm, was completed in October 2007. It is a new building for the Direction of the hospital with a meeting place for the patients and 4 houses with each of these hosting 6 patients.
The study of the last phase (III), comprising 3 units of 30 beds and 3 houses, began in 2008 and the works are underway since 2017.
Respectful of the patients, the architecture is unadorned and calm, blending quietly in its natural environment. The materials, of fired clay bricks, zinc and light-coloured wood, are chosen for their natural and long-lasting character.
 
Document E41_01/287-En Issue of 2017-06-20
Architecture and Engineering: Philippe SAMYN and PARTNERS All projects are designed by Philippe Samyn who also supervises every drawing
Structural Engineering: Philippe SAMYN and PARTNERS with SETESCO (sister company 1986-2006) or INGENIEURSBUREAU MEIJER (sister company since 2007) if not mentioned
Services engineering: Philippe SAMYN and PARTNERS with FTI (sister company since 1989) if not mentioned
01-287
SANS-SOUCI CLINIC, BRUSSELS.
Client:
SANS-SOUCI CLINIC.
Architecture:
Partner in charge : J. Ceyssens.
Associates : Gh. André, S. Bessalah, G. Blervacq, R. Delaunoit, F. el Sayed, L. Finet, L. Fonteyn, J.-F. Joiret, B. Lepez, P. Monniez, N. Vandendriessche, W. Van Laer.
Structure:
Samyn and Partners with J. DUFOUR for execution.
Services:
TRACTEBEL for execution.
© Andres FERNANDEZ (model)
© Ch. BASTIN & J. EVRARD
© Marie-Françoise PLISSART
---
For plans sections and elevations, please refer to the archives section of the site available from the "references" menu.