© Photo: Thierry Mattart IPI 50096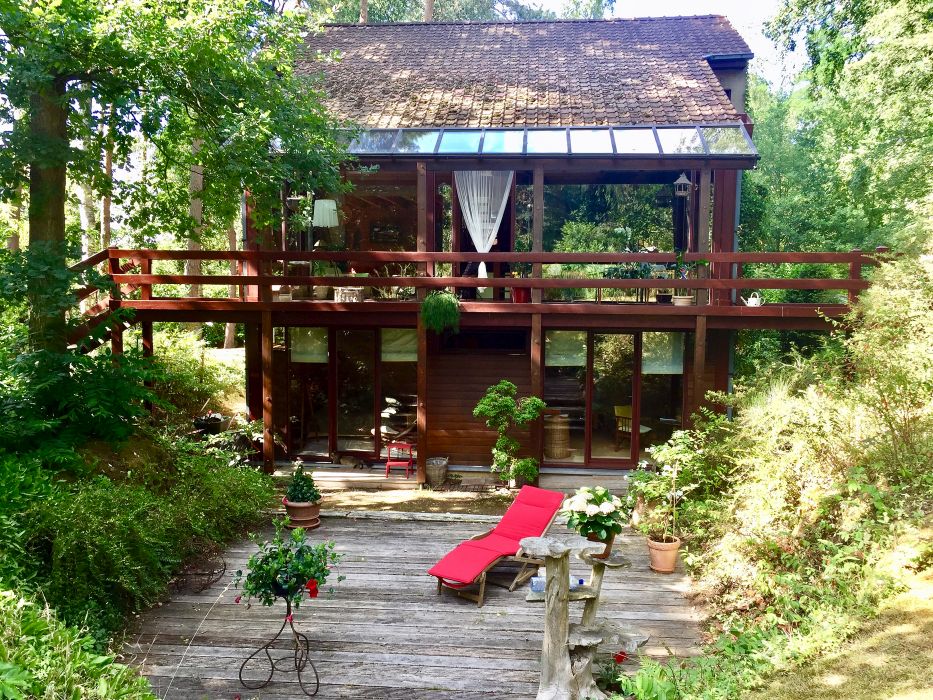 220 – CHRISTINA AND NORBERTO BLANCO'S HOUSE
Chemin du Relais, 12, Chaumont-Gistoux, Belgium
50°41'18,50''N/4°38'07,83''E
220 sqm; 1989 – 1990; (01/220)
Architecture.
Analysis of the existing situation.
Landscaping.
Structural engineering.
Building services engineering.
Building physics.
Project management.
Overall coordination.
Cost control.
Quantity surveying.
This house in Chaumont-Gistoux was designed in 1989 for Christina and Norberto Blanco, who, at that time, were among the few sponsors to recognise the merit of a timber-frame house.
The idea was for the external cladding to be in wood as well but some brickwork was required in order to meet the urban planning regulations.
Completely illogical from a structural perspective, this thin brick casing is often required by the authorities but it is hoped that the growing awareness of environmental issues will lead to a return to a more rational form of construction practice.
Taken nearly 30 years after it was built, the photos of the house illustrate the durability of wooden-based construction, as do those of Doctor Farr's house (01/128) in Sint-Genesius-Rode, designed in 1984.
Plan organisation
Located on the 1st floor, the living spaces (living room, dining room, kitchen) extend to a terrace to the south, covered by the glass roof overhang and providing access to the garden. The living room ceiling follows the slope of the roof and extends to the 2nd floor parents' and guest bedrooms, which overlook both the living room and the garden.
The children's area occupies the entire ground floor.
The entrance hall, at mid-level between the ground floor and the first floor, is topped by the parents' bathroom covered with a glass roof.