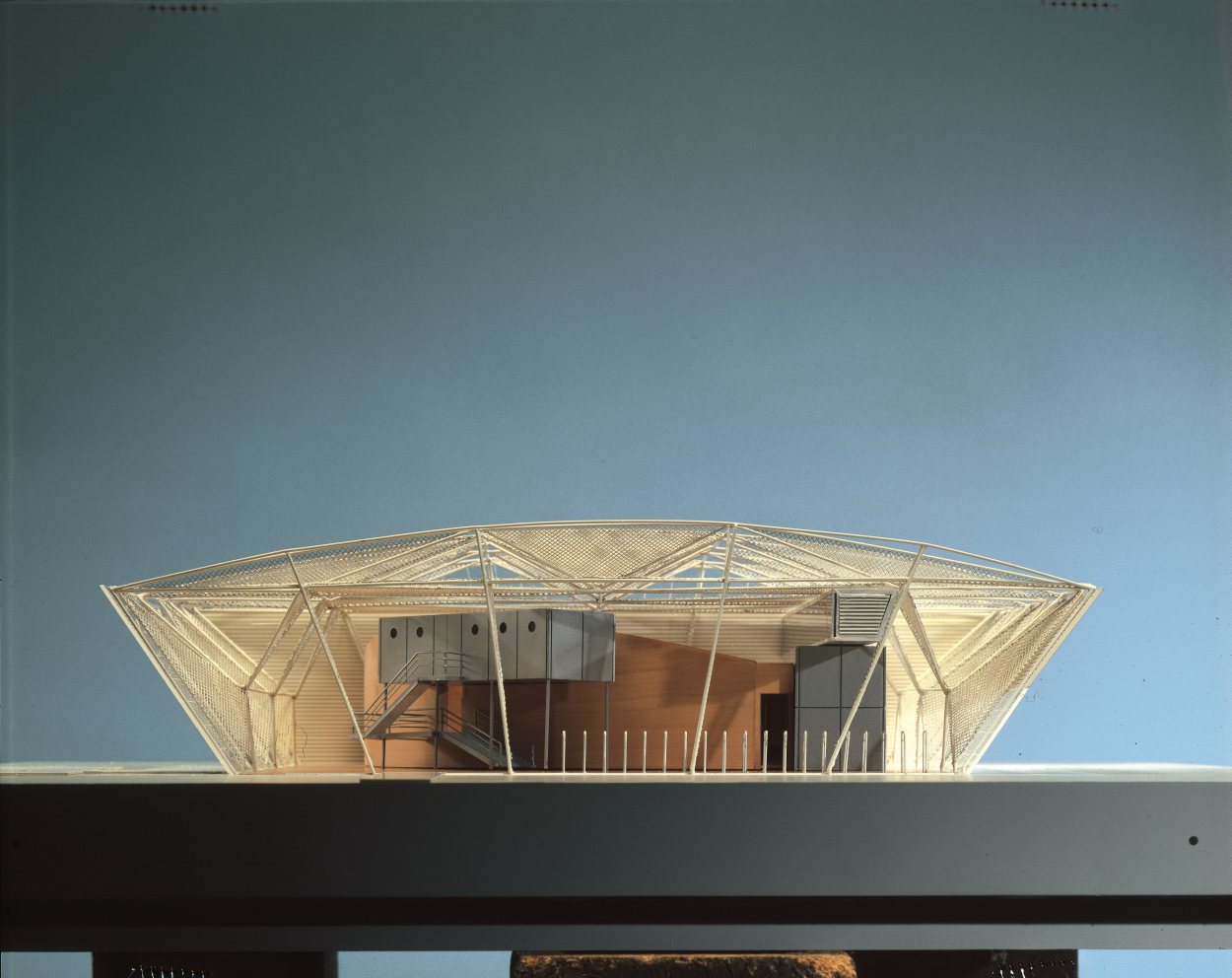 206 – Caterpillar Belgium
Auditorium at Gosselies factory
BELGIUM
900 sqm. (1988-1998); (01-206).
Limited Commission
– Architecture
– Landscaping 
– Mechanical, electrical, plumbing engineering
– Structural engineering
 2003.03.13
The 200 seat auditorium, intended to host the company's clients, acts as both a reception area and showcase. 
A light steel structure encloses the whole building protecting the auditorium from the noise of airplanes landing and departing at the nearby airport.
A plywood structure with a thick, but transparent, tensile ceiling made of PVC encloses the lecture room of the auditorium.
The main HVAC duct in the lecture room is equipped with a translucent side facing the seats so that they can receive rear projected images.
L'ARCA, n° 30, September 1989, pp. 60-67; (Italy).

L'ARCA PLUS, n° 17, 2/98, Monografie di architettura, Monographie on architecture : "Philippe Samyn", 112 p, Arca Edizioni, Milano; pp 18-25, (Italy).
Architecture and Engineering: Philippe SAMYN and PARTNERS All projects are designed by Philippe Samyn who also supervises every drawing
Structural Engineering: Philippe SAMYN and PARTNERS with SETESCO (sister company 1986-2006) or INGENIEURSBUREAU MEIJER (sister company since 2007) if not mentioned
Services engineering: Philippe SAMYN and PARTNERS with FTI (sister company since 1989) if not mentioned
900 sqm.  (1988-1998); (01-206).
---
For plans sections and elevations, please refer to the archives section of the site available from the "references" menu.