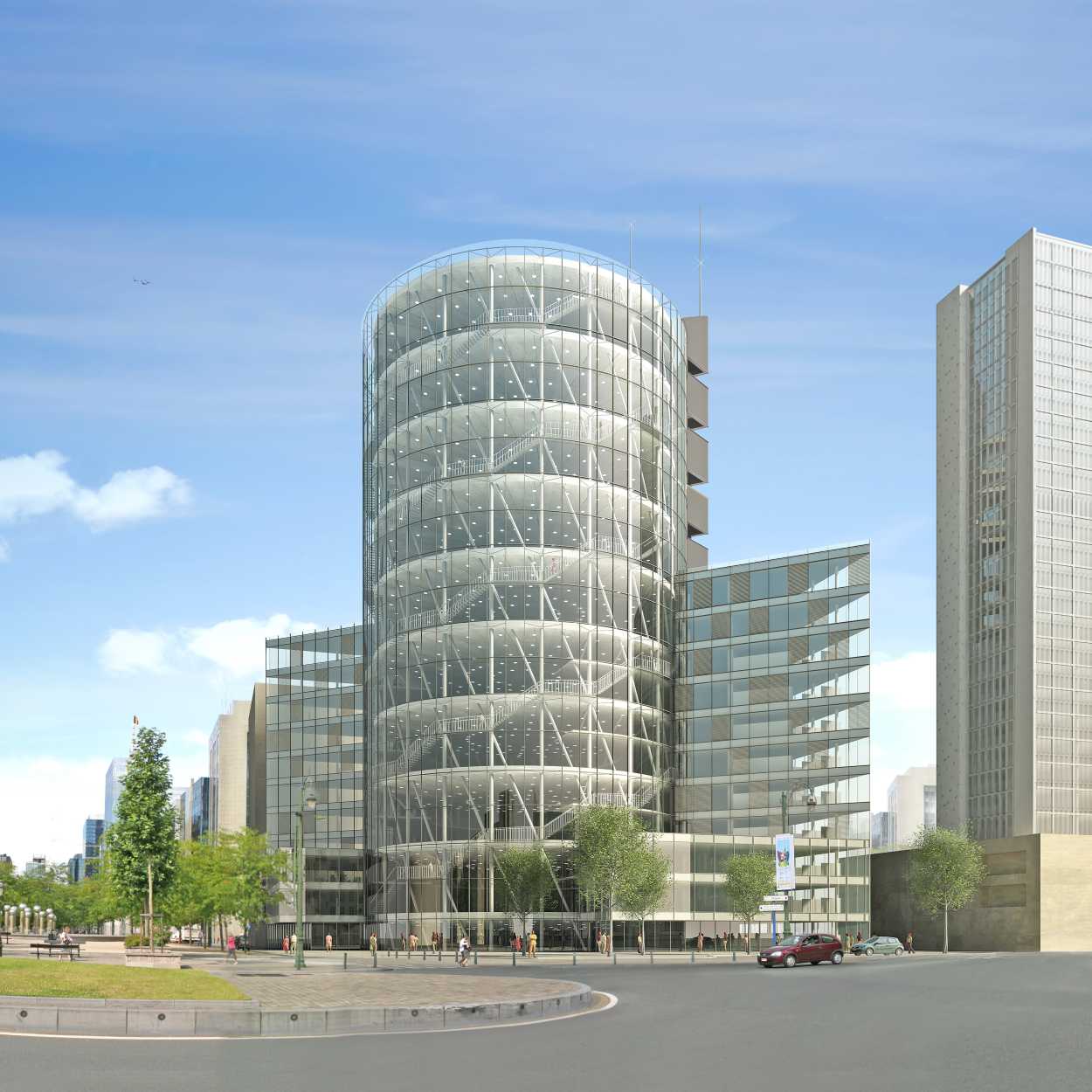 204-Morgan Guaranty Trust
Euroclear Operations Centre
Brussels
BELGIUM
28 600 sqm. (1988); (01-204).
Invited competition entry
– Architecture
– Mechanical, electrical, plumbing engineering
– Structural engineering
2001.07.18 
A quintessentially urban project entailing a main high-rise cylindrical building, covered with a dome, complemented by an adjacent low-rise building having a prismatic triangular form.
The tower, is 33.3 m in diameter and is free of internal columns due to its floor structure, which is composed of suspended spherical caps, and the remote location of lifts and service shafts.
Gentle curving staircases sweep around the two transparent external façades of the building.
L'ARCA, n° 32, November 1989, pp. 97-98; (Italy).

GLAS – Architektur und Technik n° 4-96, August 1996, pp. 5-6; (Germany). – Jacopo della Fontana "SAMYN and PARTNERS; Architecture to be lived", l'ARCA EDIZIONI, Milano, 1997; 171 pp.; (Italy).
Architecture and Engineering: Philippe SAMYN and PARTNERS All projects are designed by Philippe Samyn who also supervises every drawing
Structural Engineering: Philippe SAMYN and PARTNERS with SETESCO (sister company 1986-2006) or INGENIEURSBUREAU MEIJER (sister company since 2007) if not mentioned
Services engineering: Philippe SAMYN and PARTNERS with FTI (sister company since 1989) if not mentioned
| | |
| --- | --- |
| 01-204 | EUROCLEAR OPERATIONS CENTRE, BRUSSELS. |
| Client: | MORGAN GARANTY TRUST COMPANY OF NEW – YORK. |
| Architecture: | W. Azou, Y. Azizallahoff, A. Charon, P. Duthoit, F. Janssens de Bisthoven, T. Khayati, D. Mélotte, E. Robert, B. Selfslagh, Ph. Tircher, J. Van Rompaey. |
| Services: | MARCQ & ROBA |
28 600 sqm.   (1988); (01-204).
---
For plans sections and elevations, please refer to the archives section of the site available from the "references" menu.